Mah Sing Group Bhd (Feb 16, RM1.26)
Maintain buy with a higher fair value of RM2.22: We maintain our "buy" recommendation on Mah Sing Group Bhd, with a higher fair value of RM2.22 per share on an unchanged 15% discount to its revised net asset value. Our higher fair value is arrived at after taking into account full redemption of its convertible bonds (CBs).
In an announcement to Bursa Malaysia on Monday, Mah Sing indicated that it had repurchased the balance RM315 million nominal value of its redeemable CBs for RM337 million. The CBs had an original nominal value of RM325 million when they were issued in June 2011.
Mah Sing's redemption of the balance of its CBs is a pre-emptive move to avoid a further dilution of its share capital and reduce its debt obligations, we opine.
The CBs are currently in the money. The conversion price is RM1.14 per share. In June last year, around RM10 million nominal value of the CBs was converted into nine million new Mah Sing shares.
Based on a purchase consideration of RM337 million, the effective price that Mah Sing has to fork out to redeem the CBs is RM1.22 per share.
This represents a 4% discount to the five-day volume weighted average price of Mah Sing's shares up to last Friday (RM1.27 per share).
If the balance of the CBs were to be fully converted, this would translate into the issuance of approximately 276 million new Mah Sing shares, representing 11% of Mah Sing's share capital as at last Friday.
From an earnings standpoint, we estimate uplifts of 11% and 10% to Mah Sing's forward financial year 2016 (FY16) and FY17 earnings per share respectively, due to interest savings and the redemption of the CBs. By our calculations, the CBs have a coupon rate of 3.25% and effective interest of 6.5% (including convertible elements).
There are minimal changes to Mah Sing's FY16 net gearing ratio of 10%, as the RM337 million redemption amount will be funded via the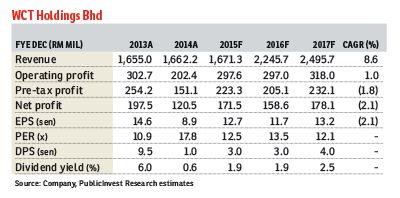 balance proceeds from Mah Sing's rights that were raised last February.
By the same token, Mah Sing's enhanced capital structure would put the group in good stead to identify future landbanking opportunities.
This is supported by a healthy unbilled sales buffer of RM4.7 billion, which includes RM650 million due from the final progress billings of some major projects that have been completed, such as M City Jalan Ampang, Icon City Petaling Jaya and Southbay Penang. — AmInvestment Bank, Feb 16
Do not ask the gardener about the value of your home. Click here at The Edge Reference Price to find out.
This article first appeared in The Edge Financial Daily, on Feb 17, 2016. Subscribe to The Edge Financial Daily here.