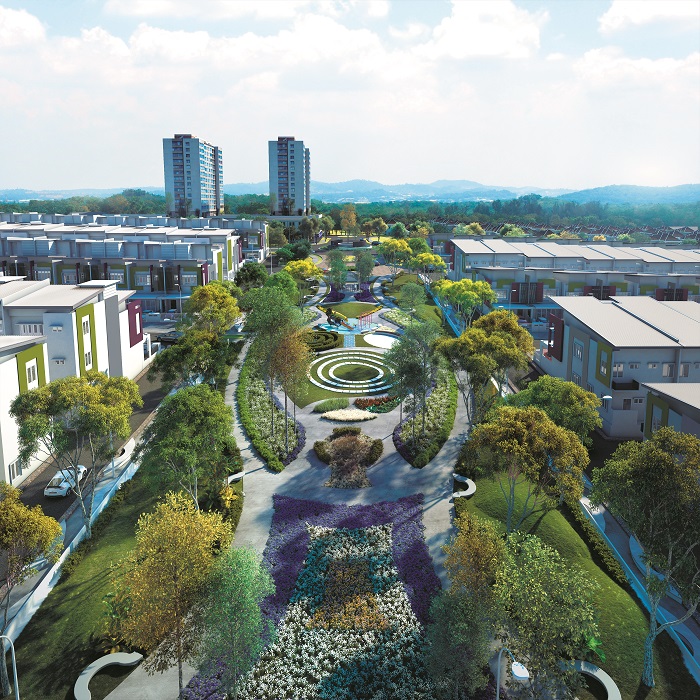 THE story started in 2004 when Tan King Hong, Loh Kok Theng and See Cherng Jye were brought in to establish Yuwang Development Sdn Bhd, the property arm of Yuwang Group.
Tan, Loh and See have backgrounds in civil engineering, project engineering and construction management, and finance and plantations respectively.
"After gaining some experience and exposure in construction and property development, we hoped to be able to do something ourselves. We were taken into the Yuwang Group property arm to start developing its landbank," says Tan, who is executive director of Yuwang Development.
Yuwang Group's core business is in plantations. It currently has five palm oil mills and around 50,000 acres of oil palm and rubber estates in Peninsular Malaysia and Sabah and Sarawak.
"As planters, we have a vast landbank," Tan says. "We figured we should try [property development] on our own as we have expertise in that department. We started to push for our landbank to be repurposed for development."
Yuwang Group also has a hospitality arm, which is involved in three hotels — the four-star Novotel in Melaka, an upcoming five-star hotel to be operated by Marriott in Kota Kinabalu (slated for completion in 1Q2017) and a planned five-star hotel to be operated by Marriott in Kuala Lumpur.
"Because we have engineering knowledge, we're quite hands-on with the projects and the design," says Loh, director of Yuwang Development.
Yuwang Development's maiden project was Indera Mahkota in Kuantan. The 78-acre development comprises 800 affordable link houses.
"From there, we did higher-range projects in Kuantan — a gated and guarded [development comprising] semi-detached houses and after that, we completed 78 shoplots," Tan says.
Its first major project was Sutera Residences in Bandar Tun Hussein Onn, Cheras. First launched in 2010, it comprises two phases of an apartment block and semi-detached houses respectively, sited on 15 acres of land. The second phase was launched in 2013 with units selling for RM850,000 to RM1 million.
In 2012, Yuwang Development acquired a 58-acre parcel on Jalan Impian, Kajang.
"We're introducing our project, Semanja, in Kajang, which comes from the term sesama dimanja, in keeping with our group concept of 'a life of pampering and indulgence'," Tan says. "Prior to this, it was vacant, with some rubber trees on half of the site."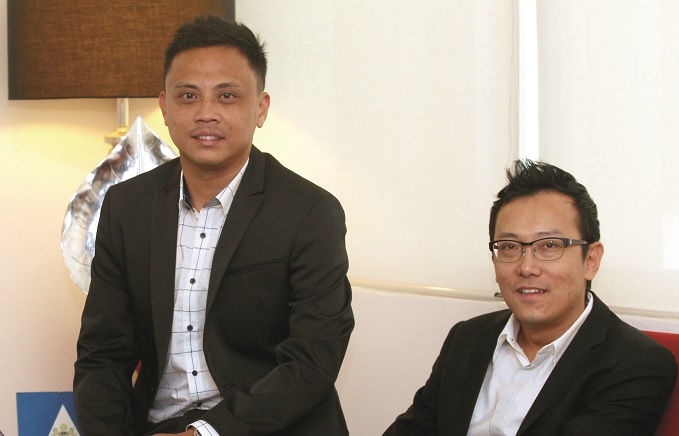 Lifestyle at an affordable price
Semanja Kajang will be built in six phases. The 19-acre Phase 1 will comprise 193 freehold 2 and 3-storey park terraced houses.
The contemporary-design houses will come in two sizes. There are 96 Type A units with built-ups of 2,425 sq ft and 97 Type B units that measure 2,575 sq ft. All the houses will have 4+1 bedrooms and are priced at about RM700,000 or RM310 to RM320 psf. Each bedroom will have its own bathroom.
"Our designs are quite practical and flexible, so buyers can customise their spaces to suit their needs and preferences," Tan says.
"So far, we've recieved over 700 online registrations for the project," property sales and marketing manager Wong Ting Li says. "We hope they translate into a 20% to 30% take-up once we launch the project officially, given the current market environment."
Nearby amenities include educational institutions such as Seloah Jenis Kebangsaan Cina Yu Hua, Kajang High School, Rafflesia International School, New Era University College and the University of Nottingham Malaysia Campus. The development is also close to the Kajang KTM station and future MRT stations — Kajang and Bandar Kajang — and the Kajang town centre.
Facilities will include a pavilion, children's playground, maze garden, a deck for relaxation and a jogging track, all located within the 1.1-acre central park.
"We put a lot of focus on the central park because we hope it will become a communal area," says Wong. "This shows you don't need to pay over RM1 million to enjoy this kind of lifestyle. You can get a house and the opportunity to connect with the surrounding community at an affordable price."
The target demographic for Phase 1 is young middle-income families or couples. The development is accessible via the SILK Highway, Cheras-Kajang Highway and North-South Highway. The new MRT stations, slated for completion in 2017, will provide added convenience.
The developer plans to launch Semanja phase by phase over the next five to six years, depending on market response. Plans for Phases 2 and 3 are already in the pipeline. Phase 2 will consist of gated and guarded 2-storey semi-detached, bungalows while Phase 3 will comprise apartments and condominiums.
"[Phase 1] will be followed by higher-end products," Tan says. "Tentatively, in the third quarter of 2016, we will launch our 100-acre industrial park in Puncak Alam, Kuala Selangor. It will be also under the name Semanja, because we're trying to create a brand."
The industrial park will cater for factory owners and manufacturers in the area.
"It's quite expensive to rent a warehouse or factory in Sungai Buloh these days. Puncak Alam offers an alternative as it's not that far away," says Wong.
Outlook
"The market is controlled by the forces of supply and demand. As long as developers are able to offer the right products at the right pricing, there will be demand," Loh says.
According to the trio, residences costing below RM1 million are still in high demand. However, they do agree that the current property market is sluggish.
"Although Sutera Residences were sold out within two weeks, I don't foresee sales being quite as quick this time," concedes Tan.
The group emphasises that its effort is to create value for its customers while focusing on expanding the Semanja brand.
"The properties in [Sutera Residences] have appreciated 20% to 30% since the handover in mid-2015," says Loh. "We're managing both the quality and the costs of the design and construction materials [for future projects] to offer better prices so as to continuously create value for purchasers."
"Landed properties have a stronger holding power and it's a major market segment for both owners and users," Tan says.
LaurelCap Sdn Bhd executive director Stanley Toh says the surrounding vicinity consists primarily of residential units.
"The increase in infrastructure, with the addition of the Kajang Dispersal Link Expressway (SILK), has encouraged a population shift to this part of Kajang. With the highway, people are able to go all the way to Semenyih," Toh says, adding that several major developers, such as Gamuda Bhd and Naza TTDI Group, have launched projects there.
With an estimated population of around 2,000 residents in the area, KGV International Property Consultants Sdn Bhd executive director Anthony Chua agrees that the demand in the property market in Kajang is for residential developments as accessibility increases.
Yuwang Development is confident that Semanja Kajang will sell well.
"At present, people seem to be putting on the brakes where property purchase is concerned," Wong says. "But as we've said, we're releasing good products with good pricing, and you seldom get new landed properties in the Klang Valley."
"We have confidence in the Klang Valley property market. We don't think there'll be a drastic drop in prices for landed properties in the area, perhaps just minor adjustments," Tan says.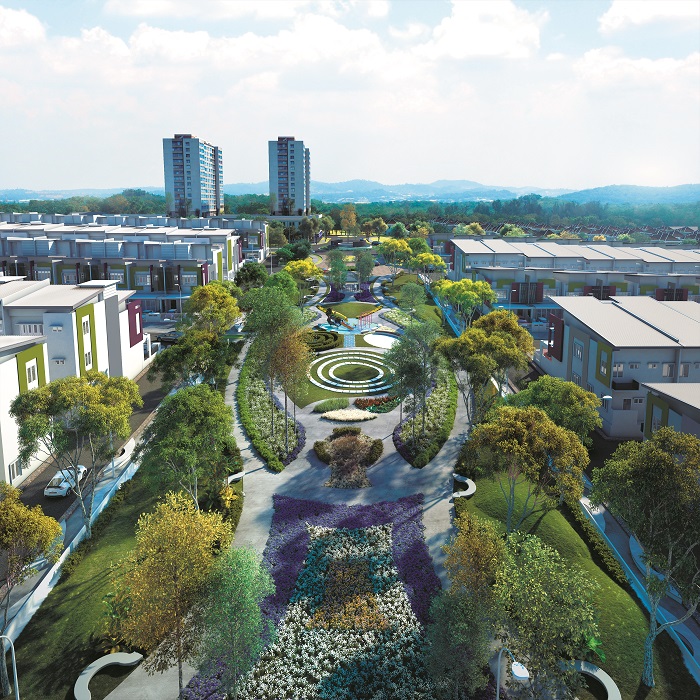 Do not ask your auntie about the value of your home. Click here at The Edge Reference Price to find out.
This article first appeared in City & Country, a pullout of The Edge Malaysia Weekly, on March 28, 2016. Subscribe here for your personal copy.