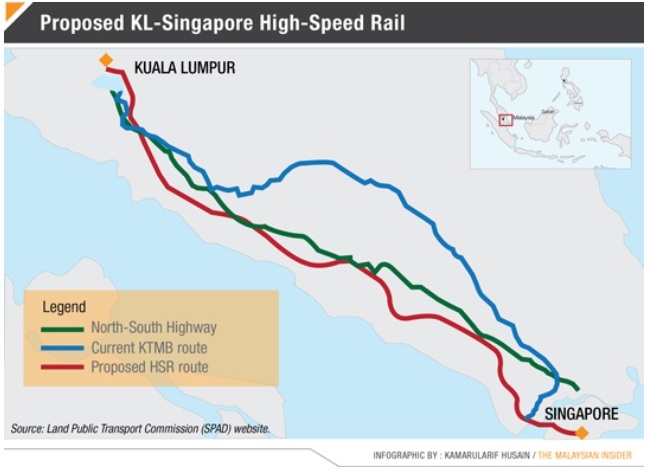 INTEREST in the Kuala Lumpur-Singapore High Speed Rail (HSR) project is growing even as the two governments iron out the details. Besides Asian rail-related companies, their European counterparts are keen to participate in the cross-border project as well.
A group of European rail companies — including Siemens AG (Germany), Alstom SA (France) and Spain's Talgo SA and Construcciones y Auxiliar de Ferrocarriles SA (CAF) — is understood to have made overtures and preparing to put in a bid, industry sources tell The Edge.
"When the HSR was built in Taiwan, there was talk of a European consortium making a bid, but it didn't pan out for whatever reason. This time around, I hear it's more or less certain, and it is even known at the highest levels of government," a source familiar with the matter says.
Checks by The Edge reveal that officials in developer and asset owner MyHSR Corp Sdn Bhd and some of the local companies are aware of the European group's interest but they declined to elaborate on their strategy.
MyHSR Corp, which is wholly owned by the Ministry of Finance, was given the mandate to develop and promote the HSR project and is the project delivery vehicle accountable for the definition of the technical and commercial aspects of the project.
About two months ago, Suruhanjaya Pengangkutan Awam Darat (SPAD) and Singapore's Land Transport Authority launched a request-for-information (RFI) exercise to gauge market interest and obtain industry opinion on the HSR project.
Out of the more than a hundred companies that replied to the RFI, 14 were shortlisted for further questions. "Some government officials heard of the European consortium's expression of interest after the RFI candidates were shortlisted," another source adds.
The four companies in the group have the requisite expertise in both rolling stock and infrastructure. They have expertise in the HSR business and overlapping skill sets. CAF and Talgo specialise in rolling stock design, manufacturing and maintenance. Alstom has expertise in track laying, electrification and supply and installation of electromechanical material in stations and depots. Siemens is known for its signalling systems and its trains are used in Spain, Russia and China, to name a few countries.
But how much of a threat would they pose to the current favourites, the Chinese and Japanese? The Chinese and Japanese governments have been pushing their rail systems and funding opportunities to their Malaysian counterpart. Another country that wants to be involved in the project is South Korea, but it is not clear if it is offering funding as well.
"Whether the Malaysian government requires foreign funding will depend on the actual amount that is required to build the infrastructure … but there seems to be no clarity in this area," says a businessman familiar with the plans.
During a presentation organised by SPAD a few weeks ago, China Railway indicated its interest.
The cost of the project is said to have rocketed to RM70 billion — from RM40 billion initially, then RM65 billion — in a matter of months.
The businessman questions why the cost has escalated from RM8 billion in 2007, when the project was first mooted by YTL Corp and its partner Siemens AG. The sum was to have covered the 325km rail system, rolling stock and other infrastructure.
"An increase of almost nine times, from RM8 billion in 2008 to RM70 billion now, in a mere seven years is unacceptable. Even with the weaker ringgit, it doesn't tally.
"Last May, the price tag was at RM40 billion, but now it's RM70 billion? There has to be some explanation," he says.
MyHSR officials have been keeping mum, letting the market speculate on the costs.
Apart from Tan Sri Francis Yeoh's YTL Group, Tan Sri Syed Mokhtar's flagship MMC Corp Bhd, in partnership with East Japan Railway Co (JR East), and Sumitomo Corp were understood to have made presentations to SPAD and other government officials in 2013.
Other companies said to be vying for the job include a company linked to businessman Tan Sri Ravindran Menon, Hartasuma Sdn Bhd, which is said to have teamed up with UEM Group Bhd, wholly owned by government-controlled investment arm Khazanah Nasional Bhd.
These local companies are also likely to have their respective foreign partners.
While the entry of the Europeans could be interesting, do their companies have sufficient clout to sway the decision in their favour?
Do not ask your gardener about the value of your home. Click here at The Edge Reference Price to find out.
This article first appeared in The Edge Malaysia on Jan 4, 2016. Subscribe here for your personal copy.