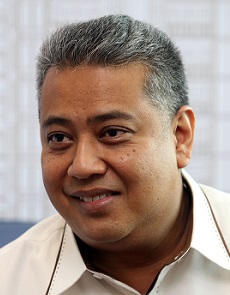 KUALA LUMPUR: Bank Negara Malaysia should ease and provide more flexibility for end-financing of property purchases, especially for first-time buyers, said Glomac Bhd group managing director Datuk Seri Fateh Iskandar Mohamed Mansor (pictured).
Fateh Iskandar, who is also the president of the Real Estate and Housing Developers' Association Malaysia (Rehda), said there are concerns about a growing number of housing loan applications being rejected by banks for purchases of affordable homes of up to RM500,000.
"The rejection rate for the first six months this year was above 50%, which is a worrying trend, especially since there is demand for affordable homes," Fateh Iskandar told the media after Glomac's annual general meeting yesterday.
He said while it is understandable that the central bank has a duty to keep household debt at a manageable level, buying a house is a purchase that will provide capital appreciation for homebuyers.
"End-financing now is the biggest issue for us, and we hope that some form of flexibility will be given, especially to first-time house buyers," Fateh Iskandar said.
He noted that those who purchase properties below RM500,000 are typically under 30 years of age.
"They can work until they are 60 years old, or 65 years old in some industries, which means they have around 35 years to pay [for their mortgage]," Fateh Iskandar noted.
While the property market outlook remains challenging, Fateh Iskandar said the property developer will continue to focus on townships and affordable homes.
"In FY15 (financial year ended April 30, 2015), we registered RM506 million in sales, and RM400 million came from the affordable homes segment for houses below RM500,000.
"For FY16, we are launching about RM800 million worth of properties, and RM550 million will be from townships and affordable homes. This is what the market wants," he said.
On the impact of the weakening ringgit on the group, Fateh Iskandar said the company does not see much volatility at this moment, given that the building materials for its townships are mostly sourced locally.
"We should look at the positive side of our currency depreciation, which has made properties above RM1 million more attractive to foreign buyers, given that this [segment] has slowed down a lot.
"Maybe for Singaporeans, this is the right time for them to come in," he added.
Meanwhile, Fateh Iskandar said Glomac is considering adopting the industrialised building system (IBS) in the future if the government provides tax rebates to developers.
"Moving forward, [the] IBS will be something that we should be aiming for. However, [the] IBS is still a little bit more expensive than the conventional way of construction at this moment.
"From research that Rehda has conducted, it shows that the cost of using [the] IBS is about 20% to 25% higher compared with the conventional way," he added.
Fateh Iskandar said that it is expensive to adopt the IBS due to the high initial cost of setting up factories and machineries, but he believes that it is beneficial in the long run as developers will reduce dependence on foreign labour.
He added that the government and its agencies should lead the way by ensuring that their projects are at least 70% IBS-compliant for an efficient economy of scale.
Glomac shares closed 1.5 sen or 1.67% higher at 91.5 sen yesterday, with a market capitalisation of RM653.3 million.
This article first appeared in The Edge Financial Daily, on Oct 21, 2015.