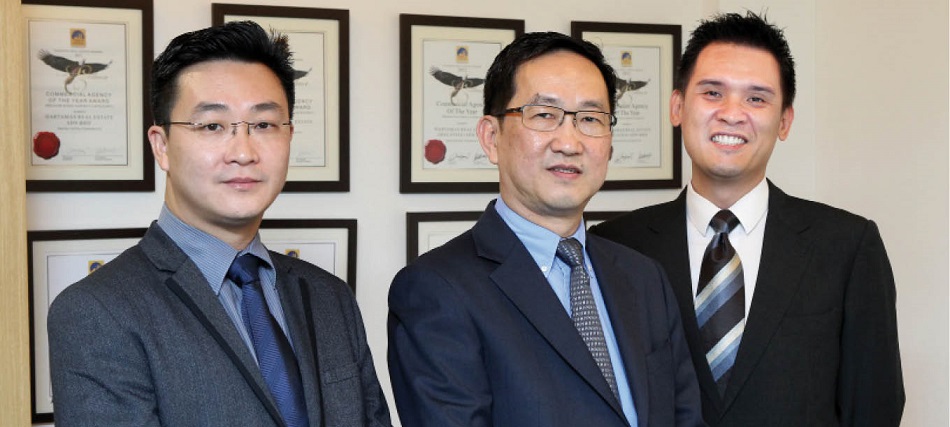 HARTAMAS Real Estate (Malaysia) Sdn Bhd founder and group managing director Eric Lim is all smiles when The Edge Property meets up with him.
With good reason: Hartamas Real Estate took home four awards at the National Real Estate Awards on Oct 3 organised by the Malaysian Institute of Estate Agents (MIEA).
They are, Top Real Estate Firm of the Year, Commercial Real Estate Firm of the Year, Top Project Marketing Firm of the Year, and Top Commercial Real Estate Negotiator of the Year, the last of which was won by corporate real estate services director, YS Lim.
"This was the fifth year we participated in the awards and the year we won the most," says founder Eric Lim.
Hartamas Real Estate has more than 200 staff in four offices across the Klang Valley.
Lim founded Hartamas Real Estate in 1996, his interest stirred after being put in charge of buying properties for his firm in his previous job.
"I had to engage with a lot of agencies and the interest just grew from there. I ended up taking the exam to be a registered real estate agent.
"When we (Hartamas Real Estate) first started, we had four staff in a small office at President House on Jalan Sultan Ismail, Kuala Lumpur," recalls Lim.
Then the Asian financial crisis hit less than a year after its opening.
"It was a bumpy road but we are a resilient bunch and managed to pull through. I always tell my team: when times are tough we have to double our efforts," says Lim.
The company is structured to weather rough times. Aside from a division for the residential subsale market, Hartamas Real Estate's other divisions include project marketing, corporate real estate, international projects, asset management, property valuation and training.
"I'd say subsale makes up about 40% of our portfolio, followed by project marketing at 30%, corporate real estate at 20% and international projects at 10%. This way, when the market is soft, like now, and people are not buying, we focus on the tenancy market, as people will still need a place to stay or work. And we can still market projects overseas or bring an overseas project to Malaysia," explains Lim.
The agency is distinguished by the loyalty of both its staff and clients.
"We have a great team of dynamic and independent individuals, and we have loyal staff who have been with us for years, some from the day we started. Our clients too have been instrumental in our success and are loyal. They support and engage us," says Lim.
In a sales-based industry, staff motivation and retention are crucial and difficult. In this regard, Lim believes a hands-on management approach has contributed to the loyalty of its staff.
"We don't do satellite monitoring. We work very closely with the team and we brainstorm. We work hard. I myself spend long hours in the office. I start from 9am and stay till 8 to 9pm. It's a passion," says Lim.
Across the seas
Hartamas Real Estate is now looking into opening more branches but "don't want to open branches for the sake of opening branches", says Lim. "We may look into opening a branch in Johor Bahru and Penang and later, overseas, like in Singapore. Even if we don't open branches overseas, our project marketing has already reached out to a few countries in the region," he reveals.
According to director of marketing and sales, Kevin Lim, Hartamas Real Estate holds 15 to 20 roadshows a month promoting Malaysian properties in countries such as Singapore, China, Taiwan, Hong Kong and Indonesia, as well as the Middle East, albeit on a smaller scale.
"The scope of our project marketing extends to design as well, it's not just about sales. Being people on the ground, we bring with us the knowledge of what buyers are looking for and trends," he says.
Project marketing has sold about RM4.5 billion in property value since it was started some six years ago.
How does agency founder Lim foresee the market and what are his plans for it?
"[It] will be even more challenging. We are aggressively marketing projects overseas right now and also bringing in foreign projects to sell in Malaysia. We have sold about 40 to 50 projects from London in the last four years. As the Australian dollar has depreciated along with the ringgit, we will be focusing more on Australia."
TOP MAN
IT was some 13 years ago that YS Lim started work in the administrative department of Hartamas Real Estate (Malaysia) Sdn Bhd. It was his first job.
"I was doing admin support for corporate real estate clients and was tasked to find out their requirements. Later, I started training as [a negotiator] and things just went on from there," says Lim, now director of the agency's corporate real estate services.
Lim was named Top Commercial Real Estate Negotiator of the Year at Malaysian Institute of Estate Agents (MIEA) National Real Estate Awards on Oct 3. This is his first award.
He recalls the elation of closing his first deal all those years ago.
"It was a lease for a very small office space that took me two months to close. Now, my focus is on large units of up to several hundred thousand sq ft and these take more than a year, sometimes up to three years, to close," shares Lim, who specialises in corporate high-rise offices.
"Working hard is a must. You must also be patient, especially if the deals take a long time to close. It is also crucial to be focused and understand both the tenant's and landlord's expectations," he offers.
Creativity also plays a role. Lim and his team try to see the deal from all angles and brainstorm to make sure it will be attractive to all parties involved. And if you still can't close it, hang in there.
"It's about going the extra mile and have the perseverance to push through," he says. (NRE AWARDS 2015)
This story first appeared in The Edge Property pullout on Oct 9, 2015, which comes with The Edge Financial Daily every Friday. Download The Edge Property here for free.