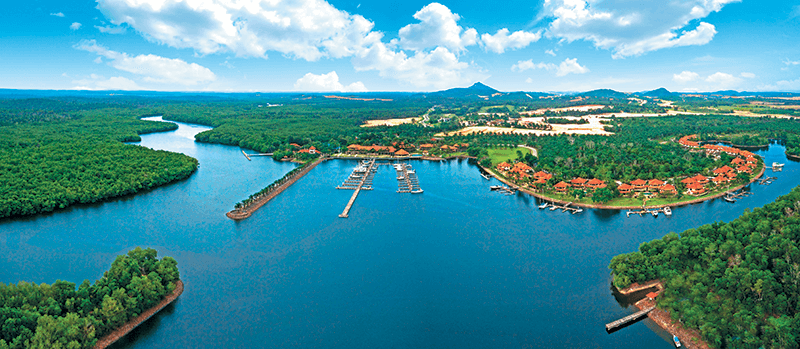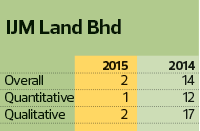 It has been an eventful year for IJM Land Bhd. The property arm of IJM Corp Bhd was privatised and made a wholly-owned subsidiary of the group in April. IJM Corp owned 64% of IJM Land before the privatisation exercise.
IJM Land is now led by former chief operating officer and chief financial officer Edward Chong, who succeeded Datuk Soam Heng Choon as managing director in April. Soam is now CEO and managing director of IJM Corp.
This year also marks the spectacular return of IJM Land to the Top 10 of The Edge Malaysia Top Property Developers Awards. It took the second spot after an absence of two years. Its last appearance in the Top 10 list at position No 10 was in 2012.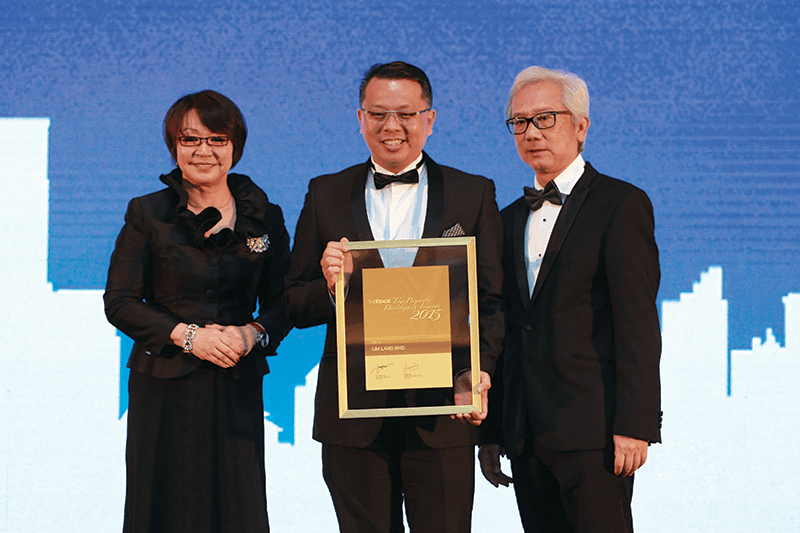 IJM Land has a vast and diverse portfolio, which includes townships, commercial properties, landed and high-rise residences, luxury homes and sustainable developments in Johor, Penang, Pahang, Sabah, Sarawak, Negeri Sembilan and the Greater Kuala Lumpur.
Among its notable projects are Seremban 2, The Light Waterfront Penang, Pantai Sentral Park in Kuala Lumpur and Sebana Cove Resort and Nusa Duta in Johor. IJM Land has an undeveloped landbank of 4,500 acres in Malaysia, Vietnam, China and the UK with a gross development value of RM30 billion.
Like all local property developers, IJM Land was affected by the weak property market. For the financial year ended March 31, 2015 (FY2015), its revenue of RM2.203 billion was marginally lower than the RM2.224 billion achieved a year ago. It registered property sales of RM1.8 billion in FY2015, compared with RM2.9 billion, which included RM700 million from its maiden project in London — Royal Mint Gardens — a year ago.
In FY2016, IJM Land is focusing on products in the affordable range in view of the strong demand in this segment. Some of its upcoming launches are Phase 1 (landed homes) of Senjayu, its flagship development in Seberang Prai, Penang, and Waterside Residence in its iconic The Light Waterfront Penang.
The Edge sat down with Chong to talk about IJM Land's strategies to remain competitive in a challenging market, changes since the privatisation and its long-term expansion plan.
The Edge: How have the past 12 months been for IJM Land?
Edward Chong: I believe all property developers in Malaysia are facing the same challenges. What we are seeing is that consumers are more cautious as sentiment has been affected by the weakening ringgit and crude oil prices, among other things. So, the economic sentiment has been affected to a certain extent, and combined with tighter lending criteria, the property market has become more challenging.
However, it's not all gloom and doom. The market is just not as robust as it used to be. Developers have become accustomed to a good property market, so it takes a bit of adjusting. Life continues and I think it's time for us to go back to the fundamentals and relook at how we operate.
What are your priorities going forward?
Most developers have expanded quite rapidly in the last few years. We are no exception. When the market was good, we all rushed in and wanted to make sure we had the products and were able to deliver them. We expanded geographically and in terms of headcount, we expanded 30% to 40%. So, our processes and procedures might not be as tight as we had hoped for.
Now is the time to review the fundamentals and look at how we operate and how we serve our customers, and address [the areas] where we have not done so well. We will refocus on our people, train them to carry the IJM brand and deliver the level of customer service we want. This is our current priority. We are doing interviews with our customers to see what they think and where we should improve.
We have always practised continuous improvement, but we can't deny that in the heat of things we sometimes get caught up with the time and neglect certain things. So, it's time to go back and strengthen the parts where we didn't do so well.
After an absence of two years from the Top 10 of The Edge Malaysia Top Property Developers Awards, IJM Land made a comeback this year. What contributed to this comeback?
Coming from a construction background, we are used to getting our hands dirty, so to speak. We keep our head low and just keep doing the job. We pride ourselves on our quality and timely delivery. They have always been our strength, but we don't shout about what we do and what we have achieved.
We had a change in mindset in the last couple of years and have been working hard on improving our branding and how the customers see us. We are working hard to let people know what we can do and we are talking more about our attributes now. That has helped us in some way.
However, we are still the down-to-earth property developer as we still go back to our roots and believe in what we do.
Given the effort IJM Land has put into branding, what do you think is the public's perception of the company now?
I think we are known for our expertise in construction and for delivering a lot of major urban projects. We are definitely known as a company that delivers in terms of meeting expectations, quality and timeliness. Those who buy from us expect high-quality products and they don't have to worry about the project being abandoned.
As for our branding, it is a long-term process. It will not be fair for me to say people think we have changed a lot over a short period of time.
What makes branding work is consistently doing the things you are good at every day. It is important that people see for themselves what we can do rather than just believe what we claim.
It is an ongoing journey but we are more coordinated when it comes to branding now. We used to be fragmented in that sense — our branding was done geographically in the places we operate, instead of as a group.
For example, if you ask people in Penang about us, most of them will know who we are, but if you were to ask those living in a city we do not operate in, many will probably not know of us. Now, we are coordinating as a group and we have one voice. This way, more people will know us.
Has the privatisation of IJM Land changed the company's business strategies?
Principally, it doesn't affect us and how we operate. We are one of the rare non-government-linked companies with institutionalised shareholders. So, the board will set the direction and targets and we run on key performance indicators.
Privatised or not, we still have to work to meet the targets. The board doesn't give us much leeway or expect us to deliver more than what is possible.
The performance of the company is not tied to the privatisation. I think the reality is, property development is a cyclical business and the board understands this. Property developers had a good run from 2009 to 2013, but the wind direction has changed, so we will need to make the necessary adjustments and ensure that our ship stays on course. Obviously, in the current climate, we won't be able to move as fast as we wish.
Our group has different business divisions. Naturally, some divisions will perform better than others at different points in time. So, as a group, you will find that our performance is quite consistent.
How will IJM Land's international projects figure in its long-term growth?
We have been on course with growing our business overseas. The board has set a direction for us and eventually, a certain portion of our business should come from overseas projects. That's why we have entered China, Vietnam and the UK.
As I mentioned earlier, IJM Corp's various business divisions have helped us as a group to withstand the cyclical effect. The same idea applies to IJM Land. If the property market is doing badly in one country, we can't escape the impact. But we can counter it if we operate in various countries. The whole world won't collapse at one go and this allows us to grow the business regardless of the slowdown in the property market.
Currently, the number of our international projects is very small. I think we are known to be conservative. When we go overseas, we tend to start small, we won't bite off more than we can chew, and no country is similar in nature. If you look at IJM Corp's experience in India in the last 15 years, there were times when we suffered badly. However, in the last few years, we have been reaping the benefits and are now able to make good money out of the assets we struggled with initially. So, as we expand geographically, we need the right resources and learn the culture of doing business in each country.
We will continue to be in London, where we are now in the process of constructing Royal Mint Gardens. Eventually, we will look for other parcels of land to continue our expansion there. We will also look at countries like Australia.
We do not have a timeline to reach a certain percentage of contribution from international projects because we see it as a long-term plan. Sometimes the danger of setting targets is that you may end up jumping in even when the time isn't right, just to hit the target.
With inflation and the weaker ringgit resulting in the rising cost of materials and demand for affordable products growing, how will IJM Land meet the demand and still make a decent profit?
As a branded developer, we can price our products at a slight premium but ultimately, house prices will fall back on the natural forces of demand and supply.
We have to make sure all the products we launch are what the market wants and is willing to pay for. In the current environment, the challenge is to find a way to deliver the products to the market at the price consumers want and still be able to make decent returns for our shareholders.
To do that, we need to be a lot more efficient in our delivery and make sure we still have the same quality. Efficiency here means minimising wastage and optimising the designs of our products. Sometimes a product can be over-designed. For instance, we have come across terraced houses built on a foundation that can hold a 20-storey building. It's simply not necessary and a waste. It doesn't mean we are cutting corners, we just want to reduce wastage.
At the end of the day, there's no point pricing a product above the market price because you will struggle to sell and your cost will keep on increasing, especially in this environment.
Do you expect IJM Land's FY2016 sales to match its FY2015's RM1.8 billion? Do you expect to see changes in the property market soon?
It's our practice as a group not to disclose our sales target, but I think we will definitely have lower sales in FY2016 compared with FY2015. The headwinds have become stronger but the environment is changing rapidly. If you ask what is the current property market like, I'll tell you it's just like the haze outside. Certain days, you can't see anything, then all of a sudden, the wind changes direction and you can see clearer, and back again. Everything is quite uncertain at this point.
Having said that, our launch of Rimbun Vista in Seremban 2 recently saw people queue up to buy a unit. That shows that there is still a market out there but people are very selective. We just need to find where the demand is.
People can afford to wait and see how the economy will fare before buying a property. Some are waiting for prices to come down. We don't think prices will go down as the cost of materials is increasing, along with labour cost. Developers will naturally cut supply when the market is not well, that's why we are constantly reviewing our launches. The theory is, if supply is reduced while demand stays, prices will stay too.
In an uncertain and unpredictable economic climate, how will IJM Land identify and mitigate the risks?
We always keep our eye on the ball and our ear to the ground. We mitigate the risks by trying to pre-empt them as much as we can. We get news because we are constantly in touch with all the stakeholders. We are quite active in the Real Estate and Housing Developers' Association Malaysia, so we are informed of happenings in the market as well as rumours.
Our group is constantly reviewing our risk policies. The good thing is that we are exposed to most of the states in Malaysia. So, we have people on the ground to tell us what is happening in their respective state. This has enabled us to respond faster and manage things a lot better. TEPEA 2015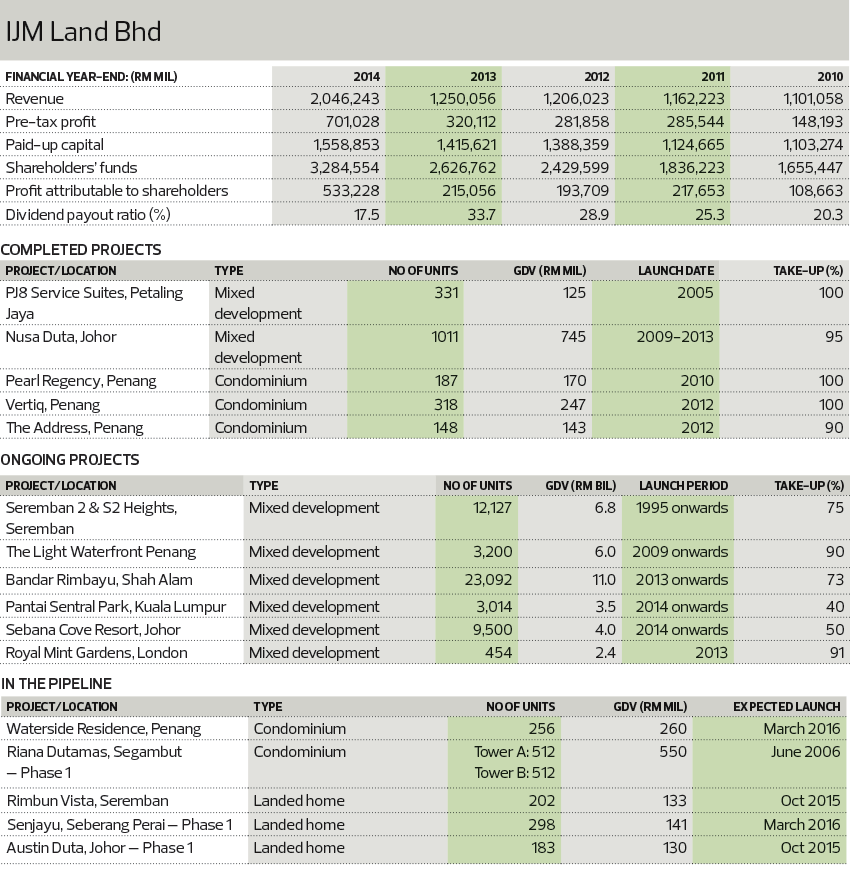 Do not ask your BFF about the value of your home. Click here at The Edge Reference Price to find out.
This article first appeared in City & Country, a pullout of The Edge Malaysia Weekly, on Dec 7, 2015. Subscribe here for your personal copy.