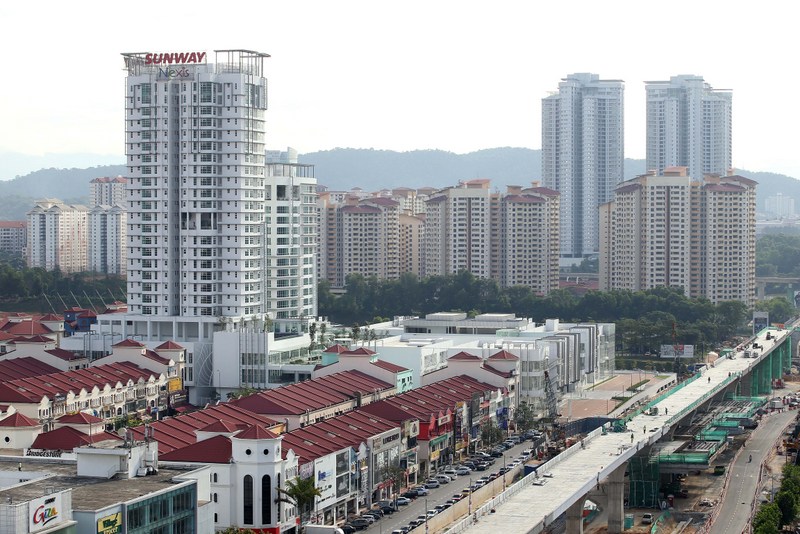 KUALA LUMPUR (May 30): A comforting tune to most developers amid the tepid property market is their rather healthy unbilled sales levels, which are expected to be sufficient to sustain earnings until next year end, at least.
Some property firms, for instance Tropicana Corp Bhd and UEM Sunrise Bhd, have even seen growth in their unbilled sales despite the slowdown and banks' prudent lending policy (see table).
Tropicana's unbilled sales have grown to RM3 billion from RM2.6 billion a year ago. UEM Sunrise's unbilled sales as at March 31 was at RM4.7 billion against RM3.9 billion last year.
Affin Hwang Capital said it expects Tropicana's earnings to come in stronger in the subsequent quarters on the back of land sales as well as higher progress billings.
"The group's unbilled sales stood at a healthy RM3 billion as at end-March 2016, underpinned by existing projects as well as new launches.
"In 2016, the group maintains its plan to launch more than RM1.5 billion worth of properties, of which the bulk will still be within the central and northern regions," commented Affin Hwang, which pegs a fair value of RM1.95 for Tropicana with a "buy" call.
Meanwhile, Mah Sing Group Bhd, which has cash coffers of RM1.1 billion under its belt, is Macquarie Research's top pick in the Malaysian property market. Macquarie noted that Mah Sing had a weighted average take-up rate of 90% across its portfolio of 23 development projects, much above the industry average of 63%, according to data by the National Property Information Centre.
Mah Sing is also on UBS Global Research's recommendation list.
"To ride through the current cycle of the market, and to ensure stability and continuation in revenue and profit growth, our strategy is to focus on acceleration of work progress in projects that have achieved high take-up.
"We have the right balance sheet strength and liquidity. The group has a low net gearing at only 0.09 times this quarter, RM1.1 billion of cash, and a further RM651 million in final-stage billings on the many property completions during the year," said Mah Sing in an email response to The Edge Financial Daily last Friday.
Nonetheless, there could be a rare bullish call on the property market, although the unbilled sales would well reflect property developers' earnings visibility.
Generally, a majority of analysts who track property have a "neutral" or "hold" call on the sector. Some analysts opine that there isn't any catalyst prompting them to turn bullish on the property sector as there aren't signs that the market has hit, or is near, the bottom, not to mention signs of recovery.
The latest round of corporate earnings did not do any justice to property developers either, as many companies had reported lower earnings as a result of the withering property market sentiment.
The prudent lending policy is a main factor that has dampened the outlook. The common view is that there is still demand, but buyers could not obtain loans.
RAM Rating Services Bhd had recently placed a downer on property developers when the ratings firm said it was maintaining a negative outlook for the Malaysian property sector, amid a slowing economy and tight lending conditions.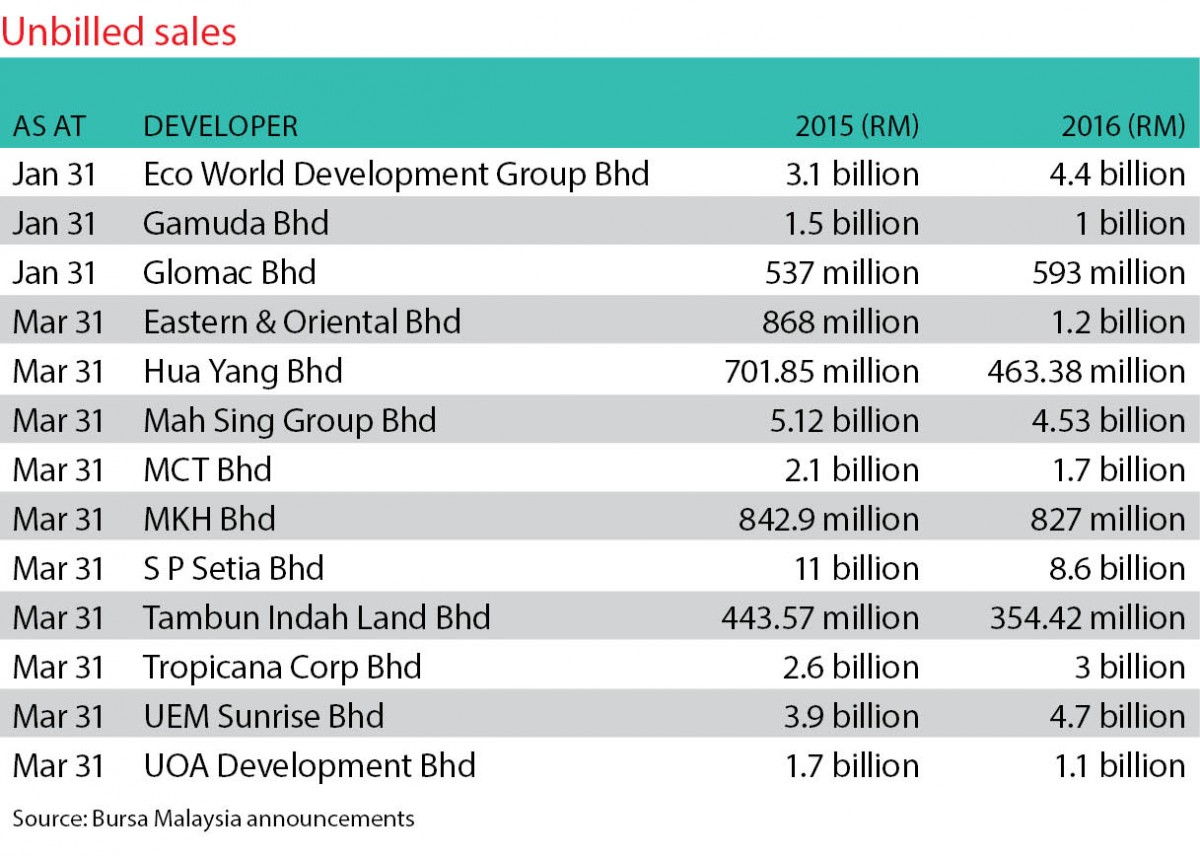 Do not ask your auntie about the value of your home. Click here at The Edge Reference Price to find out.
This article first appeared in The Edge Financial Daily, on May 30, 2016. Subscribe to The Edge Financial Daily here.