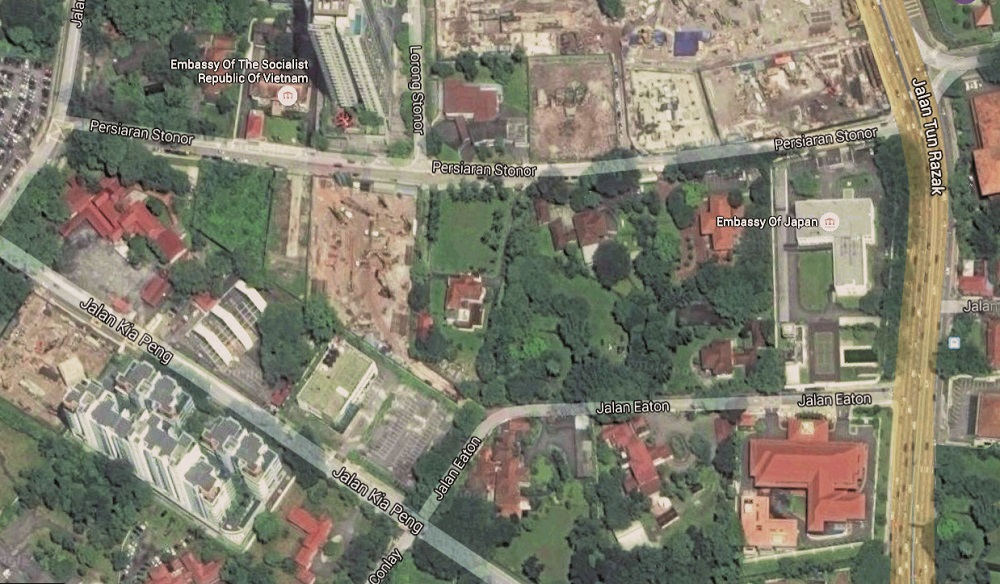 LEMBAGA Getah Malaysia (LGM) is monetising its prime land in Kuala Lumpur City Centre (KLCC), in what some believe is a move to shore up its coffers.
On March 15, the company held a briefing for qualified international and local hotel operators to invite tenders for a proposed five-star hotel to be developed on a parcel in Persiaran Stonor, within a stone's throw of the Petronas Twin Towers.
This is not the first piece of land in the city that LGM is monetising.
In 2013, its board had entered into a joint development agreement (JDA) with Global Oriental Bhd (GOB) for the development of mixed-use projects on two parcels, one each in Jalan Ampang and the Ampang Hilir area.
There is also talk that the LGM headquarters — Bangunan Getah Asli — in Jalan Ampang could be hived off or redeveloped with unsolicited offers being made.
A name that has surfaced with regard to the redevelopment of Bangunan Getah Asli is Tan Sri Desmond Lim, who controls 35.34% of Malton Bhd and 37.35% of his flagship Pavilion Real Estate Investment Trust.
However, an executive familiar with the businessman says there is no truth in the rumour while another says any speculation is "premature".
"Lembaga Getah is monetising its land in the vicinity because as a government statutory body, it doesn't have to be in that prime area. The board is basically sitting on a gold mine as land there is hard to come by," says a market observer.
When contacted, LGM said it could not comment on the Persiaran Stonor land and the proposed development because the deal was still under negotiation. According to a source, however, the land has been sold to a public-listed company.
The sale of land by government agencies to raise revenue is not an uncommon practice but it should go to the highest bidder to realise the maximum value for the state's coffers, says the observer. At the same time, governments should balance the need to get the highest price with the responsibility to allocate some land for public benefit, such as affordable housing, public transport and hospitals, he adds.
The LGM parcel in Persiaran Stonor is in a strategic location. It faces Istana Siraj, the private residence of the Perlis royal family, and is flanked by the Embassy of Japan and the High Commission of Pakistan. It also lies between Persiaran Stonor and Jalan Eaton and is not too far from Jalan Tun Razak.
There is an archived listing of the parcel on a real estate website, which states that the listing has expired. According to the archived listing, the parcel is freehold and 4.75 acres in size. It also mentions plans for a mixed-use development comprising a 60-storey five-star hotel and three 50 to 60-storey blocks of small offices/home offices.
A real estate agent says a listing expires when the seller decides not to go ahead with the sale or a buyer has been found. As LGM is calling for tenders to operate the hotel, the latter could be a possibility.
The archived listing states that the land is for sale at RM248.4 million. However, the developer or investor who wins the tender will have to build the 60-storey hotel for LGM at an estimated cost of RM170 million on 1.75 acres of the land.
That leaves three acres for other types of development. In total, the developer will have to fork out RM418.4 million or RM3,200 psf. This is on a par with the market value of land in KLCC.
KSK Group Bhd's 8 Conlay development sits on 3.95 acres that cost RM568 million in 2013, which works out to RM3,300 psf while Malaysian Resources Corp Bhd bought the German Embassy land in Jalan Kia Peng last year for RM3,188 psf or a total of RM259.16 million.
As for LGM's JDA with GOB to develop the parcels in Jalan Ampang and Ampang Hilir, the board appointed Pedoman Ikhtisas Sdn Bhd, a wholly-owned subsidiary of GOB, for the task, according to an announcement. Pedoman Ikhtisas is to develop the parcels, measuring 5.75 acres in total, into mixed-use projects with an estimated total gross development value (GDV) of RM860 million. GOB is to start construction within four months of fulfilling the JDA and complete the projects in or before four years from the commencement date.
However, three years since the JDA was signed, there has been no update from GOB on the development. Its website does not list any projects in Jalan Ampang or Ampang Hilir.
According to the government's e-portal for development planning approval, Dewan Bandaraya Kuala Lumpur had approved the land work, road and sewage plans for the projects on Feb 16 this year.
Under the JDA, LGM will get a corporate tower worth RM247.25 million and RM20 million cash, which translates into a land cost of RM1,067 psf for GOB. The fact that a corporate tower is part of the consideration for the land has sparked talk that LGM's current headquarters in front of the Petronas Twin Towers could also be up for redevelopment.
Land in the Jalan Ampang vicinity could fetch around RM2,000 psf. In 2012, S P Setia Bhd had bought the British High Commission land for RM2,200 psf while reports have it that Putrajaya Holdings Sdn Bhd paid RM2,400 psf for the French Embassy land.
GOB has been disposing of its assets lately. In November 2014, the group sold two parcels measuring a total of 15.56 acres in Seri Kembangan to Singapore-incorporated Qingdao Investment Pte Ltd for RM142.35 million. It is also selling da:men mall in Subang Jaya to Pavilion REIT for RM486.8 million.
GOB is expected to have a huge cash pile of over RM560 million when it receives payments for da:men mall. A back-of-the-envelope calculation shows that it would be in a net cash position of RM249.3 million after deducting all borrowings, which translates into net cash per share of 55 sen.
As at Dec 31, 2015, GOB's cash position was RM77.44 million. The group also listed RM17.9 million of assets held for sale as at end-2015. Long-term borrowings stood at RM242.44 million and current borrowings at RM90.37 million.
GOB's shares closed at 48.5 sen last Thursday, giving it a market capitalisation of RM220.5 million. The counter has been on a downward trend so far this year, depreciating 10%.
Its share price reached a 52-week high of 65 sen last November following the announcement of the disposal of da:men mall to Pavilion REIT. The group's net asset value per share stood at RM1.07 as at Dec 31, 2015.
At a price-earnings ratio of 3.56 times, GOB could be the cheapest mid-sized property developer on Bursa Malaysia. Land & General Bhd is trading at 7.7 times earnings while Malton Bhd is valued at 10.64 times.
Start your search for a condominium of your choice HERE.
This article first appeared in The Edge Malaysia on March 28, 2016. Subscribe here for your personal copy.