MRCB-Quill REIT (Oct 23, RM1.15)
Maintain hold with a target price (TP) downgraded to RM1.20: We have a "hold" call on MRCB-Quill REIT (MQREIT) as the mild growth outlook and vacancy risks are adequately priced in, with it trading at about 1% yield above other Malaysian REITs under our coverage.
While the major Platinum Sentral acquisition in the first quarter of 2015 had increased its asset size by nearly 90% to RM1.55 billion, we expect flat distribution per unit (DPU) growth in financial year 2015 (FY15) due to the dilutive effects of new units issued.
DPU growth has been flat since FY13, due to mild reversions on its core office assets as well as some vacancy issues.
We expect some challenges in negotiating positive rental reversions, and occupancy replenishment going forward for MQREIT's office-focused portfolio. This is due to additional incoming supply prolonging the office space supply overhang.
As at first half of 2015, the National Property Information Centre expects an additional 9% of incoming office space for Malaysia, with the bulk (83%) of that coming from Kuala Lumpur, Putrajaya and Selangor — where MQREIT has exposure — with expected space additions of 6%, 14% and 21% respectively.
MQREIT has the rights of first refusal to Malaysian Resources Corp Bhd's stable of investment properties, which may carry values of up to RM1.5 billion in aggregate.
However, MQREIT's current gearing of 44% implies an additional debt headroom of only about RM100 million — implying that new unit issuance will likely be necessary for sizeable acquisitions in the near term.
Our TP is assuming 8.4% cost of equity and 1% terminal growth. Our earnings forecast assumes no additional vacancies and immediate renewal or refilling of expiring leases. Delayed replenishment of released spaces will be earnings negative and may derate the stock downwards. — Alliance DBS Research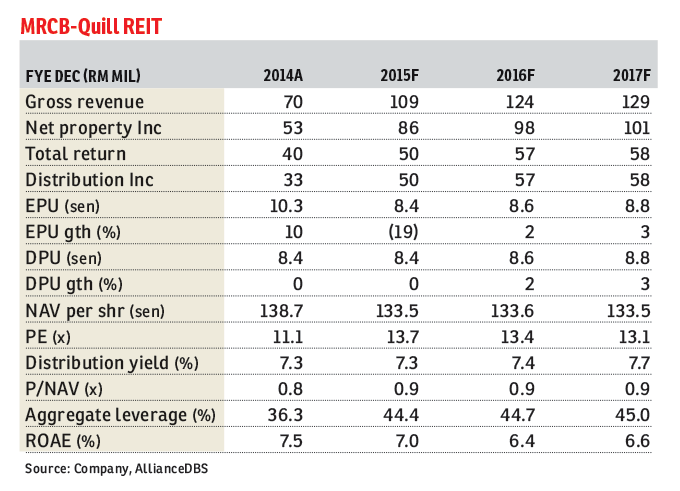 This article first appeared in The Edge Financial Daily, on Oct 26, 2015. Subscribe to The Edge Financial Daily here.