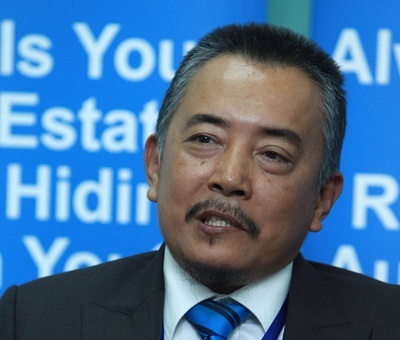 KUALA LUMPUR (Jan 20): Illegal property brokers and marketing companies are turning to new age media such as websites and applications to encourage landlords to use their services instead of real estate agents, said the Board of Valuers, Appraisers, and Estate Agents Malaysia (BOVAEA).
BOVAEA president, Tuan Haji Faizan Abdul Rahman (pictured) said such incidents have increased in view of the current challenging market in a press conference yesterday.
This new threat was discovered during a six-month campaign dubbed C.A.M.P (Cheating, Absconding, Misinterpretation and Profiteering), which encapsulates the four main methods used by illegal brokers. C.A.M.P was launched last year in August by BOVAEA.
"We have even discovered one highly recognised public listed company in the information technology (IT) industry that had started a property portal to promote and sell a developer's product, and received fees for the transactions," said BOVAEA's chairman, Eric Lim who was also present at the press conference.
BOVAEA Estate Agency Practice committee member K Soma Sundram noted there is no harm in using websites or applications to promote a product for advertorial purposes, but if transactions were made and commissions were received, then it means that the law has been broken.
"Unregistered negotiators have not gone through the necessary training to understand the proper process of selling off a property and the correct way to do it," Soma said.
Soma also addressed the illegal brokers' replication of the red lanyard and tag worn by registered estate negotiators (REN) to fool the public.
"One way to recognize if they are RENs is to look for a QR (Quick Response) code on their tags. You can scan the code with your handphone, which will then lead you to our board's website to identify if they are registered under the board," explained Soma.
Haji Faizan noted that only registered real estate agents as specified in section 22C of the Valuers, Appraisers and Estate Agents Act can act as agents in selling, purchasing, letting or renting of any properties.
He added that some of the punishments include removing the agents' names from the registry, suspension of practice, admonishment and/or fine.
"The board is currently actively working with the police and the Attorney General chambers to take action," he said.
Those found guilty under Section 30 of the act is liable to a fine not exceeding RM300,000 or imprisonment for a term not exceeding three years or both.
"For some developers that are making millions or billions in deals, they may feel that the RM300,000 fine is a small amount compared with the profit. But, they need to remember there is a possibility of jail time, and nobody wants that," Lim told TheEdgeProperty.com.
Haji Faizan emphasised that the board's objective is to protect the public against illegal brokers.
"If you [the public] engage a registered real estate agent or negotiator, then BOVAEA can take action if there is a dispute. However, illegal brokers and firms that are not registered with the board do not have a record with us, and it is very difficult for us to help them when disputes happen," he noted.
Haji Faizan added that the board will meet with the Real Estate and Housing Developers Association sometime this month to ensure that those appointed by the developers are registered agents.
"Since the launch of our campaign, we have noticed a drop in con cases. We will keep working towards curbing this illegal activity," said Lim.
Do not ask your boyfriend about the value of your home. Click here at The Edge Reference Price to find out.