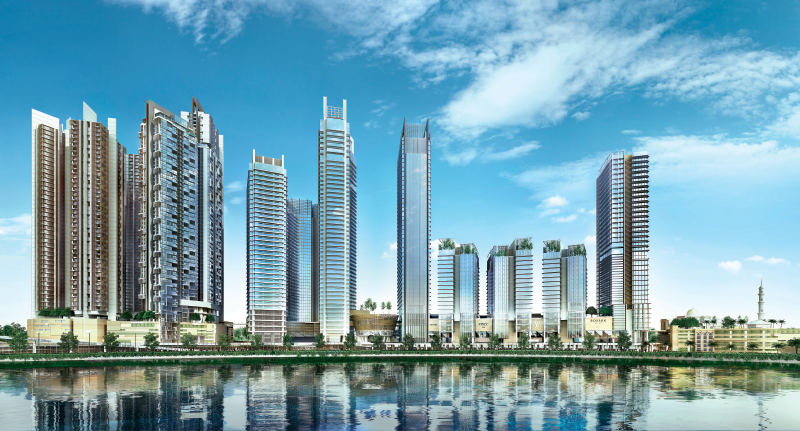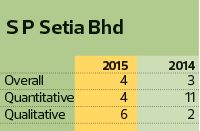 S P Setia Bhd has a knack for turning a less favourable situation into something lucrative. And even in poor market conditions, the group remains optimistic.
"I believe there are bright spots in every segment. Apart from our usual products, we are also focusing on underserved markets such as empty nesters and affordable housing," says Datuk C J Khor, acting president and CEO of S P Setia.
Despite the market slowdown, S P Setia maintains its composure and confidence as it again makes the Top 10 of The Edge Malaysia Top Property Developers' Awards. The group has nabbed the top spot eight times, with impressive projects both in its local and international portfolios.
This year, S P Setia has recorded its strongest financial performance yet. The group's third-quarter revenue surged to RM1.63 billion while profit before tax (PBT) was RM406.3 million. The group has seen total sales of RM2.54 billion for the first nine months of its current financial year, as at July 31, and unbilled sales were RM9.9 billion as at September.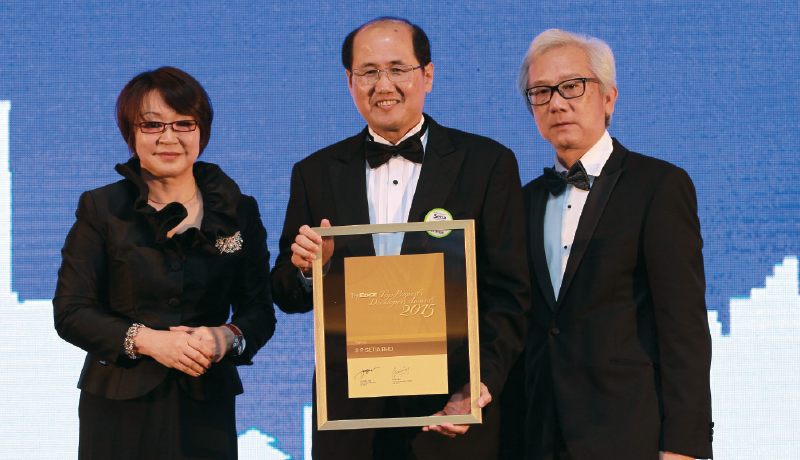 "S P Setia came up with the Jet Set with Setia campaign and its Triple A rewards for our customers this year. They have helped to boost sales and we are on track to hit our RM4 billion sales target amid the slowdown in the market," says a poised Khor, who assumed his current role in January 2015.
What is S P Setia's secret to success? "Without a doubt, it is our teamwork. Since the start, it has always been 'Team Setia'. We are guided by our vision, which is to be the best in all we do, and our core values. These core values have helped us achieve many innovative ideas and successes throughout the years, be they big or small," says Khor, who has 30 years of experience in the property and construction industry.
It is clear that S P Setia's team spirit and culture have been a constant element in its growth. Since the departure of former group CEO and president Tan Sri Liew Kee Sin in April 2014 and former acting president and CEO Datuk Voon Tin Yow in January 2015, the group has continued to flourish, forging ahead with an array of new projects.
One of its latest projects, Setia Ecohill 2 in Semenyih, Selangor, is an extension of the group's signature eco-themed developments. The RM5.21 billion township is expected to launch in 2016. Another upcoming township is Setia Eco Templer in Rawang, a rainforest-themed township worth RM2.05 billion.
Launches in 2016 include contemporary, high-rise residential projects — Skyville Penang and Sky Seputeh in Kuala Lumpur. Setia Federal Hill Kuala Lumpur, a mixed development with a gross development value (GDV) of RM14.5 billion, is scheduled to launch in 2017.
One of S P Setia's most recognisable and recently completed projects is Fulton Lane, its maiden project in Melbourne, Australia. Launched in 2011, the high-rise residential development translates to a GDV of RM1.4 billion. The project was handed over in September, two months ahead of schedule.
S P Setia's foreign projects have been at the forefront of its growth. As at September 2015, the group's international projects posted sales growth of 15.5% from the previous quarter. Sales from the group's £8 billion redevelopment of Battersea Power Station in London and its Singapore projects recorded an improvement of 7.7% (RM111 million) and 65% (RM53 million), respectively. Its local projects recorded sales of RM573 million. The group has approximately 4,198.35 acres (with an estimated GDV of RM71.27 billion) in undeveloped landbank remaining as at April 2015.
The group's notable local projects include Setia Alam, Setia Eco Park, Setia Ecohill, Setia Eco Glades and KL Eco City in the Klang Valley, Setia Pearl Island and Setia V Residences in Penang and Bukit Indah, Setia Indah, Setia Eco Gardens and Setia Eco Cascadia in Johor.
Khor confidently tells The Edge that S P Setia is showing no signs of slowing down. "We do intend to be more aggressive in looking for new projects, both locally and internationally. For 2016, some 75% of our focus will still be on local projects and the remaining 25% will be overseas."
The Edge: How would you review S P Setia's group performance in the last 12 months?
Datuk C J Khor: Despite the challenging market, we have fared reasonably well. We have been strategic in our launches this year to suit market demand. We continue to deliver on our promises of quality, innovation and reliable products and services, and we are confident the group is on track to achieve our targeted RM4 billion sales.
In the past few months, we have witnessed the completion and handing over of Fulton Lane in Melbourne, Australia, and 18 Woodsville, Singapore, to satisfied purchasers. Both projects were completed two months ahead of schedule. We celebrated the topping up of our second project in Singapore, Eco Sanctuary, in September. We have also delivered on our promise to complete and open the Ecohill Link in conjunction with the handing over of Setia Ecohill Phase 1 houses.
In terms of launches, we received an overwhelming response to our terraced units in Setia Alam — Caffra, Crista and most recently, Fusca — all of which are located in Precinct 11 of Setia Alam. These 3-storey terraced houses were fully taken up on the weekends they were launched. Caffra was launched in January, Crista in April and Fusca in September. And just in October, Setia Eco Park launched its single and 1½-storey bungalows called Victoria Springs, targeted at small families and empty nesters.
As at July 31, S P Setia achieved 82% higher revenue and 123% higher PBT than last year. How did you achieve such a performance?
We have strategic plans in place for both the long and short terms. We have the breadth and depth to weather the current market conditions. We have a plethora of product offerings from high-end luxury products to affordable housing that allows us to selectively launch our products.
So far, our strategy to launch more mid-priced and affordable homes has proved to be successful. Mid-priced products such as Caffra, Crista and Fusca in Setia Alam, Horizon Residences in Setia Ecohill and Setia Sky Vista in Penang have attracted high take-up rates since their launches. On top of that, we launched over 2,000 Rumah Selangorku units in Setia Alam in August.
Our unbilled sales of RM9.9 billion will also help to carry us through, especially in such volatile market conditions. As part of our 40th anniversary celebrations this year, we introduced an innovative marketing campaign called Jet Set with Setia and the Triple A (affordable, attractive and appreciative) Rewards for our loyal purchasers. Those who sign their sales and purchase agreement with us from Jan 1 to Dec 1 this year, with a property purchase of at least RM200,000, stand a chance to win a grand prize of business-class travel to London, Melbourne, Qinzhou, Ho Chi Minh, Singapore and Langkawi to visit our developments around the world. This is our way to thank our purchasers for their continuous support.
What are the latest updates on your local and overseas projects? Please share with us some upcoming projects.
On the local front, we recently launched Victoria Springs, comprising 1-storey and 1½-storey bungalows in Setia Eco Park, surrounded by beautiful landscaping and fountains. These bungalows are targeted at small families and empty nesters who want a home in a very secure environment. We will be launching Elizabeth Falls, semi-detached homes to cater for upgraders who want a better
environment in Setia Eco Park. There is a consistent demand for landed terraced and cluster homes. That is why our recent launches of such units; Fusca, (3-storey terraced homes) and Montana (3-storey semi-detached) did well. We are also doing our part by building affordable homes in our townships in Setia Alam and Setia Ecohill. We have recently launched 2,100 units under the Rumah
Selangorku campaign in Setia Alam to overwhelming response. Next on the horizon is Setia City Residences, serviced residences next to Setia City Mall and a future wellness centre targeted at senior citizens who want convenience a stone's throw away from their home.
We also plan to launch affordable apartments and landed terraced homes in Setia Ecohill to meet the demand in the area. Another recent launch was the Isle of Kamares at Setia Eco Glades in Cyberjaya. These villa suites are targeted at homeowners who want to live in a luxurious development but with a lower price tag. These are affordable, luxury units priced below RM1 million. Another upcoming launch will be the new Setia Eco Templer township near Rawang. We realised this area lacks developments that provide a green and secure environment. Thus, we foresee that Setia Eco Templer will do very well when it is launched.
Which product segment will S P Setia focus on in the future?
We hope to develop more integrated developments while providing for the underserved sectors of the various segments. Our underserved sectors include affordable housing.
There is a lot of debate on the definition of 'affordable'. From our perspective, affordable housing falls within the range of RM250,000 to RM300,000. Still, it really depends on the location. For example, affordable and landed homes in Setia Alam would be priced around RM800,000. In Semenyih, it would be around RM600,000. In Johor, it would be about RM800,000.
There is also another underserved segment that we regard as 'affordable luxury'. These developments would be priced between RM1.2 million and RM1.5 million. The target market for this segment is those who yearn for a better lifestyle, luxury product, yet cannot afford a home that is RM2 million to RM3 million. Empty
nesters are also drawn to this segment. Although it is not cheap, there is certainly a market for this.
Could you highlight some of the challenges the company faces? What are some of your strategies moving forward?
One of the main challenges is when genuine buyers, especially those purchasing affordable homes and upgraders, are unable to obtain loans due to tighter lending policies set by Bank Negara Malaysia to curb the increase in property prices.
We foresee the same market conditions for this group for the coming year. To address this situation, we will continue to focus on developing mid-range and affordable houses and landed terraced homes. We will also look into meeting the needs of the underserved markets. At the same time we are constantly on the lookout for more landbank in strategic locations, both locally and overseas.
How has S P Setia evolved as a brand? Do you feel the public's perception of the brand has changed since Tan Sri Liew Kee Sin's departure?
S P Setia started off as a construction company and we shifted our core focus to property development in 1996. Since then, we have not looked back. We made sure the S P Setia brand became a household name, not only in Malaysia but overseas as well. We started off in construction and then moved to developing townships. From there, we expanded to eco-themed developments, luxury developments and integrated developments. With the experience and expertise gathered, we expanded internationally in 2007, and now we have a presence in six countries.
Admittedly, there has been some apprehension about S P Setia in the past two years, which is understandable.
Over the past two years, the team has worked very hard to maintain and deliver all the promises expected of the group. We feel the confidence in the S P Setia brand is back now. The most important thing is that we deliver our promises. That is the only way to convince our investors.
What makes the group stand out from the rest?
We pride ourselves on our teamwork, and we have very strong execution capability. In order to do that, we have to get the whole team on board. This is the edge we have — to come up with ideas, innovations and to adapt quickly to market demand.
What are some of the things S P Setia can improve on?
While we strive to deliver the best quality products, we also acknowledge that there are some problems with the construction labour force in Malaysia. In a way, the labour force is skewed, work permits are not being renewed every few years as they need to be. But we do try to make do. Now that we have ventured into overseas projects, we can compare the level of skill and craftsmanship between local labour and international labour. This is one area we hope to improve on.
Since you took over this year, what has changed? And what do you intend to do in the coming year?
We have a very solid system and processes in place, which I have only further fine-tuned. Some of the things that are being fine-tuned include certain rules and regulations, as well as IT systems that need updating.
I have also led the team to fill in the gaps when some staff left during the transition period. This included inculcating the S P Setia culture and rubbing off S P Setia's passion on the new team members, with the hope that the team will be ready to achieve greater things ahead.
What is the company's outlook for 2016?
The market will continue to be challenging in 2016, as the impact of the Goods and Services Tax will be felt by many, not to mention the weakening ringgit that has also affected purchasing power.
Nevertheless, we are optimistic as there are potential underserved segments in the market, which S P Setia has the breadth and depth to provide for. Malaysia is a young population who ultimately desire to have a home for their families, thus the demand for properties will always be there.
One upcoming trend is integrated developments. We are already big in township developments but we are looking into integrated developments because there is a younger audience. The younger generation yearn for convenience and lifestyle; they would like to come down and have a cup of coffee or Starbucks or a kopitiam, or go to the gym. This is the one area we think will explode. Senior citizens are also fans of integrated developments. The mentality is different now, as you would find many older people preferring to have access to these conveniences to take care of themselves. Of course, we would continue to develop houses for traditionalists, but we are looking into integrated developments as well.
We will continue to develop innovative and quality products to suit the needs of the market. We are also actively looking at expanding overseas, particularly in Australia, as our two maiden projects in Australia have done well. As for London, we will keep an eye out for opportunities.
Please share with us future targets.
We are confident that we are on track to hit this year's target of RM4 billion, of which 75% will be derived from our local products such as Setia Alam, Setia Ecohill 2, Setia Eco Park, Setia Eco Glades.
We will determine some of our future targets at our next board meeting, and they will definitely not be lower than this year's targets. When times are tough, we try to maintain. This year, our sales target is RM4 billion, and as for next year, we would like to have a target of at least RM4 billion, which we shall announce at our coming review.
In the last one to two years, we have been very quiet because we do have sufficient landbank. Our current undeveloped landbank of 4,198.35 acres (with an estimated GDV of RM71.27 billion) will last us between 10 and 15 years. However, we do think that now is a good time to start looking. Today, landowners are more realistic in their asking prices.
There are few places where we are actively looking for landbank. For local projects, we would like to look for more places in the Klang Valley. And for international projects, we are actively seeking landbank in Australia, in Melbourne and Sydney.
We will continue to strive to maintain our position as a top developer. As for our long-term goals, we will continue to expand overseas and develop more integrated developments both locally and internationally. TEPEA 2015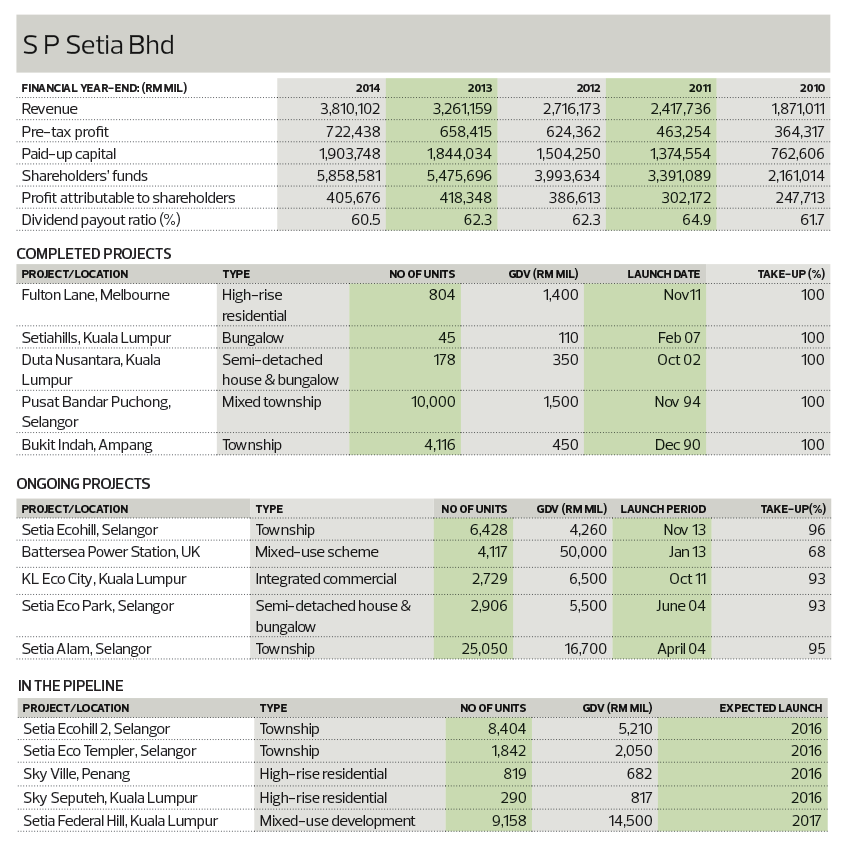 Do not ask your BFF about the value of your home. Click here at The Edge Reference Price to find out.
This article first appeared in City & Country, a pullout of The Edge Malaysia Weekly, on Dec 7, 2015. Subscribe here for your personal copy.