In feng shui, land parcels and buildings of different shapes are classified by what are called Earth, Metal, Water, Wood and Fire. Each element, so to speak, possesses different attributes and has specific effects on the residents or the owner of a particular piece of property. Depending on what the home or business owner desires — wealth, health or a loving partner, or all three — correct and scrupulous feng shui application may actually open a path for you to realise your dreams.

Building shapes are classified as follows:

A square building, or a broad building with a flat roof, signifies the Earth element. The values it holds include trustworthiness, stability and wealth.

The Metal element is represented by any building which is spherical or has a rounded shape. Metal represents authority, justice and loyalty.

A building of a wavy or indefinite shape represents the element of Water. This denotes wisdom, intelligence and creative thinking.

Tall and rectangular-shaped buildings symbolise the Wood element, which promotes life, growth, benevolence and kindness.

Finally, the Fire element is represented by triangular, sharp or pointed buildings. Like fire, these buildings symbolise passion, beauty and a certain quality of elegance.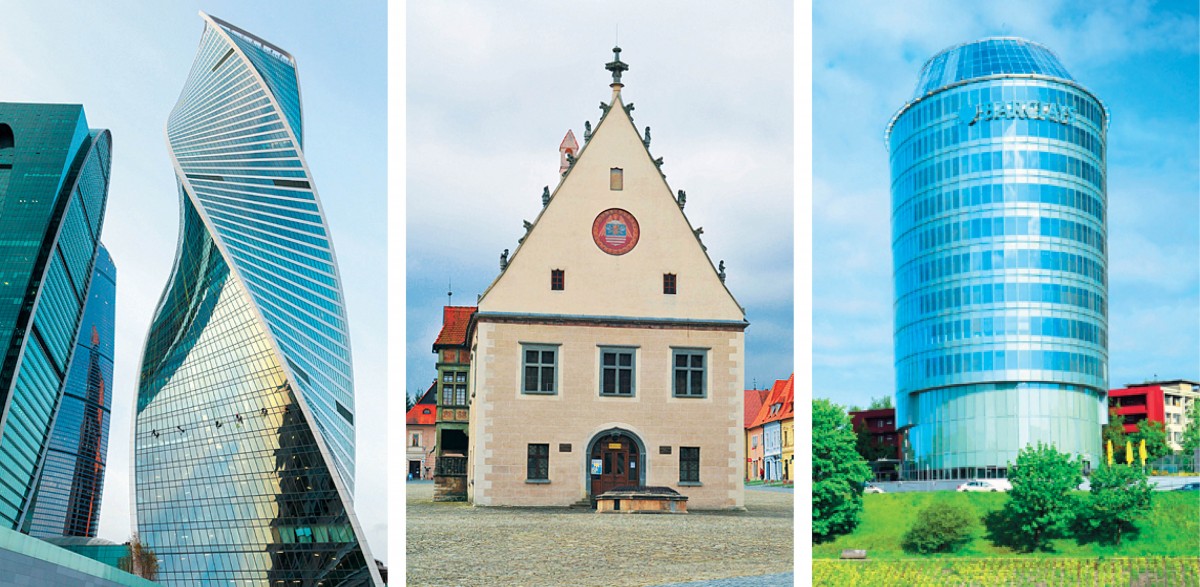 The positive qualities listed above assume all the five elements in a building's surrounding environment — its feng shui — support it. In other words, the elements in its environment are in balance, and flow in a harmonious cycle. Naturally, the more imbalanced the feng shui, the greater the likelihood of the negative qualities of the elements manifesting.

However, even if the feng shui of a site is in harmony, buildings of different shapes or elements will favour some people, and may not be conducive for others. To determine if your home or workplace is conducive for you, you will need to look to your personal BaZi chart. In any feng shui assessment of a property, consultants always refer to the personal BaZi chart of the client every step of the way.

But take heart: there are also general ways of ensuring positive Qi flow for your property without having to refer to your BaZi chart. This may be applied by everyone, and relates to the shape of the land that your property sits on. The least problematic shape of land parcel to build on has traditionally been a square, because it generally encourages an even distribution of Qi within the property. The second-best choice is a rectangular land parcel. Feng shui practitioners have always emphasised the importance of symmetry and proportion.

However, despite the balanced shape of a circle, be wary of a round land parcel because Qi is focused in its centre and may be too intense for residential use. However, if you don't have a choice, you may be able to position the property slightly off-centre.

Triangular-shaped land is best avoided as the occupants would be prone to accidents, depending on the direction the property faces, and the sectors most used.

If your residence sits on a land parcel that is ideally shaped for you based on your BaZi chart, as does the building that sits on it, and the building faces your favourable direction, you will definitely see positive change in your everyday endeavours, well being and life in general.

A professional feng shui assessment of your land and property will help ensure a balanced distribution of Qi in and around it, and minimise or even pre-empt any possible effects of Sha Qi (turbulent energy flow, or cycles). Your relationships, and the physical and emotional well being of your family, will benefit from a buffer of calmness against mishaps.

Datuk Joey Yap is the world's leading Chinese Metaphysics consultant and bestselling author of more than 160 books which have sold over four million copies worldwide. He is chief consultant of the Joey Yap Consulting Group and founder of Mastery Academy Of Chinese Metaphysics. His nearly two decades of professional consultancy includes working with Microsoft, Sime Darby, UEM, Prudential and Citibank. He has students in more than 30 countries.
If you have any feng shui-related questions for Yap, please go to the Tips section of theedgeproperty.com

This article first appeared in The Edge Property pullout, Nov 13, 2015. The Edge Property pullout appears every Friday with The Edge Financial Daily. Click here to download the current and past issues for free.