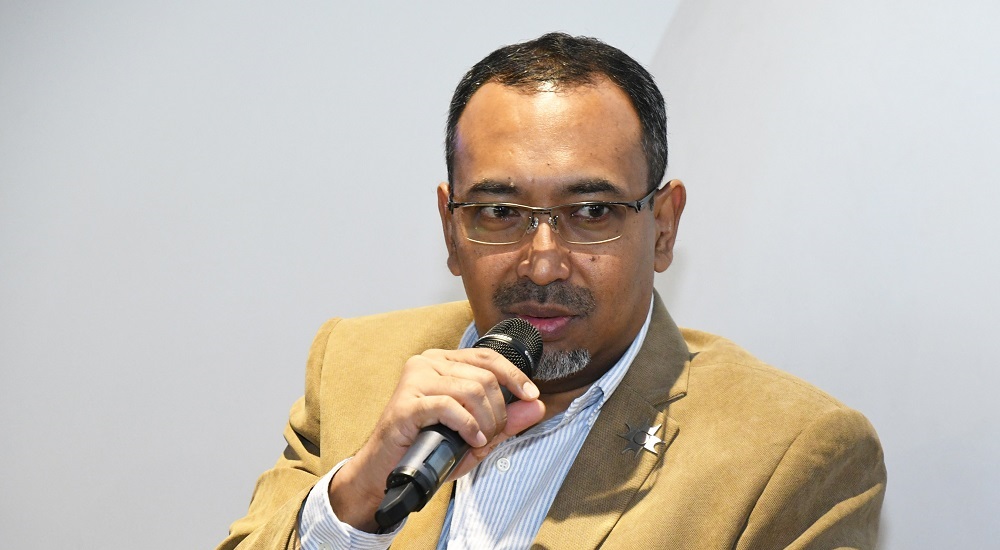 Clean air is vital for our wellbeing, and indoor air constitutes a huge part of the air we breathe. Unfortunately, awareness among Malaysians on the importance of air cleanliness and what must be done to maintain air quality is low.
Some issues and solutions were discussed during the "EdgeProp.my Roundtable 2018: Is your home a sick building?" held on April 10 at the Panasonic Home•2•Com Solution Centre in Bangsar South.
The panelists of the roundtable were S P Setia Bhd executive vice-president Datuk Tan Hon Lim, Malaysian Institute of Architects (PAM) president Ezumi Harzani Ismail, Pantai Hospital Kuala Lumpur consultant respiratory physician Dr Sundari Ampikaipakan, Architect Centre Sdn Bhd accredited building inspector and trainer Anthony Lee Tee, Henry Butcher Malaysia (Mont'Kiara) Sdn Bhd executive director Low Hon Keong and Panasonic Malaysia managing director Cheng Chee Chung.
The roundtable was moderated by EdgeProp.my managing director and editor-in-chief Au Foong Yee, and is powered by Panasonic.
Below is an excerpt of their discussions.
Au: We see many air-conditioned gyms these days. Are these healthy?
Lee: Although some gyms say they have six air-changes per hour, which is a very high air-change, it all depends on maintenance. Management and maintenance are always key to all of these bells and whistles put in.
About hospitals, I have seen in the photographs of my fellow inspectors of hospitals' dark airways that are obviously reeking with moulds and other horrible things. And this is the very place you are supposed to go and get well.
Dr Sundari: Other things that people don't realise are things like bedding and towels. You should be washing them at high temperature of above 60 degree Celsius to get rid of dust mites and moulds. A tip: When you are staying in a hotel, run the shower for five minutes before you step in — this was said by a UK professor of microbiology. Why? Because the room might not have [been] occupied for days or weeks and you might find moulds and spores on the shower head!
Ezumi: How frequent is the maintenance being done in a hospital?
Dr Sundari: To be fair, since we moved into our new building, I've definitely seen regular servicing of our air-conditioners. And I know in our operation theatre, they have scheduled cleaning. Actually, each hospital — both the government and private — does keep a record of hospital-acquired infections per year and we look at what the infections are, what the sources are, etc.
Lee: There are a lot of [surface] finishes in Malaysia — cabinetry, plywood, cables, fitting — and a lot of them have high levels of VOCs. There have been efforts to [comply with] GBI [standards]. There are initiatives by certain companies to reduce these products that are cheaper and widely available. When you move into a new property or office, the "new" smell is in fact that of the VOCs.
Au: What about malls and their ventilation systems?
Lee: We love our malls, don't we? We spend 90% of our time indoors — in our homes, office, the mall, including the cinema.
Unlike hotels and hospitals, malls are fairly straightforward in architectural design — it is no rocket science. But every mall wants to be different. There are two problematic areas in a mall — car park, especially that in the basement. Many mall owners switch off the fan [in the basement] to reduce cost but basement car parks often reek of fuel and nitrous oxide, which are really bad. You want to spend as little time as possible in the basement car park. And that is what the malls want you to do anyway — to spend more of your time in the mall.
We also see the trend of malls increasing F&B tenants from 25% to 40% because it is about lifestyle. And nowadays, a lot of the kitchens are right in your face — not where they have ventilation ducts. This raises issues because a lot of cooking odour and emissions are shared with the air we breathe in. We need to look at that.
Cheng: What about specifically the indoor air quality after a mall is completed?
Ezumi: There is a guideline on air ventilation but I am not an engineer. The engineer has to follow the guideline on air quality, but as far as I know, it is more on the air change.
Lee: We also have to follow the Uniform Building By-Laws 1984 (UBBL 1984). UBBL 1984 was written many years ago and is far-reaching. It also stipulates the sizes of the rooms and window openings for air to flow in and out. They cannot be smaller than a certain size. It also stipulates air-well sizes. It also states what are required if you are using mechanical ventilation such as air change. The engineers also have their own set of rules when they perform mechanical ventilation by using the American Society of Heating, Refrigerating and Air-Conditioning Engineers (ASHRAE) standard. We also have the Malaysia Standard
MS 1525:2014 for non-residential buildings and which also covers indoor air quality. And then we have some guidelines under the Department of Occupational Safety and Health. So actually, we have all of these — everything is fairly well documented. It is just the enforcement and maintenance part. It is not easy to say you are breaking the law. And even if you are breaking the law, [it is] because at that moment the room is very full — but when everybody is out, then the room becomes normal again.
Au: While we are at that, what about offices?
Lee: Offices are no different. I believe every office will have different indoor air quality levels, depending on the renovations and fittings carried out in a unit. Many of them use split air-conditioning units that do not allow fresh air intake. They are just recirculating the air you breathe in again and again.
Ezumi: In hospitals, due to the need for more space, I have observed dirty corridors converted into clean corridors without understanding that dirty and clean corridors in hospitals are actually designed to have different [air] pressure. A dirty corridor has negative pressure. When it is converted into a storage area and shares the clean corridor for clean linen and movement, the clean corridor that has positive pressure pushes all the germs to other areas. Sometimes, operators optimise the space usage but the empty space is actually meant to be empty for a certain purpose such as air control.
Lee: It is the same in offices. Layouts have been changed to accommodate more people but the air-conditioning system is inadequate [to cope]. These are the challenges — be it a high-rise or a shoplot. The trend is to create more space, put somebody there and install a split air-conditioner.
Tan: PAM has made a lot of effort to promote the GBI. If everyone moves towards that direction, it will help a lot to fight air pollution issues, be it in offices or residences.
Ezumi: The GBI is a rating tool which is very good in guiding not only the designer but also the owner of the building. There are 100 points [to achieve the GBI rating], but the important thing is that even if you are not targeting the points to be rated, it teaches you what you are supposed to do to reach those standards.
Tan: Hopefully more in the industry and market will adopt this.
Read the rest of the discussion here:
* Know the air that you breathe
* Air pollution in Malaysia — how serious is it?
* The price of taking in filthy air
* Building design and indoor air
* The 'price' of clean air
* The political and individual will
* Wish list
This story first appeared in EdgeProp.my pullout on April 20, 2018. Download EdgeProp.my pullout here for free.