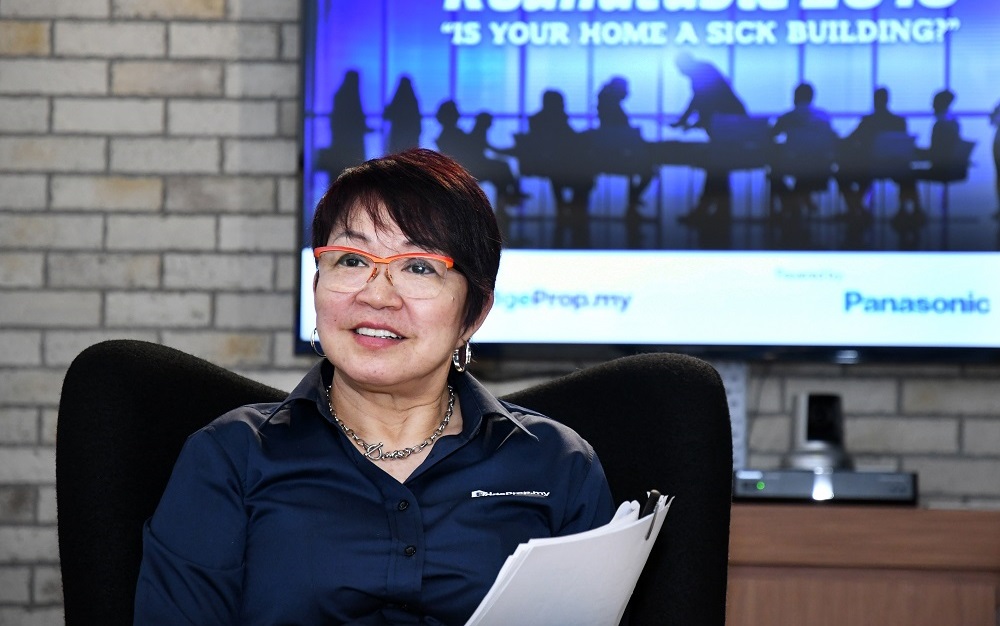 Clean air is vital for our wellbeing, and indoor air constitutes a huge part of the air we breathe. Unfortunately, awareness among Malaysians on the importance of air cleanliness and what must be done to maintain air quality is low.
Some issues and solutions were discussed during the "EdgeProp.my Roundtable 2018: Is your home a sick building?" held on April 10 at the Panasonic Home•2•Com Solution Centre in Bangsar South.
The panelists of the roundtable were S P Setia Bhd executive vice-president Datuk Tan Hon Lim, Malaysian Institute of Architects (PAM) president Ezumi Harzani Ismail, Pantai Hospital Kuala Lumpur consultant respiratory physician Dr Sundari Ampikaipakan, Architect Centre Sdn Bhd accredited building inspector and trainer Anthony Lee Tee, Henry Butcher Malaysia (Mont'Kiara) Sdn Bhd executive director Low Hon Keong and Panasonic Malaysia managing director Cheng Chee Chung.
The roundtable was moderated by EdgeProp.my managing director and editor-in-chief Au Foong Yee, and is powered by Panasonic.
Below is an excerpt of their discussions.
Au: What ailments are linked to air pollution? How serious are they? And what is the trend in Malaysia?
Dr Sundari: The main challenge would be airway diseases. Poor outdoor and indoor air quality could lead to lung cancer. Outdoor air pollution poses a risk but I don't think we're like China
yet. But our kids suffer from asthma and allergies. Allergies are a real issue. Airway diseases are a big thing.
We have people admitted to the hospital during the haze. We usually see asthma more as a childhood disease, developed when young. But people are developing asthma late in Malaysia and all over the world. We are seeing them in their 40s or 50s or even older, and it is due to environmental factors.
About buildings, I notice there is a tendency to build properties without balconies but with tiny windows [instead]. If I'm living in a high-rise home, I'd like to step out of the building and breathe in some fresh air — provided the air outside is okay. There is also not enough emphasis at the workplace about indoor air pollution.
Low: For property managers, we have to go back to fundamentals on how often we clean the building and what chemicals we use. For GBI buildings, there are specific guidelines. [For example,] how often do we clean the carpet? There should be scheduled maintenance for the carpet. These are some of the things we can do as property managers.
Lee: I want to add about worker welfare, especially on construction sites where you get cement dust, sand and all the bad stuff they are particularly notorious for.
Sometimes we think foreign workers are very tough. They don't get sick. But they do get sick. And many of them get so sick that they cannot work anymore. The industry is taking steps to try to prefabricate more materials, reduce risks and improve the workers' welfare. But that needs to be done more quickly and more concrete steps are needed to help them.
The other concern about indoor air quality is in the refrigerator — its condition and how we treat it. We just throw everything into the fridge and think that is okay. But the whole macrocosm of what grows in the fridge impacts the health of those living in that home.
Read the rest of the discussion here:
* Know the air that you breathe
* Air pollution in Malaysia — how serious is it?
* Building design and indoor air
* Of gyms, hospitals, hotel rooms and offices
* The 'price' of clean air
* The political and individual will
* Wish list
This story first appeared in EdgeProp.my pullout on April 20, 2018. Download EdgeProp.my pullout here for free.