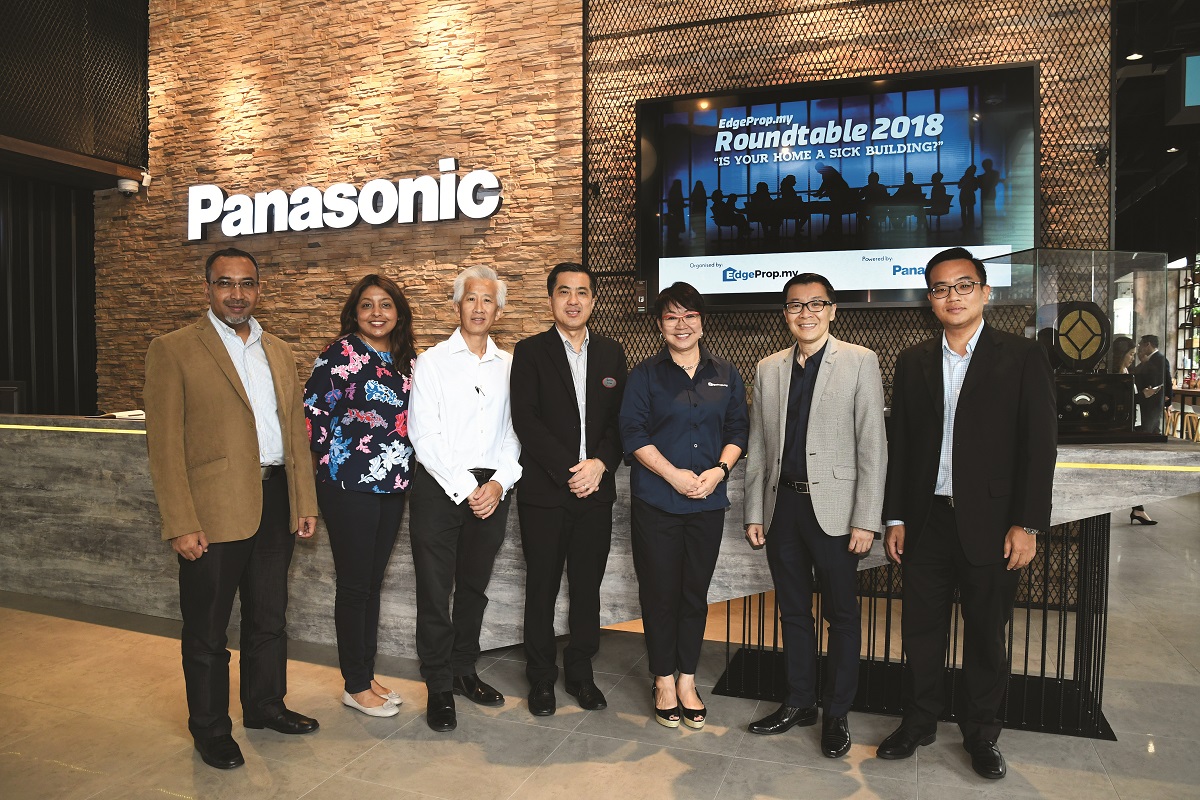 It is said that air pollution is a modern-day curse, a by-product of urbanisation and industrialisation. And it does not only exist outdoors. Experts caution that awareness of indoor air pollution is low among Malaysians. For instance, we often just brush off the smell of chemical and paint in a recently completed building as normal for any new building.
And how many are aware that staying indoors does not protect us from air pollution? In fact, the air that we breathe indoors could be far worse than the air outdoors!
As we spend an enormous amount of time indoors — at home, in the office and even at the gym — it is high time that Malaysians pay more serious attention to indoor air quality, stressed panellists of the EdgeProp.my Roundtable 2018 entitled "Is your home a sick building?" on April 10. The event was powered by Panasonic Malaysia and moderated by EdgeProp.my managing director and editor-in-chief Au Foong Yee.
The panellists were S P Setia Bhd executive vice-president Datuk Tan Hon Lim, Malaysian Institute of Architects (PAM) president Ezumi Harzani Ismail, Pantai Hospital Kuala Lumpur consultant respiratory physician Dr Sundari
Ampikaipakan, Architect Centre Sdn Bhd accredited building inspector and trainer Anthony Lee Tee, Henry Butcher Malaysia (Mont'Kiara) Sdn Bhd executive director Low Hon Keong and Panasonic Malaysia managing director Cheng Chee Chung.
According to the World Health Organization, around 4.3 million people die every year from indoor air pollution. Exposure to air pollutants, especially fine particles, is a leading risk factor for non-communicable diseases in adults, causing ischaemic heart disease, stroke, chronic pulmonary disease and lung cancer, making air pollution the main avoidable environmental cause of diseases and premature death globally.
The panellists concur that to improve indoor air quality, everyone — from the government to property industry players like developers, architects and property managers as well as consumers — has a role to play.
We need to focus our efforts on improving the air we breathe in order to have better quality of life.
Architect Centre's Lee said ideally, every home or office should have a dashboard to measure indoor air quality. He likened Malaysia's Green Building Index (GBI) rating tool to probably the best effort in keeping buildings sustainable, safe and green. One of the GBI subsets is on indoor air quality and the reduction of organic compounds.
Pantai Hospital Kuala Lumpur's Dr Sundari said there is a global trend where asthma — a childhood disease — is now normalised even among adults and older folks, no thanks to air pollution.
"I always think that clean air is a right — a basic human right — like clean water and a roof over our heads," she said. "Malaysians need to be aware of that. Unfortunately, at the moment, people don't find it [clean air] a priority."
One simple way to ensure the air at home stays cleaner is by avoiding cluttering. Also, make sure there is enough air ventilation when cooking. Choose cleaning products with no volatile organic compounds (VOCs) and good weather-resistant paint for the home, although it is more expensive. "It is a balance of cost, awareness and doing things at basic levels," Dr Sundari offered.
According to Panasonic Malaysia's Cheng, people tend to overlook indoor air quality, as it is something that "we cannot see". For instance, most of Panasonic's air-conditioning units have sensors and indicators on the air quality of a room, but it's still very difficult to convince people of their function. "They think those indicators are not important," he said.
For PAM's Ezumi, enforcement is crucial for good air quality. Besides addressing the annual haze Malaysians have to endure, authorities should also educate people on the need to have clean air indoors and outdoors, he added.
Meanwhile, S P Setia's Tan stressed that property developers have to start adopting the much-discussed Industrialised Building System to reduce construction waste that could cause air pollution.
Speaking from the perspective of a property manager, Henry Butcher's Low said buildings designed appropriately will make the maintenance of their air filters and air-conditioning systems significantly easier.
So, do you still remember the last time you cleaned the air-conditioning filters at home or the carpet in your office?
Read on for more insights from the experts at the roundtable.
* Air pollution in Malaysia — how serious is it?
* The price of taking in filthy air
* Building design and indoor air
* Of gyms, hospitals, hotel rooms and offices
* The 'price' of clean air
* The political and individual will
* Wish list
This story first appeared in EdgeProp.my pullout on April 20, 2018. Download EdgeProp.my pullout here for free.