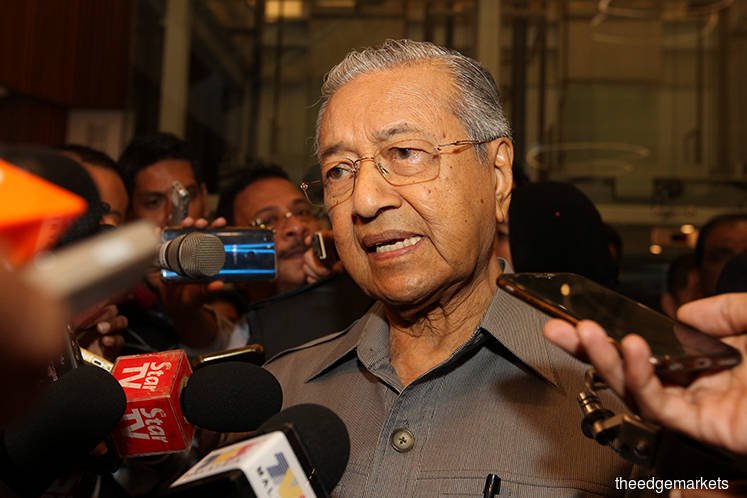 PUTRAJAYA (Jan 14): Prime Minister (PM) Tun Dr Mahathir Mohamad urged his staff at PM Department to focus on fair wealth distribution in executing government policies.
At his monthly gathering with officials in the PM Department today, Dr Mahathir pointed out that poverty is happening across all ethnicities in Malaysia.
Dr Mahathir said Malaysia's demographic profile of having majority ethnic Malay forms the general perception that the Bumiputeras are the main ethnic group that is suffering from poverty.
"But poverty is happening across all races. Therefore, we should instead focus on poverty at all races. We shouldn't think that our rights are only equal when it comes to voting for government. We don't want this country to look rich, but wealth is not distributed fairly," he said.
Dr Mahathir said to bring further improvement to the country, different ethnic groups should work hand in hand as if they are the same race.
"We found that today different races are not as united as we hoped for when we achieved Independence, there are still people prefer to relate themselves with their ancestry country origin," he said.
Dr Mahathir said this would hinder the country to advance further moving forward.
"We are fortunate to have Independence without war and riot, except 1969, but we learn so much from that, because riot does not bring benefit to any party. That is why the country can be developed faster. We should remember that our society is a multiracial society, which usually face challenges when it comes to Independence," he said.
"But these didn't happen in Malaysia, because we agreed to give rights to every race. This is the situation in Malaysia now, where different ethnic groups do not see the others as rivals, but instead, they jointly work together, to an extent they form a government consist of various different races," he added.

Therefore, Dr Mahathir urged politicians and political parties to learn from the country's history to appreciate and preserve the peace and harmony that Malaysia is blessed with.
"We have to combine all races, where we can see all races everywhere. With this, I believe that the country will be better, this is what we learn from history. So I hope everybody, including politician and political party to learn from the history in preserving peace and harmony in this country," he said. — theedgemarkets.com