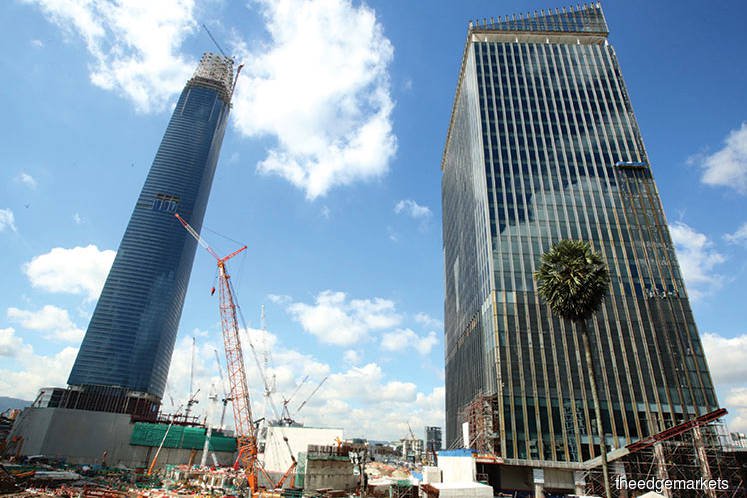 KUALA LUMPUR (Feb 21): The Tun Razak Exchange (TRX) (pictured) project here will take a long time to achieve full occupancy of its 2.65 million sq ft office space, real estate consultancy firm Jones Lang Wootton said, noting that Tower 2 of the Petronas Twin Towers took about a decade before seeing complete take up.
Citing Jones Lang Wootton's experience in marketing the Petronas Twin Towers, the firm's executive director Malathi Thevendran said at the 12th Malaysian Property Summit here today that it took about 10 years before Tower 2 saw full occupancy.
"Petronas Twin Towers only reached full occupancy for the second tower with total space of 1.25 million sq ft after 10 years. The first tower was already pre-committed to Petronas but the balance of 1.25 million took a decade to reach 90% take up in 2007, 2008," she said, in response to a question from the audience on what she thought of TRX.
* ECRL discussions ongoing, hope for price reduction
* Here are six ways to improve demand for Klang Valley offices, according to Jones Lang Wootton
* JPPH: Overhang issue requires cooperation between private and public sectors
* Foreign investors needed to boost property market
* Time to pander to millennial shoppers
* Malaysians need to make more babies to fill up new homes
* Stewart Labrooy: Government buildings' REIT will do very well
* Medical tourism supporting Penang's hotel sector
* Bumiputera quota contributed to property overhang in Johor
On the TRX, Malathi questioned whether there is a need for another huge commercial development as there was already ample commercial space within the Kuala Lumpur City Centre when the TRX was planned years ago.
Malathi noted the pre-commitment by HSBC, Prudential and Affin Bank to take up their respective portions of the TRX development for their headquarters, which she said was fine. She, however, said only 15% of TRX's office space has been committed so far.
"There is 2.65 million sq ft of space and they say it's 15% committed. They have been marketing for two to three years, so what are the chances of it going up? My take on it is that it will take a long time.
"The question is which other companies are they going to bring in? Pre-commitment is something that needs to be looked at. If it's left to the open market, I don't think people would be rushing to occupy the space," she said. — theedgemarkets.com