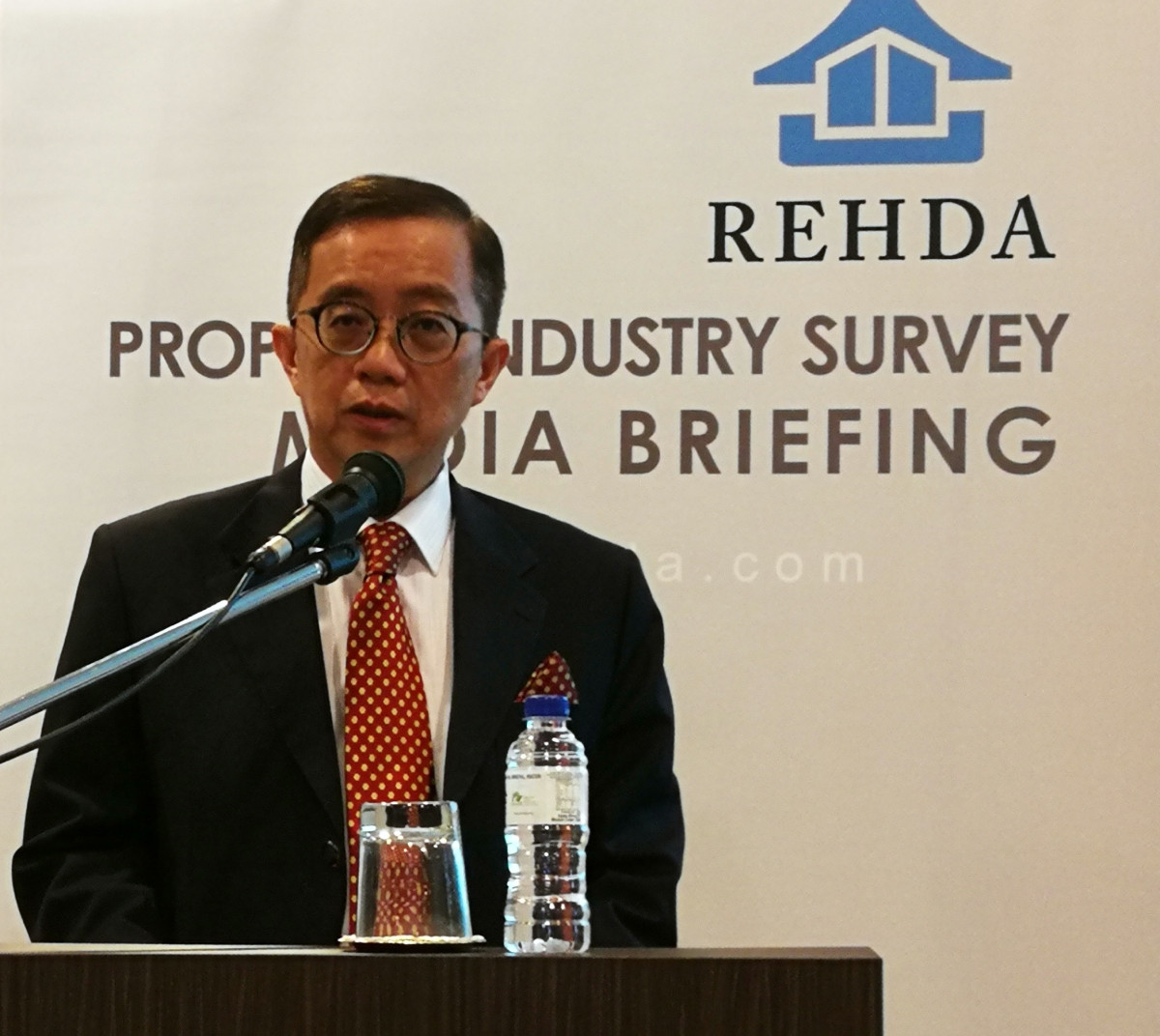 PETALING JAYA: More developers are optimistic about the industry's performance and growth in the second half of this year (2H2019) although take-up rates for new launches are expected to remain at 50% and below.
"The market has been challenging for us but based on feedback from industry players, most of them are holding a neutral stance, and there is more optimism for the second half of 2019 than the first half," Real Estate and Housing Developers' Association Malaysia (Rehda) president Datuk Soam Heng Choon told reporters at a media briefing on Rehda Property Industry Survey 2H2018 today. Also present at the briefing was Rehda deputy president Datuk Khor Chap Jen and secretary general Tiah Oon Ling.
Based on the survey, which gauged Rehda members' views on the property market outlook for 1H and 2H2019, the percentage of respondents who felt that the market will do better in 2H2019 is at 27%, while for 1H2019 only 6% are optimistic about the outlook of the market.
"But the percentage of respondents who are pessimistic also increased in 2H2019 [from 28% for 1H2019 to 35%]. This might be due to some of them having stock in less favourable locations," he noted.
Nevertheless, the percentage of respondents who feel 'very pessimistic' and 'neutral' has been reduced to 2% and 36% in 2H2019, respectively.
In comparison, more than half (61%) of the 121 Rehda members who took part in the survey said they were neutral (54%), optimistic (6%) and very optimistic (1%) about the industry outlook in 1H2019 while the rest of the respondents held pessimistic (28%) and very pessimistic (11%) views.
Zooming in on the residential sector, respondents had similar sentiments and the property sub-sector is expected to experience better growth in 2H2019.
"In the survey, 57% and 11% of respondents were neutral and optimistic about the residential sector in 1H2019, respectively, whereas for 2H2019, 43%, 17% and 1% of respondents were neutral, optimistic, and very optimistic," he said.
Soam explained that developers are feeling slightly more upbeat about the second half of the year because of the recent increase in enquiries they have received on their projects.
"Developers feel that there are now more walk-ins and customers coming to their sales galleries, which they think give them a better chance to close a deal compared to six months ago, when hardly anyone came into their sales galleries." he elaborated.
However, with regards to sales performance, a majority of developers anticipate sales will remain at 50% and below in 1H2019 – similar to levels achieved in 2018. This year, 41% of respondents plan to launch 8,991 units in 1H2019 but 78% of them anticipate sales to be 50% and below within that period.
According to the survey, about 13,233 and 11,463 units were launched in 1H and 2H2018 respectively, of which 51% and 43% were taken up, respectively.
Fewer developers with unsold units in 2H2018
The survey also found that the percentage of developers with unsold units was 62% in 2H2018, the lowest since 2H2015.
"In the first half of 2018, 75% of respondents had unsold units but this has been reduced slightly to 62% in the second half of the year," Soam pointed out, adding that the definition of unsold units are properties which remain unsold nine months after completion over the last three years.
End-financing is still the main reason for the unsold units as reported by 90% of respondents while 54% said they experienced a rejection rate of more than 30% in 2H2018.
"Until today, end-financing is still an issue. This could be due to various reasons, such as insufficient income and bad credit record.
"While we support Bank Negara's policy of not giving loans to those who don't qualify and to ensure that there is no systemic failure in the financial system, we hope banks can consider people who are creditworthy but lack documentation," Soam said.
Reduce cost of doing business
Soam also noted that the cost of doing business for developers remained high in 2H2018 and the top three cost components affecting cash flow were compliance costs, material and labour cost and land cost.
In order to cope, developers have taken cost-cutting measures such as freezing new recruitments, cutting benefits and perks, rescheduling project launches and reducing the scale of their launches.
"Compliance costs includes land conversion fees, development charges, infrastructure improvement fund and payment to utility companies, which is very high. If we can bring down any of these, property prices can come down," he said.
He noted that Rehda has been engaging with local authorities, state governments and other stakeholders to study ways to bring down compliance costs, such as reducing minimum parking requirements and contributions to utility companies.
Meanwhile, the association is also working with the Housing and Local Government Ministry to collate relevant data from various government agencies, such as the Finance Ministry, National Property Information Centre and the Department of Statistics Malaysia to establish a data system, which aims to provide a clearer picture for developers in their planning for new projects.