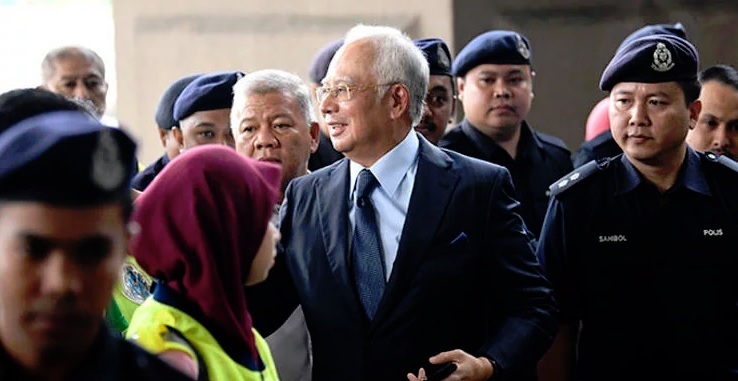 PUTRAJAYA (March 27): A seven-member Federal Court bench led by Chief Justice Tan Sri Richard Malanjum today set aside the stay order granted by the Court of Appeal last week, over its decision for the suspension of former premier Datuk Seri Najib Razak's (captioned) trial for seven counts of criminal breach of trust and abuse of power with regard to the SRC International Sdn Bhd case.
With the decision today, the hearing of the case may start soon.
"We (the court) is unanimous that the Court of Appeal has no jurisdiction to grant a stay of proceedings (in this criminal trial). We set aside the Court of Appeal decision.
"The court remits the case to the High Court forthwith," Malanjum said in the unanimous decision.
The seven-member bench also dismissed an oral application made by Najib's counsel Havinderjit Singh for a stay of the trial by the Federal Court.
Attorney General Tommy Thomas later clarified with the bench that it would be upon the prosecution to fix a case management date with High Court judge Mohd Nazlan Mohd Ghazali.
He had earlier indicated to the bench during the proceedings of the appeal that should the prosecution's appeal be allowed, he wants the apex court to direct the High Court to fix this Friday (March 29) as the case management date.
Lawyer and appointed prosecutor Datuk V Sithambaram told reporters that the prosecution will write to the court now to fix a case management date.
"It could be tomorrow or Friday but Justice Nazlan had earlier fixed Wednesday (April 3) for case management. We will inform you (the press)," he said.
Nazlan had several months back fixed Feb 12 to March 29 for the trial on the SRC case before the appeals made by Najib.
Sitting with Malanjum today were Chief Judge of Malaya Tan Sri Zaharah Ibrahim, Chief Judge of Sabah and Sarawak Datuk David Wong Dak Wah, and Federal Court judges Tan Sri Ramly Ali, Datuk Rohana Yusof, Datuk Mohd Zawawi Mohd Salleh and Datuk Tengku Maimun Tuan Mat. — theedgemarkets.com