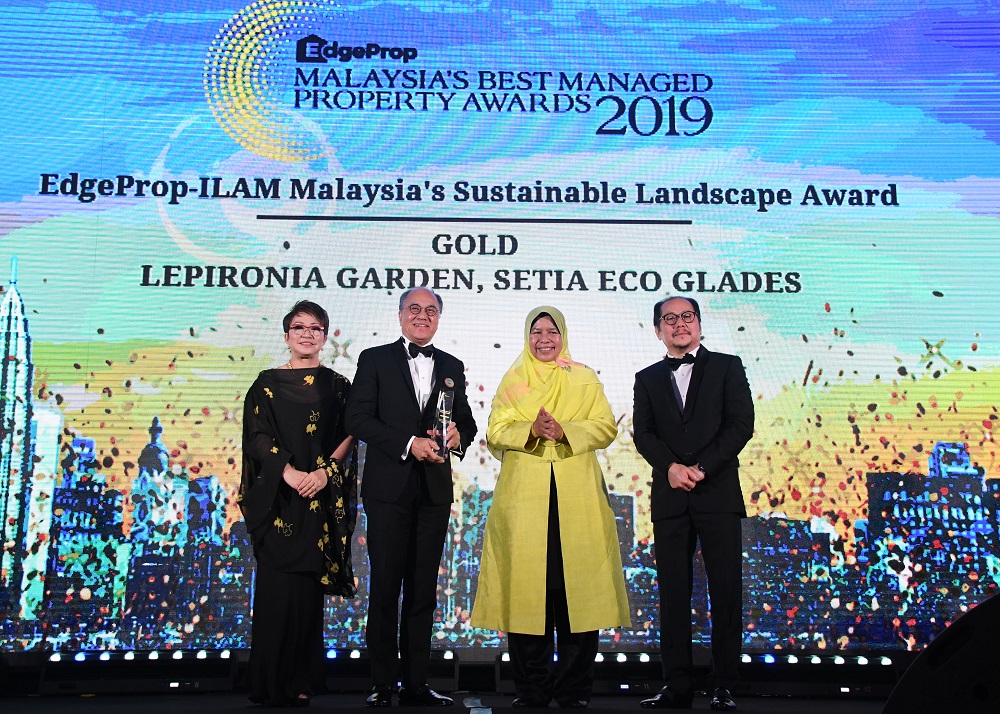 PETALING JAYA (April 21): S P Setia's Lepironia Garden project is one of the Gold winners for EdgeProp-ILAM Malaysia's Sustainable Landscape Award 2019. EdgeProp-ILAM Malaysia's Sustainable Landscape Award 2019 is part of EdgeProp Malaysia's Best Managed Property Awards 2019.
The garden which is part of the Setia Eco Glades township in Cyberjaya and the name of one of the semi-dee projects here actually got its name from the Lepironia plants which were abundant in the region. S P Setia has taken the conscious effort to maintain the original species as part of the landscape of its township.
Lepironia is a reed which requires low maintenance and is drought resistant. Slender and unassuming, the native water plant Lepironia prevents erosion by stabilising the base of ponds. It is also said to absorb toxins and heavy metals in the water, purifying it besides providing welcomed shelter for small birds and fishes.
Commenting on the win by S P Setia at the award ceremony tonight, S P Setia deputy president and chief operating officer Datuk Wong Tuck Wai said that all of them at S P Setia are extremely proud to receive this award.
"It proves that we have set a benchmark not only as a leading property developer, but also a top-of-class sustainable landscape developer in Malaysia — an important attribute that sets us apart from the rest.
"We are happy that our strategies and good governance have continued to yield benefits for the Setia Group in terms of recognition and as a frontrunner in the industry. This award will inspire us to work even harder to reach greater heights. It is a testament to our strong reputation and will further cement our standing as a leader in the property sector," said Wong.
The Award was presented tonight by Minister of Housing and Local Government Zuraida Kamaruddin as the guest of honour.