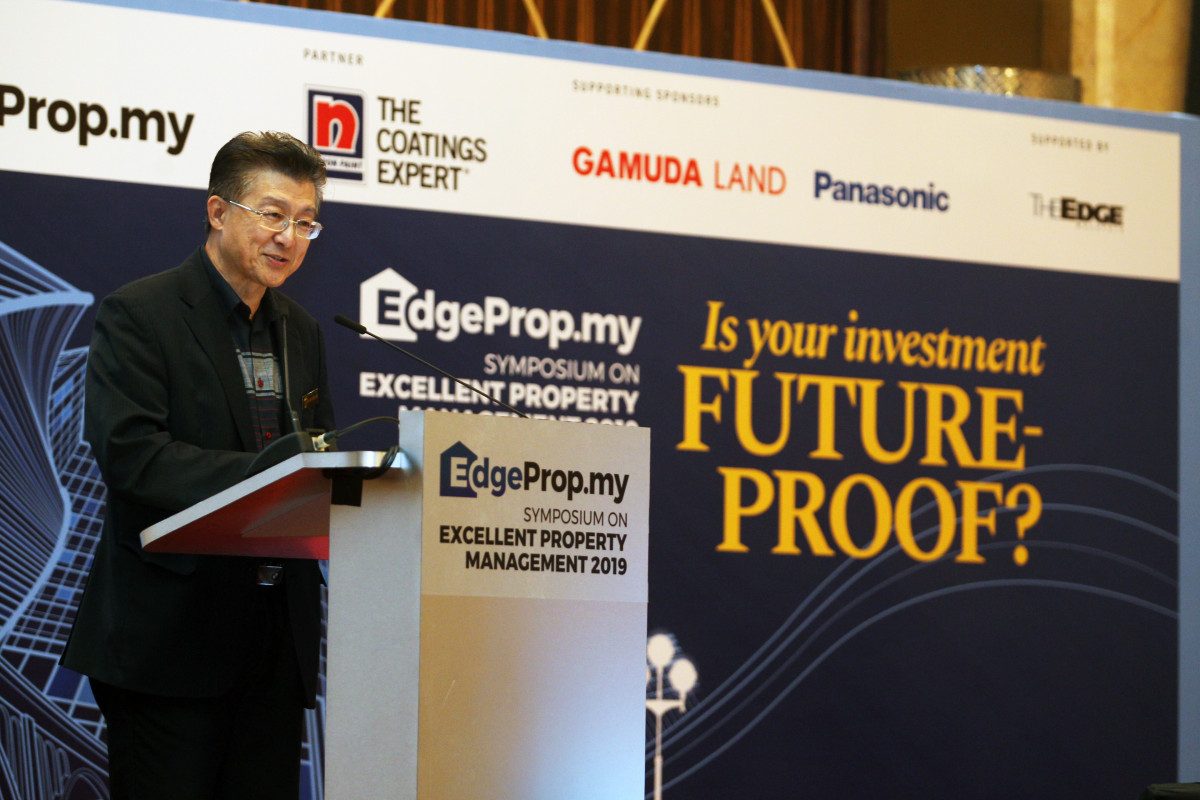 PETALING JAYA (April 27): Are you a homebuyer who has been given the offer of free maintenance charges in your property development?
The National House Buyers Association honorary secretary-general Datuk Chang Kim Loong says that most homebuyers may go weak in the knees when being offered such attractive deals, but warns that they have to beware of such sales pitches.
He was delivering his talk, titled Creativity vs Sustainability: Buyers don't be fooled at the EdgeProp.my Symposium on Excellent Property Management 2019 "Is your investment future-proof?" today.
* Pay your sinking fund and don't touch it until it's needed
* Future-proof your real estate investment with good property management
* Lim: Property management is good in Malaysia
* Seek COB's help when dealing with strata living problems
* Understand the cost of preserving the value of your property
"A developer may promise at the time of sale, things like free maintenance fees for three years, but the reality is that the Strata Management Act 2013 (SMA 2013) says that a developer must form the Joint Management Body (JMB) within 12 months from the date of Vacant Possession (VP). Accordingly, the developer must pay the maintenance charge to the JMB for the second and third year, after having lapsed the developer's management period of the first year," said Chang.
He said the developer is presumably able to honour offers such as free maintenance charges because of factors such as no big capital expenses during the first few years since it's a new building and only minimum expenses are incurred such as paying the salaries of only a few management staff.
"Thus, it is not wrong or misleading for the developer's creativity in offering to pay the maintenance charges in the first year (developer's managing period) but in the second and third year, it becomes apparently difficult when the JMB takes over the management control. The JMB is an entirely new set up, whether the fellow owners run it or they employ licensed property managers. Can they sustain?" Chang questioned.
He said that the developer will only cover the expenses of maintenance of common property during the Defects and Liabilities Period (DLP) where the major mechanical and electrical facilities are under free maintenance warranty by their manufacturer.
"In-fact, upon the JMB being formed on the second and third year, the developer has to pay the actual rate of Charges as stated in Schedule 5 of the Sales and Purchase Agreement (SPA) or the operating budget that is issued by the JMB," Chang added.
The half-day symposium was organised by EdgeProp.my with partners Nippon Paint Malaysia. Supporting sponsors were Gamuda Land and Panasonic Malaysia. The event is also supported by The Edge Malaysia.
Read the full coverage of the symposium in the May 3, 2018 issue of the EdgeProp.my pullout. You can access back issues here.