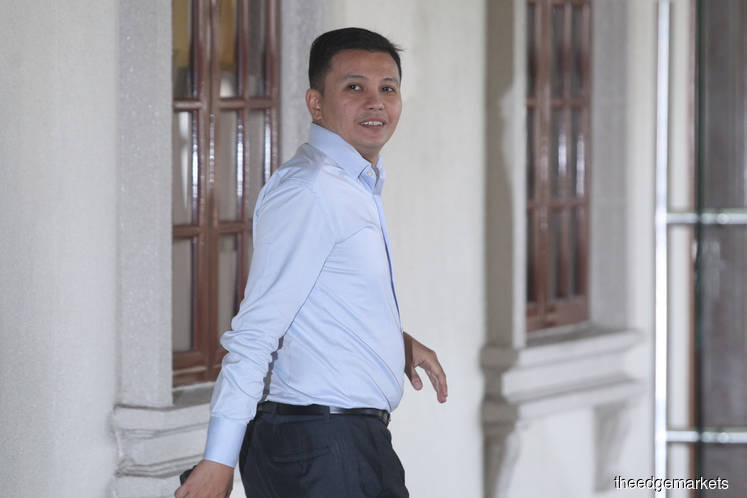 KUALA LUMPUR (May 6): The RM4 billion loan from Kumpulan Wang Persaraan (Diperbadankan) (KWAP) to SRC International Sdn Bhd was the largest borrowing witnessed by Amirul Imran Ahmad (pictured), who was working as the assistant vice president in the civil servants' retirement fund when the financing was approved in 2011 and 2012.
"Throughout my experience in my service in KWAP, both of the loans to SRC amounting to RM4 billion was amongst the largest I have seen approved by KWAP," he told the High Court today.
After KWAP approved a RM2 billion financing to SRC in 2011, Amirul said SRC requested another loan of RM2 billion from KWAP in 2012, which the retirement fund also approved.
Amirul said for the second loan, KWAP received a letter from Ministry of Finance (MoF) dated Mar 28, 2012, urging the fund to disburse the loaned money to SRC, and promised to issue Government Guarantee later.
"The letter requested KWAP to consider disbursing the money borrowed ahead and MoF provide undertaking to submit Government Guarantee latest in 10 days," he said.
Amirul shared that the annual interest rate for the second loan was fixed at 4.65% for the first three years, and pegged with the 10-year Malaysia Government Securities (MGS) plus 70 basis points annually from the fourth year onwards.
"Interest payment by SRC for every six months was about RM50.8 million with interest rate of about 4.65% annually. Principal payment will only begin from the sixth year," he said.
Amirul, in replying to questions from deputy public prosecutor Datuk Ishak Mohd Yusoff, said he got the information to prepare the investment paper after SRC made a RM3.95 billion loan application via a two-page letter dated June 3, 2011.
However, Amirul said financial analysis on SRC cannot be performed as it is newly incorporated, and hence the analysis is based on its parent 1Malaysia Development Bhd.
The witness said there was not much information given, and he had to act on about 25% of the information given.
Amirul further said KWAP did not receive SRC's investment plan till the investment paper was prepared.
The witness also admitted that there were some mistakes to the date in the investment paper as he has been asked to expedite the application.
"There is a lot of pressure to expedite. That is why the date of the Letter of Offer and others had been prepared earlier," Amirul said.
Amirul said he was copied in an email dated Mar 22, 2012, from SRC director Nik Faisal Ariff Kamil to then KWAP CEO Datuk Azian Mohd Noh, in which Nik Faisal said he was asked to provide KWAP details about SRC's investment opportunities.
"As SRC is under very strict non-disclosure agreements for these transactions and some involve price sensitive information in major international stock exchanges, may I ask that this information is handled with extreme care as SRC can be liable for any disclosure of such information to both the counter parties and also the regulators of the respective countries," Nik Faisal said.
Nik Faisal, in the email, said the short-term investment opportunity is the potential initial public offering in Mongolian company called ETT (believed to be Mongolia's state-owned Erdenes Tavan Tolgoi JSC), where SRC could invest US$200 million in a convertible debt with one-year maturity yielding a minimum expected return of 3% coupon rate, 9% guaranteed first year return, and 4% upfront fees, totalling 16% return in the first year.
Nik Faisal said this would be the world's largest coking coal listing.