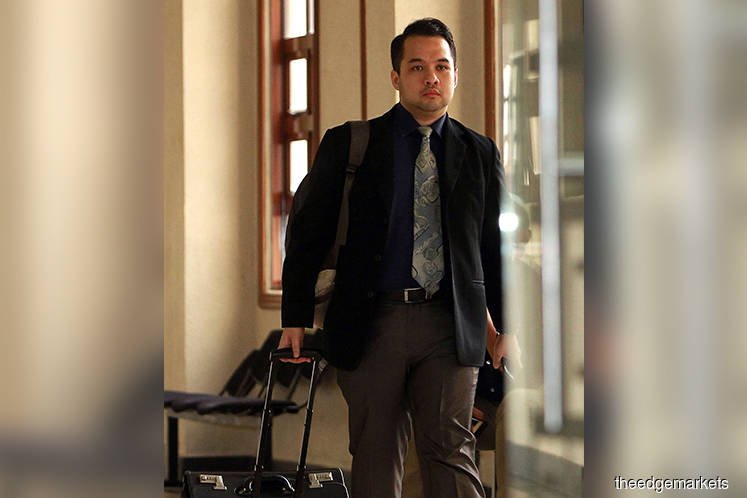 KUALA LUMPUR (May 8): A heated exchange ensued between Bank Negara Malaysia (BNM) investigating officer Ahmad Farhan Sharifuddin (pictured) and Datuk Seri Najib Razak's defence counsel in the High Court today on the issue of why the former premier was not alerted of suspicious transactions in his account.
Grilled by counsel Tan Sri Muhammad Shafee Abdullah on the issue, Ahmad Farhan said he was only tasked with analysing the seized documents for breaches under the Anti-Money Laundering, Anti-Terrorism Financing and Proceeds of Unlawful Activities Act 2001 (AMLA).
Any further action was to be taken by the relevant law enforcement authority, he said during cross-examination by the defence in Najib's SRC International Sdn Bhd graft trial.
He added that there is a provision in AMLA that does not permit warnings about suspicious transactions, so Najib would not have been alerted.
While Ahmad Farhan maintained his stance on the matter, Shafee continued to push the same question albeit from different angles.
"I put it to you that if AmBank had done its job and reported the suspicious transactions, my client Datuk Seri Najib would have been alerted and this whole matter would have been avoided," says Shafee.
"I have no idea," responded Ahmad Farhan, to an increasingly frustrated Shafee.
Lawyer Harvinderjit Singh then took over the cross-examination, continuing to interrogate the witness on the same issue, leading to a heated exchange between the two.
"Come on sir, you are from the central bank. You are also the competent authority. It's quite simple. There is a suspicious transaction and there is an investigation of the suspicious transaction. Are you trying to tell this court that the account holder will not be notified?" asked the lawyer.
"I have no idea, really. Because…" said Ahmad Farhan before he was interrupted by Harvinderjit, who said he refuses to accept that answer.
Deputy public prosecutor Datuk V. Sithambaram stepped in saying that the witness has given his answer, and asked Harvinderjit how many more times he intends to ask the same question.
Harvinderjit then highlighted a portion of the Act which relates to the overruling of the tipping-off provision and then pointed to another section which he said allows the competent authority to interview any customer of the reporting institution.
"Under examination of reporting institution is the power of the competent authority to examine the reporting institution. That's Section 25. And now Section 26 allows the competent authority, the investigating party to interview any customer of the reporting institution, correct?" asked the lawyer.
"Yes," responded Ahmad Farhan.
Harvinderjit was about to carry on with his next point when a very agitated Ahmad Farhan interrupted him saying: "No, wait, we are talking about examination here. It does not mean investigation, my learned counsel!" followed by roaring laughter among the attendees in the court. Even Najib was amused by the heated argument, as well as Justice Mohd Nazlan Mohd Ghazali, who was seen smirking.
"My part comes in only when the offence is already committed. This is a different thing! Don't confuse yourself! Examination and investigation are different," said Ahmad Farhan.
The lawyer then ended his cross-examination.
"I have no further questions," he said, with an annoyed look on his face.
"Are you sure?" asked the judge, eliciting another round of giggles in the courtroom.