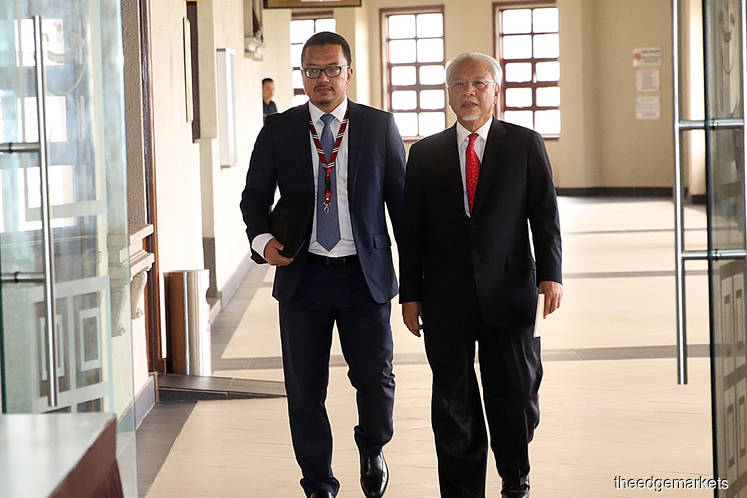 KUALA LUMPUR (Aug 6): Former second finance minister Datuk Seri Ahmad Husni Hanadzlah (pictured) today described former premier Datuk Seri Najib Razak as an autocratic person in his dealings with 1Malaysia Development Bhd (1MDB) and former 1MDB subsidiary SRC International Sdn Bhd.
Testifying in Najib's SRC trial in the High Court, Husni, 67, said matters concerning 1MDB and SRC were off limits to him, and he only handled other companies under the purview of Minister of Finance Incorporated (MoF Inc).
The ex-minister said he was treated like an office boy in matters relating to 1MDB and SRC.
Husni, who served as second finance minister from 2009 and 2016, is the first prosecution witness from Najib's own Cabinet to testify against the former premier.
Najib is facing seven charges of money laundering and abuse of power over RM42 million allegedly siphoned from SRC to his personal bank accounts between December 2014 and February 2015.
Husni said while there should not be any difference in the tasks of the finance minister (held by Najib) and second finance minister, Najib was solely in charge of matters concerning 1MDB, its precursor Terengganu Investment Authority (TIA), and SRC.
Replying to Deputy Public Prosecutor Muhammad Izzat Fauzan, Husni said he had twice advised Najib against managing 1MDB and SRC.
He said he sent a letter to Najib as a last resort but it fell on deaf ears and at times, he felt that his role was reduced to that of an "office boy" in matters relating to these two companies.
No feasibility study done for 1MDB
"In the formation of new companies, especially if it's under MoF Inc, there would be detailed feasibility studies done. The feasibility studies are to ensure there would be long term planning. Let's say for 10 years.
"However, in the case of 1MDB or SRC, there were no studies done or cost benefit analysis done, and it was set up without any consideration," he said.
"I asked Najib why [we] formed 1MDB, and said we cannot form 1MDB without a feasibility study. (But) Najib said 'I know what I am doing, we are going ahead'. From (the time of) TIA, I knew I was not involved in all this," the witness said.
Husni, who is also a former Umno treasurer, said he only came to know about SRC's application for a RM2 billion loan from Retirement Fund Inc (KWAP) in 2011 which was to be guaranteed by the government, when Minister in the Prime Minister's Department Tan Sri Nor Mohamed Yakcop tabled the matter in Cabinet.
"I met and asked Najib [of] the purpose of the loan. Najib replied that it is for the generation of electricity and for the government's involvement in coal mining.
"I told him let the private sector deal with coal mining and not let a GLC manage it. However, Najib replied that the involvement of the government in the mining of coal industry would help strengthen Malaysia's electric supply," Husni said.
The ex-minister also testified that he advised Najib against having SRC invest in PetroSaudi International's venture in the United Arab Emirates, as SRC did not have the expertise in the oil and gas industry. He went on to suggest that Petronas undertake the investment instead.
But he said Najib told him: "Husni, from today onwards, you don't get involved; I don't want you to interfere in 1MDB," Husni said.
Husni also testified of another instance, when he got to know that SRC received a RM4 billion loan from KWAP, but RM3 billion of that was frozen in Switzerland for alleged money laundering.
He also got to know that the investment in coal was only done in 2014 (despite SRC getting the KWAP loan in 2011), and that it took place in Java, Indonesia.
"I wanted to travel to Java to observe the coal mining and asked SRC officials to prepare the meeting. But in the end, it did not materialise," he said.
Similarly, Husni said he wanted to meet the Swiss authority to help unfreeze the money, but was advised against doing so by Najib.
The amount in the Swiss account by then had risen to RM3 billion and the ex-minister said that the ringgit at the time was depreciating and so, Malaysia wanted to bring the money back.
"I feel it was not money laundering, and was prepared to convince the Swiss authorities that it is KWAP money. However, Najib did not agree to this," Husni said, adding that Najib did not give reasons.
Husni says difficult to get SRC officials to meet him
Husni also testified that while senior officers of Bank Negara Malaysia and other GLCs would regularly meet him to brief him on developments, it was difficult to get SRC representatives to meet him.
"I do not get any documents regarding 1MDB or SRC. I only met SRC chief executive officer (Nik Faisal Ariff Kamil) once (since SRC's formation), and even then, he did not bring any documents. He (Nik Faisal) did not come after that," Husni said.
During his testimony, Husni was shown several documents, including a memo relating to 1MDB's recommendation that SRC be put under MOF Inc.
"This memo was supposed to be sent to the Minister of Finance II. Did you receive this memo?" asked Izzat.
"No. I only saw this document for the first time when the MACC showed it to me," the ex-minister said.
He was also showed minutes which stated that he supported the second RM2 billion loan to SRC and was asked of the circumstances leading to the making of the minutes.
"With matters relating to SRC, my duty was just to follow orders," he said.
"Did you study this matter?" asked the DPP.
"How am I supposed to study the matter? There were no documents sent to me. Nik Faisal never showed up for meetings. I only had one meeting with him and he did not bring any document. I never saw him again after that," Husni said.
Husni was also shown the document relating to the granting of the RM2 billion loan to SRC.
While the document bore Husni's signature, he said he "did not have a choice and was forced to sign".
He pointed out how differently things were done in SRC and 1MDB, which were not in line with how other MoF Inc companies operate.
"An officer brought the document and I signed it," he said, adding there was no discussions or anything of the sort, before he inked his signature.
Hearing before Justice Mohd Nazlan Mohd Ghazali will continue on Thursday (Aug 7) morning.