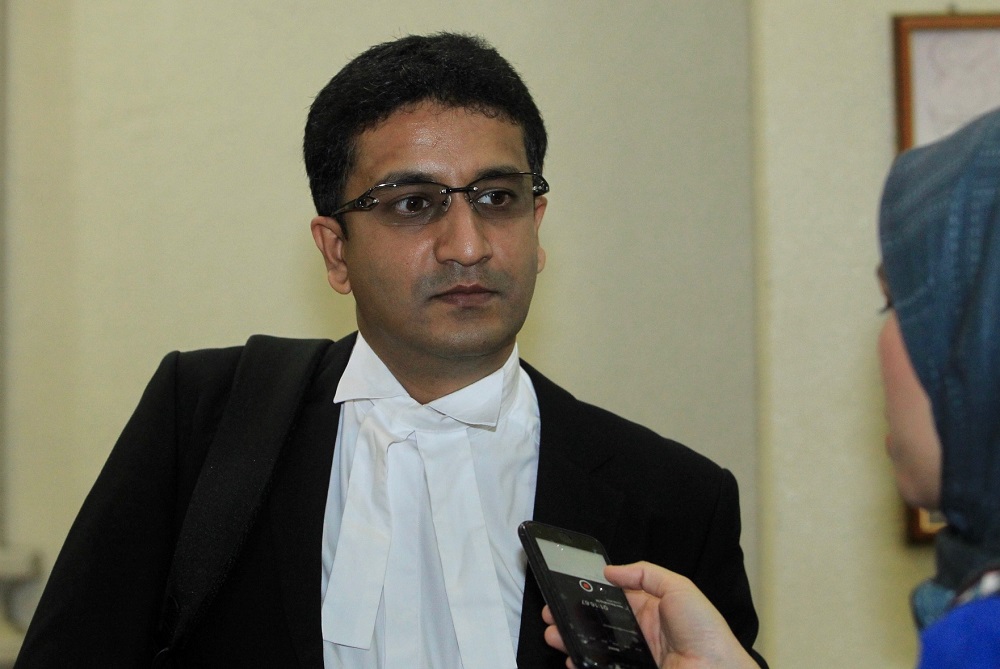 KUALA LUMPUR (Aug 23): The High Court here has today been informed that the prosecution has accepted the representation from Yayasan Rahah, Naza Quest Sdn Bhd and Ibrahim Awang Ismail in a civil forfeiture suit filed by the Malaysian Anti-Corruption Commission against 41 entities to recover approximately RM270 million of funds allegedly sourced from 1Malaysia Development Bhd (1MDB).
MACC DPP Allan Suman Pillai (pictured) informed Justice Mohd Nazlan Mohd Ghazali that since the representations sent by the three entities had been accepted, the prosecution wants the court to fix a date for consent judgment to be recorded.
Justice Nazlan fixed Sept 6 for Yayasan Rahah and Ibrahim's case to be called up for the court to record a consent judgment and Sept 13 for Naza Quest.
Yayasan Rahah, which is a scholarship foundation mooted by Datuk Seri Najib Razak's mother, Tun Rahah Mohamed Noah, is faced with a forfeiture of RM839,489.82, while RM100,000 is sought from Ibrahim, who is also Umno Pekan education bureau chairman and the division committee member.
Yayasan Rahah and Ibrahim were represented by lawyer Amin Othman.
From Naza Quest, the MACC is seeking RM262,662 from the company as at the last session on July 26, the company had offered a full settlement.
Today, Naza Quest's lawyer Md Yunos Sharif told Justice Nazlan that he would need time to get his client's instructions for the terms for parties to record the consent judgment, prompting the court to fix the Sept 13 date to record the consent judgement.
Meanwhile, Justice Nazlan also fixed Friday (Aug 30) to deliver his decision on Umno Pekan's application to strike out the MACC notice issued on the division.
Its lawyer Datuk M Reza Hassan said the office bearers should have been named instead of the division.
However, Allan said the notice is in order as Umno Pekan is the account holder and that for a forfeiture action, it is only right for the authorities to name the holder of the bank account from which it wants to seize the funds.
The MACC is seeking RM700,000 from Umno Pekan. Najib heads the division and is MP for Pekan, Pahang.
Justice Nazlan fixed next Friday for decision after hearing the submissions for Umno Pekan's striking out application.
It was previously reported the MACC had filed forfeiture action against 41 entities including the four named here, to recover a sum of RM270 million said to have been 1MDB funds.
The bulk of the amount sought — RM212 million — is said to be from Umno.