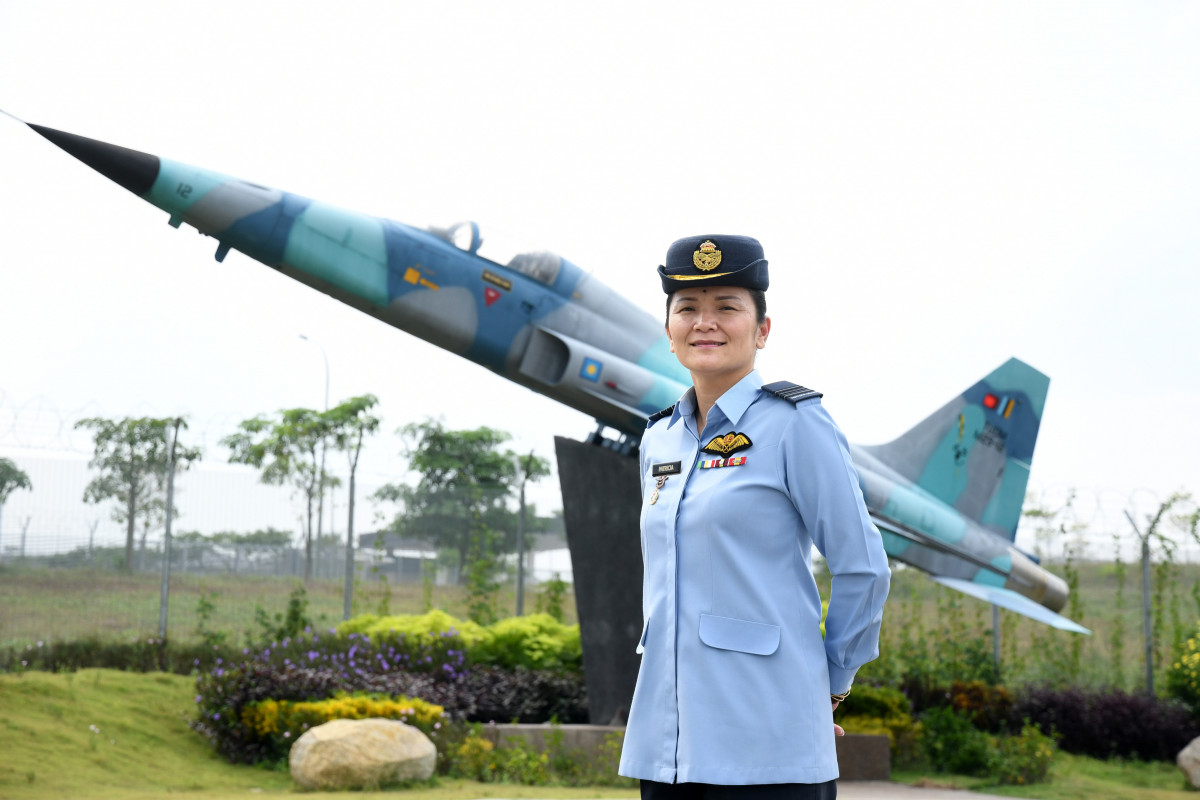 "Blue skies, white clouds and the aircraft performing at your will… is a feeling that you cannot get anywhere else," says Mejar Patricia Yapp Syau Yin, the first MiG-29 female fighter pilot in Asia, and the only female fighter jet pilot in Malaysia.
Happiest when she is flying, 43-year-old Yapp is currently the training command and oversees the training of the Royal Malaysian Air Force (RMAF) such as flying, safety maintenance, ground operations and more.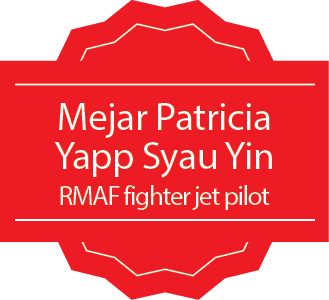 Based at the RMAF training HQ at the Sendayan Air Force Base in Negeri Sembilan, Yapp says her main task is to look after the safety and training standards of the RMAF, with its 15,000 personnel.
The physical and mental hardships of being a fighter jet pilot can be intense. Although Yapp is now in a management role, she still flies every now and then to "let off energy and adrenaline" as she puts it, and more importantly, to ensure that she is always ready to defend the country when the need arises.
Read also
Women power - Driving the nation forward: Zuraida Kamaruddin, Minister of Housing and Local Government
Women power: 'Prove your capabilities by challenging yourself'
Women power: In love with the world of banking
Women power: Being a leader is more than just a personal achievement
Women power: A young girl who dreams big
Women power: Building an e-commerce empire with tenacity
"The workload and stress levels are extremely demanding for the person sitting in the cockpit because we are being trained to shoot down enemies until the very last bullet," Yapp adds.
No gentler world for women
Expectations for a female pilot in the air force do not differ from her male counterparts.
"All pilots are chosen based on their capabilities. As long as the person, regardless of gender, meets the criteria, we are more than glad to have him or her as a fighter jet pilot.
"Once airborne, you cannot see whether the person in the cockpit is male or female," Yapp points out.
There are around 40 female pilots in the RMAF at present, a vast improvement from a few years ago. "We have two new female pilots graduating this year and three next year. We are certainly looking to recruit more lady pilots in the RMAF," she says.
However, Yapp is the only female fighter jet pilot on the force at the moment.
The hardest part about being the only female fighter pilot in the country, says Yapp, is in gaining the trust and confidence of other pilots.
"Once you show that you can perform up to standard, they will treat you just like one of them," she notes.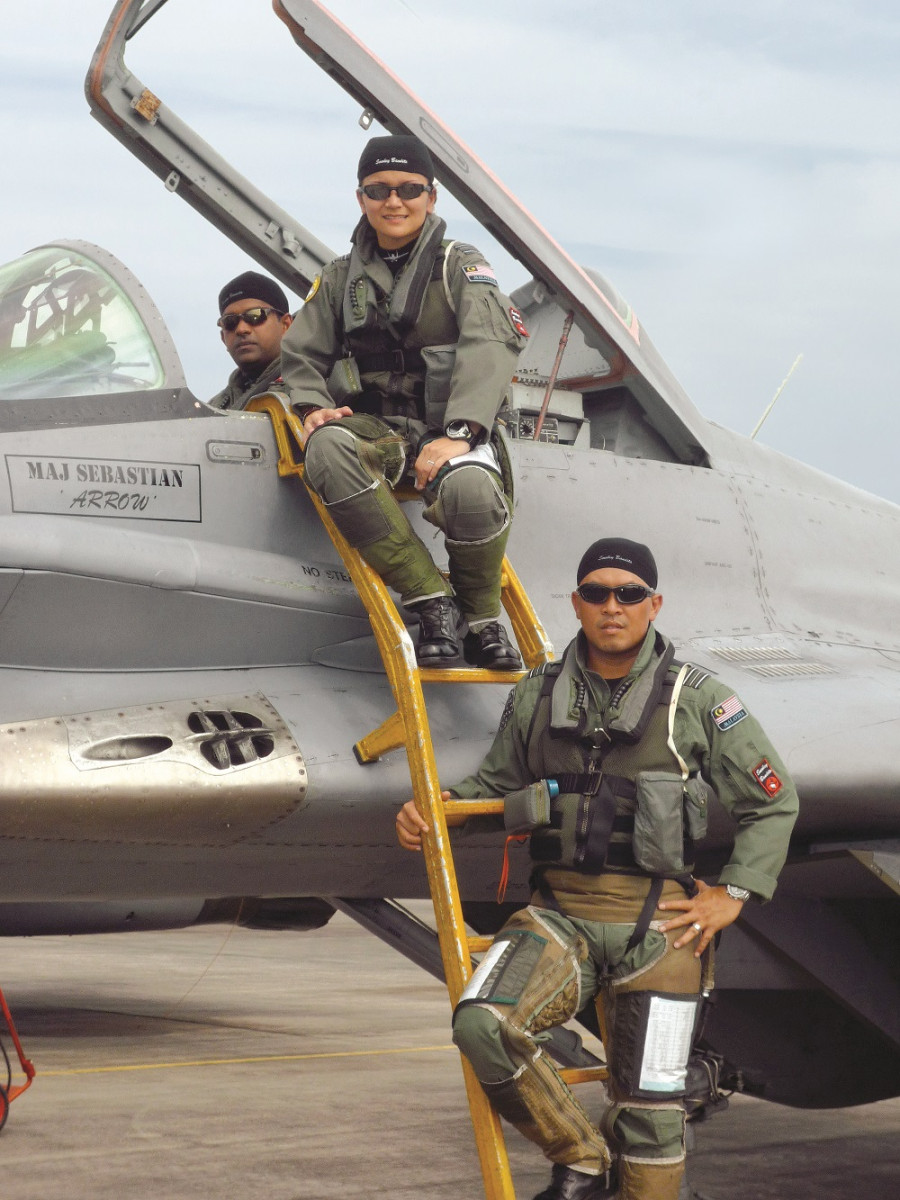 Strength lies within
Multi-tasking is a crucial ability for a fighter jet pilot, says Yapp.
"Flying in the cockpit alone, you have to manage the aircraft system, look at the radar pictures, listen to your leader and controller of the radarscope, and at the same time communicate with your wingmen — every part of your senses and body is working," she explains.
Self-discipline is also important if one wants to train to be a fighter jet pilot and Yapp has no problem with that as it is something she has practised since young.
"I know that if I play too much, I will end up with bad results in my exams. I like discipline, I was head prefect in school," she quips.
To be in the military, having a fit body is a given. Keeping fit also helps build self-confidence. "As a military officer, your appearance must portray the image of a disciplined person," she elaborates.
When asked about overcoming fear of failure, Yapp says she switches the negative voices off. "Even when you find it very tough, you still have to try," she says.
Married with two children, her family's support has helped her excel in her career, and she expresses special gratitude to her mother and mother-in-law, who are always there to help take care of her children when she needs them.
A full-time housewife, Yapp's mother plays an important role in moulding her children's values. "My mum says that whatever you do, you must be truthful to yourself. She brought me up to become who I am now."
"I'm a Sabahan and I am not from a wealthy family. Whatever I do, I simply do the best I can. This is the attitude instilled in me and my siblings by my mother," says Yapp, referring to her two brothers. She is the only one in the family who is in the military.
Besides the fact that she thrives on challenges and leadership, she decided to join the air force because it entails discipline, a smart uniform and her passion for flying.
"I love the thrill and the manoeuvres that a jet can perform," she enthuses.
Always another mile to cross
Yapp has served the RMAF for over 20 years, and believes that she will never stop serving her country. Her current goal is to uplift the RMAF's image.
"I'm trying to reach out to more youths and civilians, to expose them to our core job which is to defend the country's air space, with the hope that more people will be interested to join the air force.
"I hope to see the RMAF perform well and be of international standard.
"Being in the military is interesting because you never have the same mission or tasks. You plan your tactics, your enemies react and you have to change your strategy accordingly," she explains, insight that she gained from her experience fighting against simulated threats from the United States Air Force, the Royal Australian Air Force and the Republic of Singapore Air Force.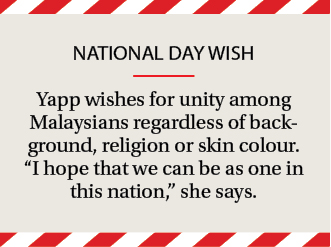 This story first appeared in the EdgeProp.my pullout on Aug 30, 2019. You can access back issues here.