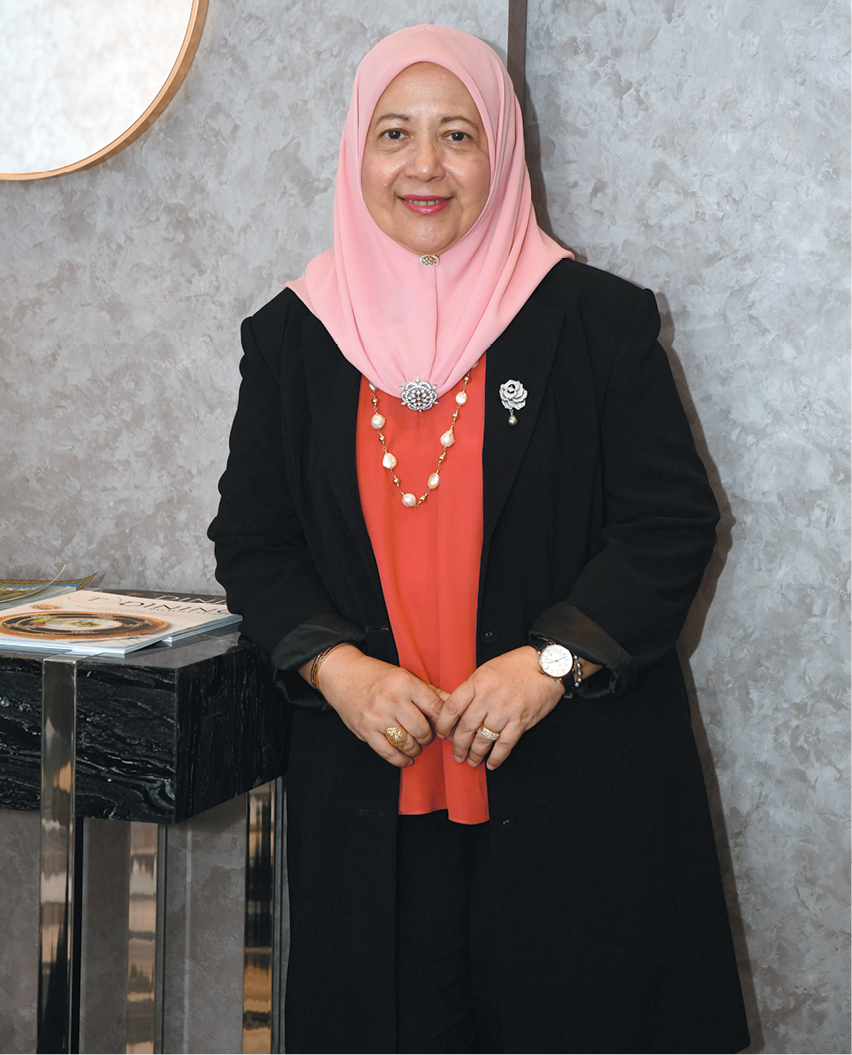 For Prof Datuk Dr Asma Ismail, the vice-chancellor of Universiti Sains Malaysia (USM), being a leader is about uplifting the overall ecosystem and in making an impact no matter the area that one is in.
Asma, a microbiologist, has certainly made an impact in medical and scientific research and has many accolades to her name. She is the current president of the Academy of Sciences Malaysia (ASM), the first woman in that role, and had served as Malaysia's first female director-general of higher education.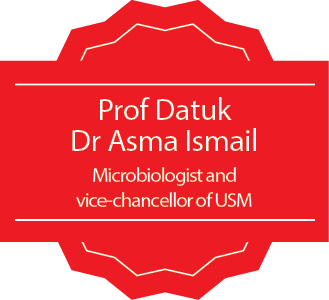 Born in Kedah, Asma spent over 30 years at Hospital USM in Kelantan before being appointed vice-chancellor of USM in Penang in 2016. In 2012, she had been appointed vice-chancellor of Universiti Sains Islam Malaysia, making her the first woman appointed twice as vice-chancellor of public universities.
The 61-year old's latest appointment, as of January this year, is as the first chairperson of the Malaysian Qualification Agency.
Read also
Women power - Driving the nation forward: Zuraida Kamaruddin, Minister of Housing and Local Government
Women power: 'Prove your capabilities by challenging yourself'
Women power: Courage and discipline make a lady fighter jet pilot
Women power: In love with the world of banking
Women power: A young girl who dreams big
Women power: Building an e-commerce empire with tenacity
Asma has initiated many scientific discoveries, leading to the attainment of 13 patents and commercialisation of a rapid diagnostic test for typhoid called TYPHIDOT which has been advocated by the World Health Organization.
She graduated from the University of Nevada in Reno, US, with a distinction in biology in 1980, received her master's degree in microbiology in 1983 from Indiana University in Bloomington, US and obtained her PhD in the field of Cellular and Molecular Biology at the School of Medicine, University of Nevada in 1986.
Asma began her career as a lecturer at the Medical Microbiology Department in USM's School of Medical Sciences in 1986. She is also a visiting professor and visiting fellow at various world-renowned universities such as the University of Tokyo in Japan and St. Bartholomew's Hospital in London.
While many brilliant women in medical science conduct research to help improve people's lives, only a few are willing to move up the ladder and be a manager or leader, says Asma.
"Not everyone has the drive to become a leader, some are content to do research, and feel that becoming a leader is a burden. Many are also afraid of failure, while some believe men are better leaders," Asma tells EdgeProp.my.
She notes that more women are pursuing higher studies today, and female students currently make up around 60% to 70% of university students in Malaysia.
However, only a few will pursue masters and PhD programmes which could help them move up their career ladders.
According to Asma, USM aims to hire an equal ratio of male to female lecturers in the medical and scientific field, but the 50:50 ratio is difficult to achieve with the lack of female scientists in Malaysia.
"For students who want to have female scientists as their mentors or sponsors, how could they find one when the pool is small?" asks Asma.
Even at the Academy of Sciences, of 353 members, only 18% are women. Although many women work as science researchers, they work under the instructions of principal investigators and are not research leaders in their respective fields, she says.
"They can be good in their domain but if we want to make a difference to the landscape, the great minds need to step up, only then can they be a part of policy-making and help move the industry forward," she adds.
It's not about gender
According to Asma, men and women view things differently. For instance, in a science experiment, male and female scientists often have different opinions over the same results and Asma believes it is this difference in analysis which will lead to a holistic approach to finding the best solution to a problem.
"It's not about whose opinion is better than the other, it's about different perspectives," she says.
Undeniably, there are some unconscious biases in the workplace that shut women out.
In a study by Harvard, when the names of job applicants were not disclosed to the prospective employer, chances were higher for a woman to secure the job, but when names were disclosed, male applicants had a higher chance of being hired.
Being labelled as the weaker sex has made women reluctant to voice their opinions for fear of saying the "wrong" things, says Asma.
In her career, Asma says she has met and is thankful for the many people who opened the door for her to climb up the ladder.
"To get this opportunity, you must have the substance — be good at your area of expertise. If I were to bring another woman leader up, she must also have the substance for me to convince others that she's meant to be at that position and not just by chance," she says.
"We are looking for transformative leaders who are generous in sharing their knowledge and willing to nurture the next generation of leaders," she emphasises.
Building a career by design
It is not by chance that Asma is where she is today. Since her youth, she has charted her own career path by envisioning a clear roadmap, which she calls: "building a career by design".
Her ambition when she was a little girl was to be an interior designer, but she somehow ended up choosing science as her career. She has no regrets about her choice, knowing she can inspire young scientists to contribute to society.
"When I have a plan, I always think of the endgame, especially in my career path, as it provides me a clear picture of where I am heading. I believe such planning could help the younger generation of women to become a leader, step by step" she notes.
She also acknowledges that family support and understanding are important for women to excel in their careers.
Asma works relentlessly with her team on scientific discoveries and often goes home past midnight. Her husband, who is a nuclear scientist, has been a supportive partner, constantly encouraging her to pursue her dreams.
Though she doesn't have children of her own, she considers all the 32,000 students in USM her children, each harbouring the potential to be future leaders and contributors to a better world.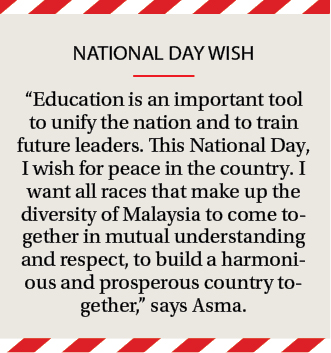 This story first appeared in the EdgeProp.my pullout on Aug 30, 2019. You can access back issues here.