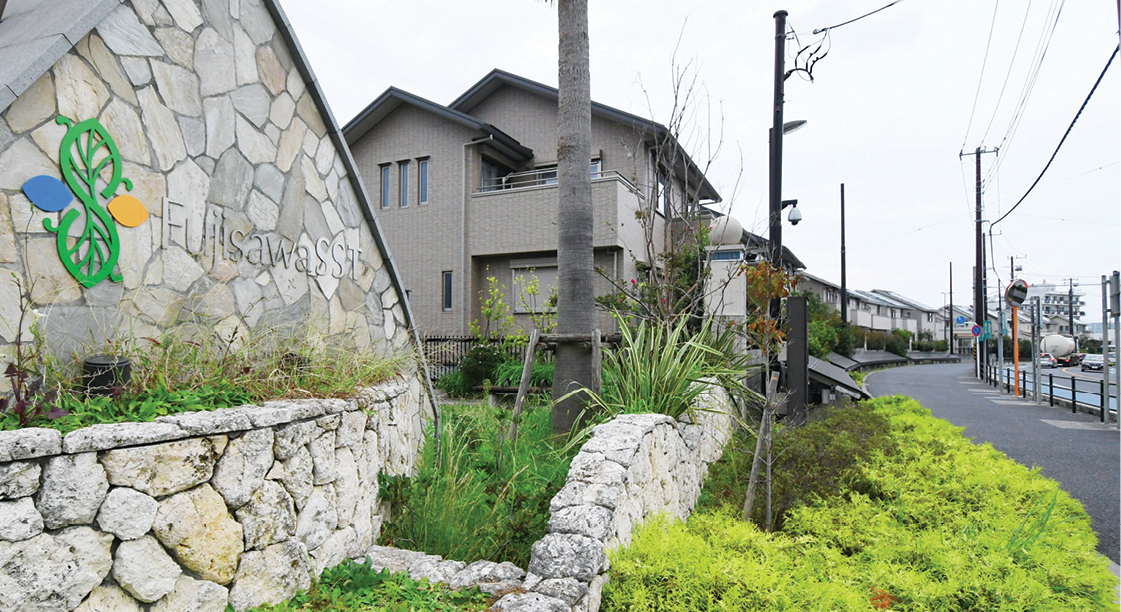 Before one enters the Fujisawa Sustainable Smart Town (SST), one could already see that this is no ordinary township. What other township has 400m of solar panels laid along its front road?
The township located in the Kanagawa prefecture of Japan greets visitors with its Welcome Garden, a linear park that leads to the core facility of the town: the Fujisawa SST Committee Center which integrates with the Central Park.
Along the way, more of the smart and sustainable features of the town becomes apparent, such as the LED street lights that are equipped with motion sensors, CCTVs and more solar panels.
Read also
Housing minister and developers find inspiration in the Far East
Lessons from Japan's public housing
EdgeProp Study Tour: An opportunity to gain ideas and network
Why we need air quality regulations
Design for productive workplaces
How do we prevent bad indoor air quality?
The humble street lights themselves speak of how Fujisawa SST strives to create an eco-friendly and sustainable home and lifestyle for its residents.
With CCTVs attached to them, the street lights provide virtual surveillance at the entrance to the town, at public buildings, shady areas in the park and crossings on main streets to ensure the security of the town and its community.
At night, the street lights illuminate in a smart way, glowing at full brightness when they sense people walking under them and at 70% brightness or "standby" mode the rest of the time.
Via a wireless network, streetlights a few steps ahead of the pedestrian are "alerted" and light up to full brightness.
But these are just a few of Fujisawa SST's features experienced by delegates of EdgeProp Malaysia Study Tour on Excellent Building Sustainability, Management and Wellness 2019 in Japan who visited the town on Oct 3.
The three-day study tour was organised by EdgeProp.my and supported by Panasonic. Delegates included Housing and Local Government Minister Zuraida Kamaruddin, chiefs of established Malaysian property development companies and judges of EdgeProp Malaysia's Best Managed Property Awards.
The Fujisawa SST site visit also offered an insight into how the public and private sectors can collaborate to create a unique development that offers value to discerning buyers.
Sitting on the former Panasonic factory site, the 19ha (46.95-acre) township development is developed by the Panasonic-led consortium Fujisawa SST Council, which comprises 18 public and private organisations including Tokyo Gas, Nippon Telegraph and Telephone East Corp, Panasonic Homes Corp, Koyama Medical and Welfare Group, Yamato Transport and Mitsui & Co.
To date, it has completed some 600 units of detached houses, which have been fully taken up despite being sold at 10% to 15% higher than other houses in the vicinity, according to Panasonic Corp's CRE Business Development Group business solution division manager Cozy Morishita.
"The average land size and built-up of these houses is about 140 sq m (1,507 sq ft) while the selling price was some US$500,000 (RM2.09 million) per unit," he told the tour participants in a presentation.
The detached house owners are subject to a monthly service charge of about US$100 (RM419), he added.
"This is considered a special case as the detached houses in Japan normally do not charge maintenance fees. But so far, everyone in the Fujisawa SST is paying it," he said.
Value-added sustainable designs and features
According to Morishita, the sustainable design and features in Fujisawa SST have attracted buyers and proven their value over time.
"Some people asked why they should pay the management fees. But eventually, all the houses were sold and all residents today are paying their management fees after they have seen the value in Fujisawa SST," he revealed.
Fujisawa SST offers five key services or elements — Energy, Security, Wellness, Mobility and Community — to enrich the residents' lives while aiming to become a sustainable town for the next 100 years, said Fujisawa SST Management Company business development division's Miho Suzuki.
Take the Energy aspect as an example, each detached house comes with solar panels, solar power storage batteries and Panasonic's Smart Home Energy Management System (HEMS), which generates clean energy from the sun while optimising the energy consumption of each household, she said.
"Besides the houses, Fujisawa SST has also installed a 400m-long community solar power generation system to power the common areas, while in the event of a disaster, it will become an emergency power source for Fujisawa SST and neighbouring areas," she said.
Meanwhile, all of the houses are situated within the virtual gated compound, which combines human patrols and the LED street lights with sensors and CCTVs. Besides better energy control, this allows the town to enjoy a higher level of safety without physical gates and barriers.
Mobility has also been taken care of with a total mobility service. Residents can rent an electric vehicle or electric bicycle and even get a car delivered to a pick-up point near their homes.
This not only reduces the carbon footprint of the town but also provides flexibility and convenience to the residents, especially those who are carless, noted Suzuki.
As for Wellness, the town strives to create an abode where residents of all age groups can live together comfortably facilitated by the Wellness Square — a complex that offers eldercare, childcare, healthcare events and a community space that fosters interactions and connections among members of the community.
There is also the Shonan T-Site commercial and cultural complex and the Fujisawa SST Square, where facilities such as cafes, a book store and meeting rooms are ready to serve the residents.
Communication and collaboration
However, what is more important to the success of Fujisawa SST is perhaps the Community element, where residents, the developer and management company communicate and collaborate to keep the town running and evolving.
One of the channels for Fujisawa SST Council and Fujisawa SST Management Company is a portal that enables residents to provide feedback or complaints, besides booking facilities.
Subsequently, the developer and the management company will work out solutions to solve the challenges faced with input from the residents.
"Such communication is key to improve the value of the town while promoting collaboration among the stakeholders," said Suzuki.
Speaking about the future for Fujisawa, Morishita said: "In the next five years, we are going to build 400 units of condominiums in the town and we will continue to evolve. The biggest challenge for us [the developer] is to prove the value of the town to buyers but I believe that once people understand the value and the benefits of living in this town, they will want to stay here, even if they have to pay a higher price."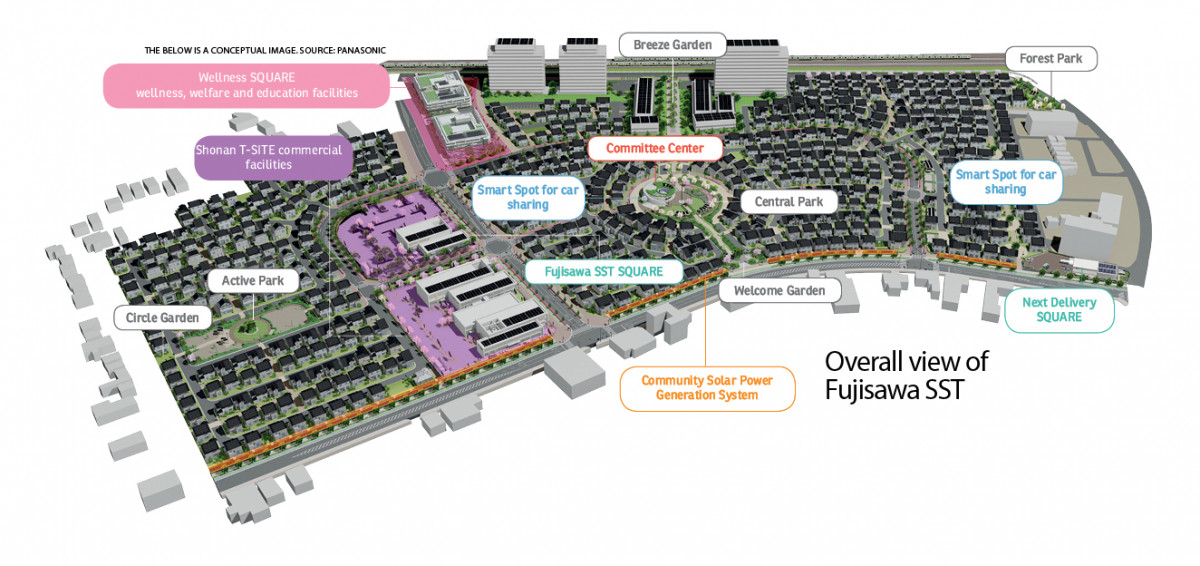 Five sustainable elements in Fujisawa SST
Energy
Each house is equipped with solar panels, storage batteries and Panasonic's Smart HEMS
Security
A combination of human patrols, CCTVs and LED street lights with sensors create a virtual gated compound
Mobility
Electric vehicle and electric bicycle rental services are available
Wellness
Elder and child care services are available in the Wellness Square
Community
Constant communication and collaboration among stakeholders are maintained
This story first appeared in the EdgeProp.my pullout on Oct 18, 2019. You can access back issues here.