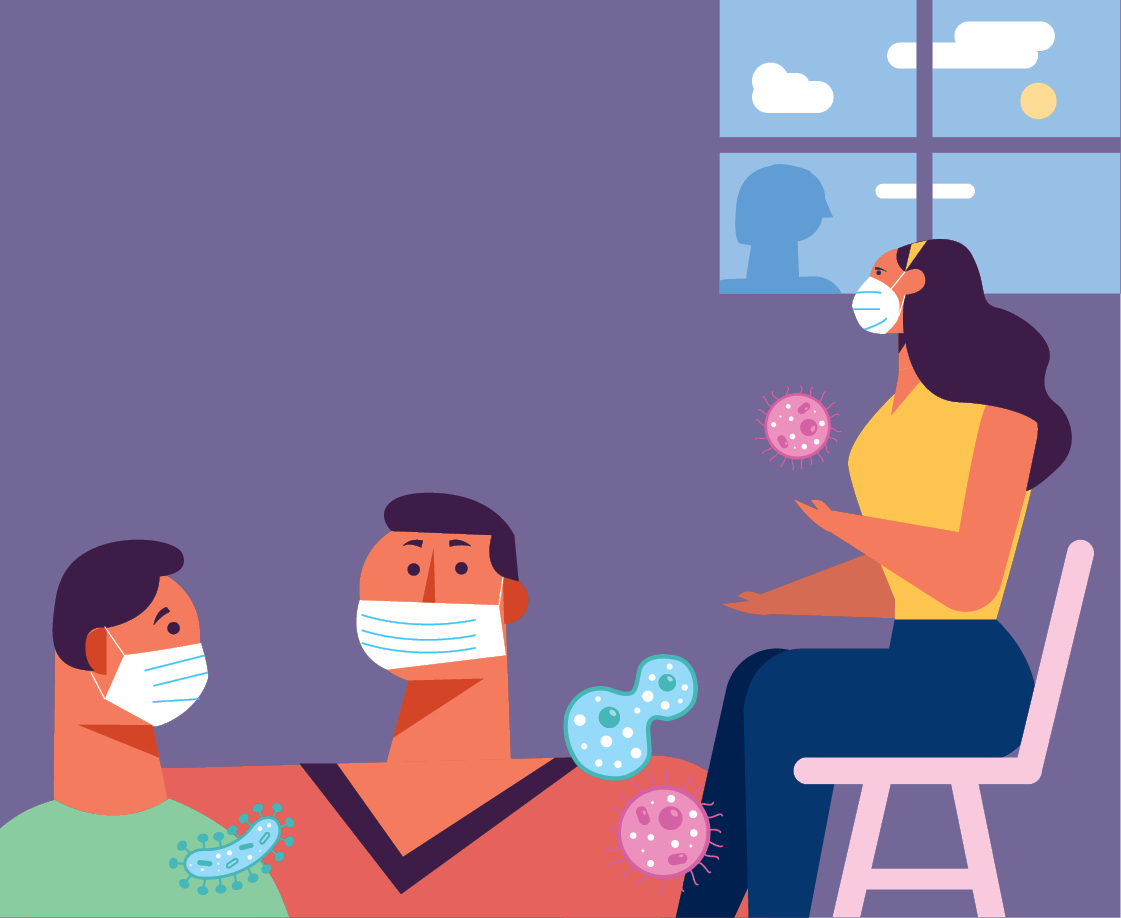 Did you know that the air pollutants found indoors can be two to five times higher compared to the outside air? An exception to this would be during the terrible annual hazy months in Malaysia.
A comfortable and healthy home plays a crucial role in ensuring its occupants' well-being and quality of life. For most people, a major part of their time is spent indoors and that includes being at home. Thus, it is important that you ensure the air you breathe is of good quality, and clean.
So what happens when indoor air is bad? Poor indoor air quality (IAQ) will have a negative impact on your health and well-being. As the saying goes, "home is where the heart is," but let's not forget about your lungs as well.
Read also
Housing minister and developers find inspiration in the Far East
Lessons from Japan's public housing
EdgeProp Study Tour: An opportunity to gain ideas and network
Why we need air quality regulations
Creating values worth paying for
Design for productive workplaces

"Because we spend so much more time indoors rather than outdoors, achieving an acceptable IAQ depends primarily on access to fresh air, proper ventilation and reducing the source(s) of pollution in the first instance," Architect Centre Sdn Bhd accredited architect and trainer Anthony Lee Tee tells EdgeProp.my. Lee is also a judge of EdgeProp Malaysia's Best Managed Property Awards.
Here are some ways developers and homeowners can ensure good IAQ.
The property developer's role
Property developers can play a major role with regards to IAQ right from the onset of the development. This includes selection of materials and specifications; construction and maintenance; and during the defects liability period.
For a start, the provisions in the Uniform Building Bylaws provide a good foundation for IAQ as it regulates indoor air ventilation through openings, windows or mechanical systems, according to Lee.
"The design of maintainability of buildings should be prioritised. The ease of maintenance of buildings in all aspects of mechanical and electrical systems, external facade, roofing, enclosed pipes and drainage must be carefully resolved from the onset. The ability to maintain these installations provides the foundation for good IAQ," he says.
Property developers, he adds, can refer to Malaysia Standard MS 1525 for the recommended limit of commonly found harmful indoor air pollutants such as mould, carbon monoxide, and volatile organic compounds (VOCs).
"For example, properties with the Malaysia Green Building Index (GBI) certification are required to meet IAQ standards set in MS 1525," notes Lee.
Ultimately, he says the biggest hurdles faced by developers in ensuring good IAQ are the lack of awareness and the misconception that to have good IAQ is costly.

Homeowners' role
Homeowners too have an important role to play when it comes to maintaining good IAQ. Many owners of new homes or buildings should be familiar with the "new building smell". In fact, many find the smell appealing.
"This 'new building smell' is actually residual chemical odours that are a result of de-gas from the paint coatings, varnishes, adhesives and other synthetics such as fabrics and furnishings.
"The indoor air in new buildings should be 'flushed" for several days to remove these odours which can be harmful to humans. It can be as simple as opening doors and windows to allow fresh air in. Some buildings use fans and air-conditioning," says Lee, adding that homeowners should also run the water pipes upon moving in to get rid of adhesive residues.
Another common cause of bad IAQ is mould from water seepage or high humidity in bathrooms, flat roofs and leaks through windows.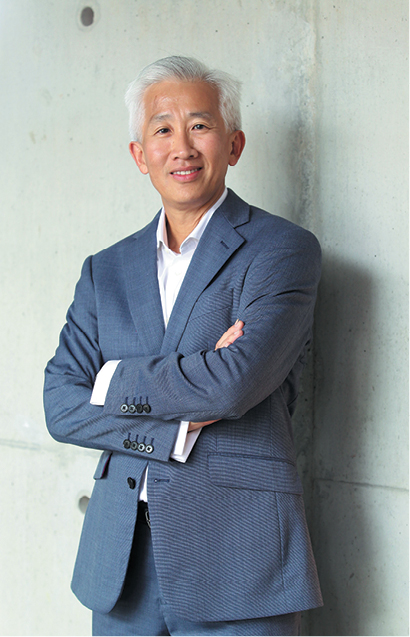 "Waterproofing failure in bathrooms and flat roofing can lead to long-term issues which are costly to fix and maintain. It is therefore important to ensure that any water leakage that can lead to mould, spores and algae is quickly resolved. A mouldy building is a 'sick building' with spores that can spread quickly throughout the entire building (especially those with central air-conditioning systems)," cautions Lee.
He also notes the importance of having proper ventilation and not being over-reliant on air-conditioners.
"Homeowners should be aware that most properties rely on split air-conditioning with their doors and windows closed, which do not allow for fresh air intake.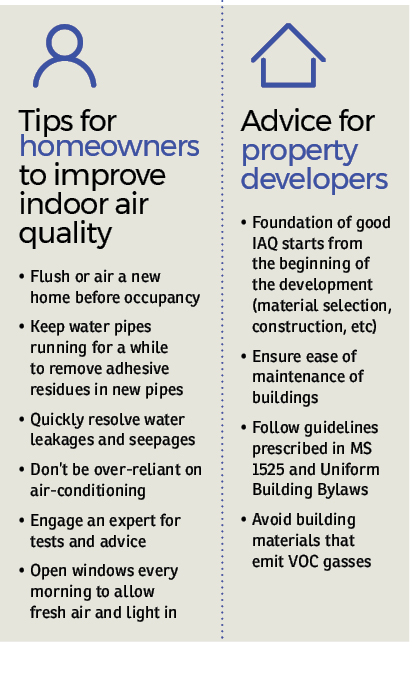 "It is not unusual to see many common facilities like the gymnasiums and offices which do not allow fresh air in as well. The reliance on air-conditioning for most indoor spaces merely cools the indoor air," explains Lee.
As for older properties, bio-hazards from leaking sewerage pipes especially in high-rise properties are also becoming a common occurrence.
Occupants of properties with low IAQ usually suffer from respiratory issues. Prolonged exposure to indoor air pollutants can be harmful especially to children and the elderly.
Lee notes that for those concerned with the air quality in their homes, there are many tests available in Malaysia which can be performed by independent engineers and technicians with the latest equipment based on the MS 1525 standards.
This story first appeared in the EdgeProp.my pullout on Oct 18, 2019. You can access back issues here.