Office workers could easily spend more than half of their waking hours at the workplace, but more hours in the office may not equal to greater productivity, especially when the office is far from being a comfortable place.
According to the Healthiest Workplace 2018 survey by AIA Vitality, organisations in Malaysia lost 73.1 days of work time per employee in a year on average, due to absenteeism and "presenteeism". Absenteeism refers to the actual absence of employees from work, while "presenteeism" here means an employee clocks in but is unable to perform work due to health issues, loss of concentration from lack of sleep, or stress, among others.
Read also
Housing minister and developers find inspiration in the Far East
Lessons from Japan's public housing
EdgeProp Study Tour: An opportunity to gain ideas and network
Why we need air quality regulations
Creating values worth paying for
How do we prevent bad indoor air quality?
In the long term, companies that promote and protect workers' health could do better in avoiding undue sick leave and disability, minimising medical costs as well as costs associated with high turnover such as training, and enhance long-term productivity, according to the World Health Organization (WHO).
Indeed, a workplace can be designed to enhance creativity, productivity and social interactions among its occupants. It could even raise their "happiness" levels and reduce stress.
"Buildings that are designed for wellness could enjoy higher value and fetch better returns for investment for their owners compared with conventionally-designed buildings," immediate past president of Pertubuhan Akitek Malaysia (PAM) Ezumi Harzani tells EdgeProp.my. Ezumi is also the chairman of Architect Centre Sdn Bhd.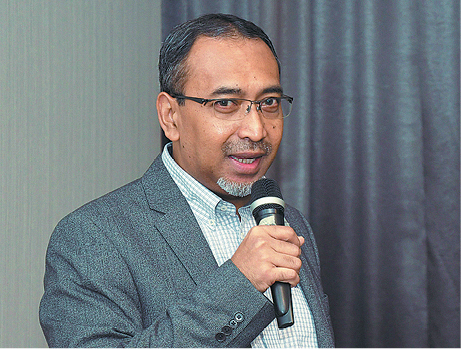 Building design is fundamental. For instance, once the toilets are placed in a certain part of an office building, there is nothing much that can be done later to change it, especially if it is a high-rise building, because the toilets are often aligned in such buildings, so are the plumbing works.
"Or for example, if a building is 'fat' and too deep, natural light from the external windows may not reach the inner parts of the building. These are some of the consequences of bad building design," Ezumi explains.
Staff productivity in an office building can also be enhanced with the help of interior design. Although interior design cannot make up for a poorly designed building, it still plays an important role in creating a good work environment.
"Space is expensive, especially in the city, and this means that it has to be better planned for both aesthetics and greater productivity," says Ed Mun, CEO of S.U.A, an interior design firm behind the local offices of many renowned brands including Nike, BASF, Samsung and KONE.
Both Ezumi and Mun offer some important elements to be considered in designing offices that promote wellness and productivity.
BUILDING DESIGN
Good air circulation
Most offices are air-conditioned but when it breaks down, more often than not, no work gets done simply because most buildings offer no alternatives and everyone just wants to get out of the building to get some air. And we know that humans can't live without oxygen, right?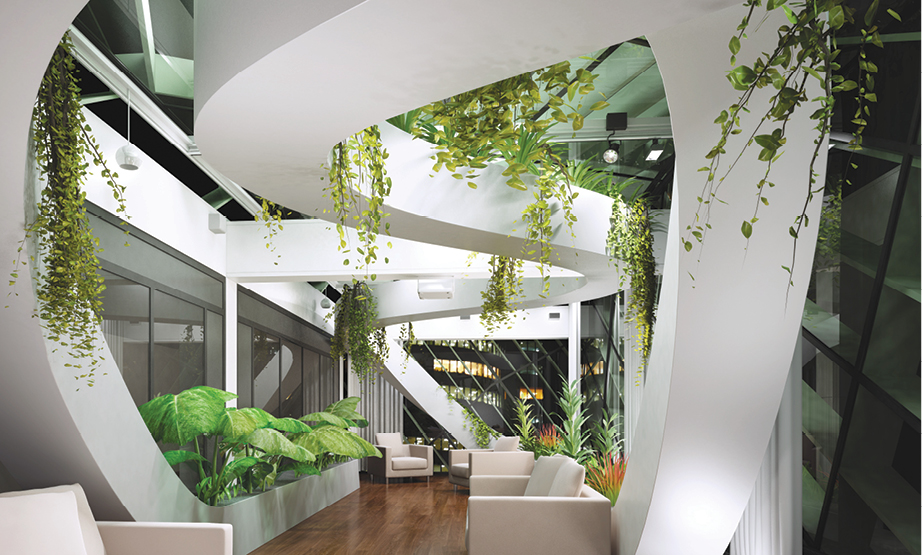 Hence it is a no-brainer that good air ventilation is vital in creating a conducive and comfortable work environment because it is scientifically proven that oxygen levels and brain function go hand in hand. So if you want your staff to perform better, make sure the air quality in the office or wherever they are working in, is good.
Therefore, good design must take into consideration the technical details of air intake quality into the building, together with the necessary filters to filter out bad air and particles.
"Air filtration is important to ensure good indoor air quality. The use of natural filtration elements like water and plants may be helpful, but installing mechanical systems that purify the air inside would not be a bad idea either," Ezumi says.
Heat waived
The right selection of building materials, shading devices, orientation of a building and landscaping elements can help mitigate the heat from the sun and reduce temperatures within a building. Good ventilation and shading of windows can also provide some relief from high temperatures.
"But of course, due to our tropical climate, the usage of mechanical ventilation and air-conditioning systems can't be avoided in our office environment to reduce humidity and improve indoor air quality," Ezumi says.
Let there be light
While we may want to avoid the sun's heat, we still need sunlight. Sunlight not only prompts vitamin D production in a human body but it also triggers the release of serotonin hormones, which regulates our feelings of happiness or sadness. Thus, buildings that allow for lots of natural light to flow into them tend to appear more welcoming.
External windows do not just act as openings for natural light, they also offer employees the chance to enjoy views of the outdoors to relax their eyes and unwind in between intense work periods.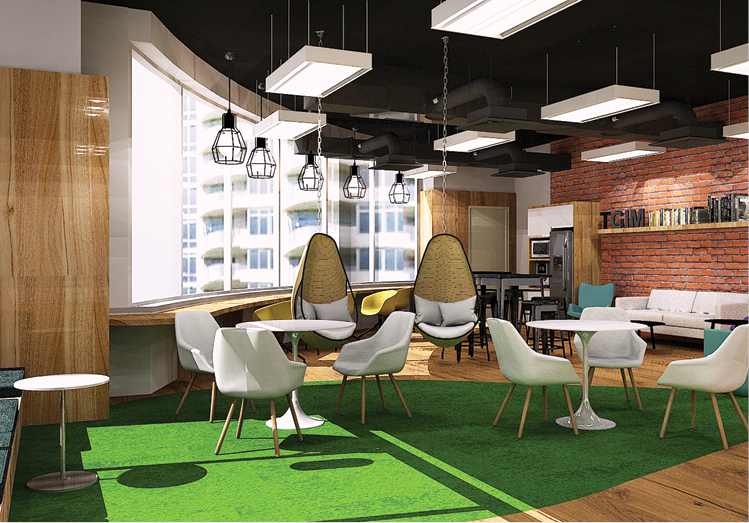 Mind the gap
It is a bit jarring to look out your office window only to see right into the office next door. If a building has to be built in such close proximity with another building, architects can think of ways to design the building so that the parts of the building facing the neighbouring building are not the parts occupied by offices.
Consider a small degree tilt in the glass façade or window angle which could bring a different effect to the views they offer.
To eliminate unwanted noise, the selection of soundproof materials plays an important role.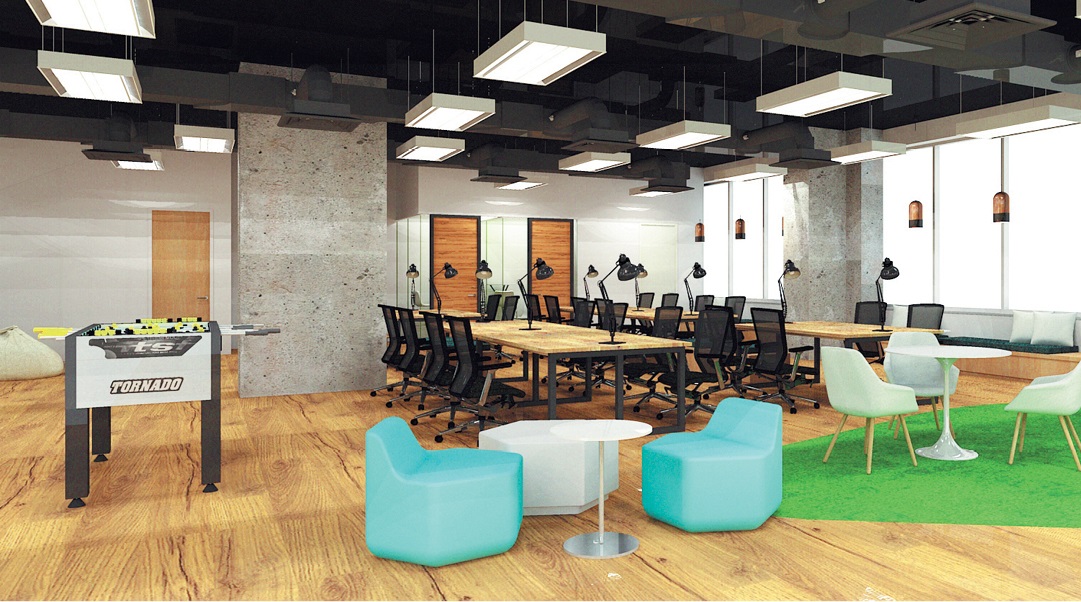 INTERIOR DESIGN
Create a comfortable place to work
Furnishing and fittings should aim to create a comfortable work environment. Some of the factors include colour tones and lighting. Interior design should also help to mitigate potential distractions such as sunlight shining directly into people's eyes, or noisy traffic.
Designers can also help to lower physical stress of the workers by mobilising work desks, installing exercise and relaxing spaces, making full use of daylight, adding ergonomic furniture, and so on.
Selecting bright and cheerful finishes also helps to stimulate brain and body to be more alert and energetic at work.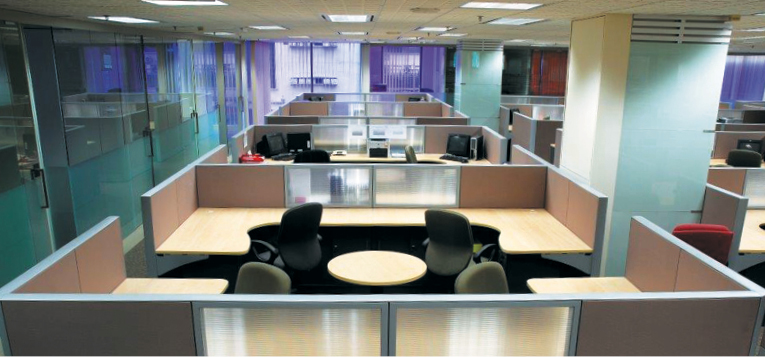 Knowing how departments work together
Time is money, and better operational efficiency as well as space efficiency can be achieved by installing clear partitions for different departments and understanding how different departments in the company work together.
"Studies show that employers tend to spend significantly more cost when employees have to walk past more than 20% of the total space to get routine work done, versus organisations that have employees who walk less than 20% of the total space," Mun says.
Cater for different workforces
Space planning and design should take into consideration distinct needs of different types of workforces.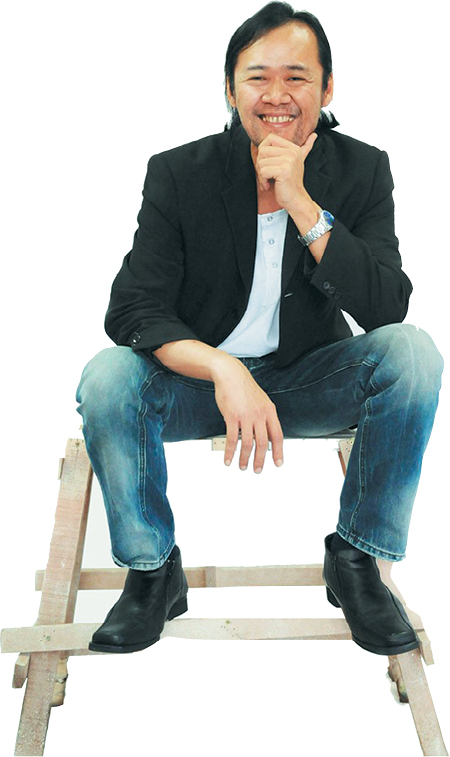 Mun has identified four types:
• Residents — those at the management level who require private rooms usually close to his/her team or management departments;
• Nomads — those who deal with fieldwork and require only basic support for their work operations;
• Project teams — those selected to work together as a team on certain tasks;
• Function groups — those who require dedicated workstations as they work on individual tasks or casual collaborative tasks.
According to him, an open space is suitable for Nomads, while Project Teams and Functional Groups would find semi-private spaces suitable for their tasks. Enclosed areas are usually suitable for Residents and Functional Groups.
Reflect company culture
Company culture could help pull together a great team. Workplace design should be aligned with the company's culture, to reflect its nature and identity, goals and visions to create a more engaging work environment.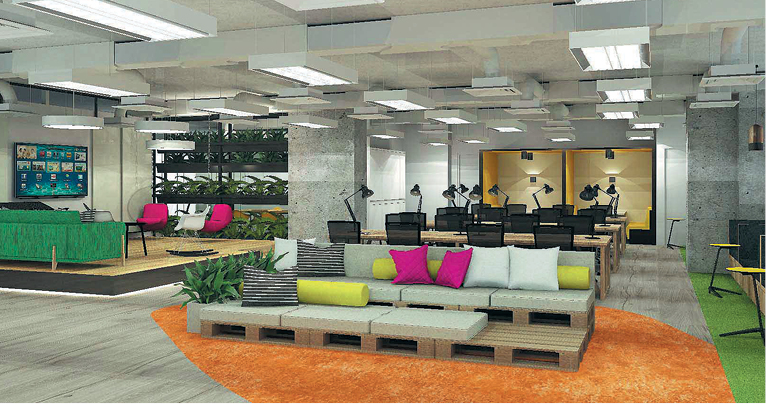 "Clothing does not make a person, but it can make the person more attractive," Mun says.
Similarly, companies want their offices to give the right first impression to visitors, be it potential business partners or job interviewees.
"Design is able to anchor mind-sets and influence the behaviour of people in the organisation, hence it is one of the most important factors to drive people forward in the same direction," he elaborates.
This story first appeared in the EdgeProp.my pullout on Oct 18, 2019. You can access back issues here.