The latest haze that hit Malaysian shores over August and September this year was probably the time when the most people took an interest in the air they breathe.
At the peak of the haze when the air pollution index went to unhealthy levels, most took refuge indoors where they could switch on the air-conditioning or air purifiers, thinking that they were safe from the smoke.
Did you know that without proper ventilation and equipment, a room or building's indoor air quality (IAQ) could be even more polluted than the air outdoors, to the detriment of the building occupants' health?
Read also
Housing minister and developers find inspiration in the Far East
Lessons from Japan's public housing
EdgeProp Study Tour: An opportunity to gain ideas and network
Creating values worth paying for
Design for productive workplaces
How do we prevent bad indoor air quality?
What's even scarier is that many of us are spending a great deal of our time indoors and inhaling unhealthy indoor air for long periods without knowing it. In fact, studies have shown that we tend to spend about 90% of our time indoors, such as at home, workplace or school.
What are indoor air pollutants and where do they come from? Activities such as housekeeping, cooking and building/renovating are among the sources, said Panasonic Ecology Systems Co Ltd IAQ business unit managing director Shigehiro Uchiyama.
"Housework, for example, will create dust and allergens that may cause allergic reactions in humans, especially children whose lungs are still developing," he told delegates of the EdgeProp Malaysia Study Tour on Excellent Building Sustainability, Management and Wellness 2019 in Japan organised by EdgeProp.my and supported by Panasonic recently.
Among the study tour delegates were Malaysia Housing and Local Government Minister Zuraida Kamaruddin, captains of leading Malaysian property development companies and judges of EdgeProp Malaysia's Best Managed Property Awards.
Apart from that, Uchiyama added that if you are moving into a newly built or recently renovated house, you will likely be exposed to toxic chemicals such as formaldehyde and harmful volatile organic compounds (VOCs) that are emitted from building materials or furniture.
These indoor air pollutants can cause the Sick House/Building Syndrome and victims could suffer from symptoms that range from sore throat, skin and eye irritation and allergies to more serious health problems such as pulmonary ailments and cancer.
If one could recall, there were news reports of a man surnamed Wang who had died of leukemia in July 2018, three months after moving into a new apartment in Hangzhou, China.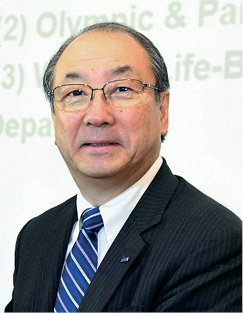 His wife claimed that he was declared healthy by doctors during a check-up in January, but began to fall sick after moving into the new flat in April where the formaldehyde levels were 32% more than the national standard of 0.1. Broadcaster BBC reported that this could be because the formaldehyde in finished flats have not been given the appropriate time to disperse before they were rented or sold due to the high demand for new housing.
IAQ regulations in Japan
Many governments have enacted regulations to control the use of building materials that contain toxic chemicals while setting standards for indoor ventilation to ensure good IAQ.
Japan amended its Building Standard Law to include provisions related to the ventilation of indoor environments in buildings and the amended law came into effect in July 2003, said Uchiyama.
"Sick House Syndrome was a big social issue in Japan from the 1990s to early 21st century. This was because increasingly more chemicals were brought indoors from construction materials such as paints, woods, floorings and walls in newly-built or renovated buildings.
"This caused a deterioration of IAQ and made people suffer, so the Japanese government amended the Building Standard Law to tackle this issue," explained Uchiyama.
The law, among others, prohibits the use of building materials containing chlorpyrifos — a toxic chemical — in buildings with habitable rooms; regulates the use of formaldehyde-emitting interior finishing materials; and makes it mandatory for buildings with habitable rooms to install mechanical ventilation equipment or to have windows and other openings for ventilation.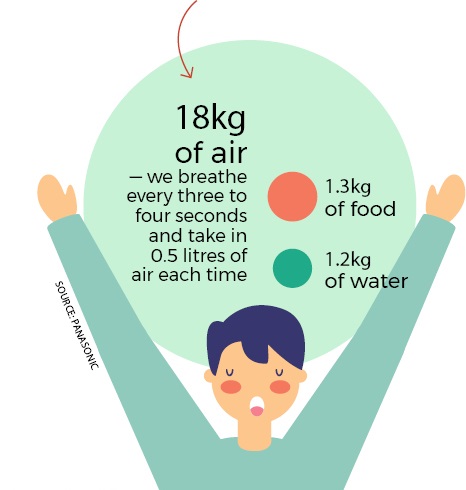 Time to pay more attention to our air
Currently, Malaysia does not have compulsory requirements on IAQ for our buildings. There is only the Industry Code of Practice on Indoor Air Quality released by the Department of Occupational Safety and Health that serves as a guideline for IAQ in place. However, there is rising awareness especially among property developers and property managers as they take into consideration IAQ in their developments.
According to Panasonic Corp heating and cooling solutions business division managing director Toshiyuki Takagi, Malaysians tend to focus more on the quality of their food and water rather than air quality when in fact, one consumes more air than food and water in a day.
Each person takes in 18kg of air every day, way higher than food (1.3kg) and water (1.2kg), noted Takagi, who is also the chairman of the Japan Refrigeration and Air Conditioning Industry Association.
He added that in Japan, even private cars, taxis and convenience stores are equipped with IAQ devices.
"For example, many automotive companies are using our nanoe technology in their models, including Toyota, Mitsubishi, Mazda, Jaguar, Suzuki and Subaru," he said.
Panasonic's nanoe technology is an air purification system that creates a fresher and cleaner indoor environment as it deodorises the air, inhibits the growth of bacteria, viruses and other pollutants while "moisturising" the environment.
Uchiyama believes that it is a good time for Malaysia to study the introduction of IAQ regulations and for more property developers to supply homes that meet IAQ standards in view of the rising demand among consumers to live in more comfortable and healthier environments.
IAQ is one of the attributes of winners in the EdgeProp Malaysia's Best Managed Property Awards — the first of its kind in Malaysia and in the region.
This story first appeared in the EdgeProp.my pullout on Oct 18, 2019. You can access back issues here.