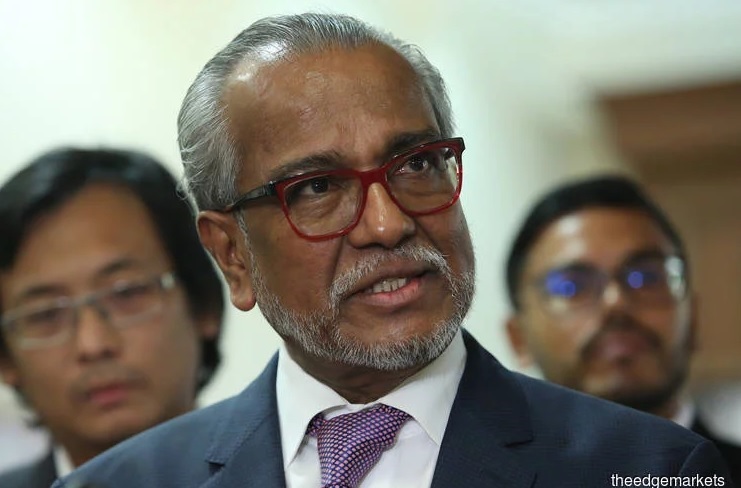 KUALA LUMPUR (Nov 13): The High Court here had today adjourned former prime minister Datuk Seri Najib Razak's 1MDB-Tanore trial hearing as prosecution witness Datuk Shahrol Azral Ibrahim Halmi and lead defence lawyer Tan Sri Muhammad Shafee Abdullah (pictured) are ill.
High Court judge Collin Lawrence Sequerah said he had no choice but to adjourn today's proceedings and vacate tomorrow's round of the trial as well, because Shahrol and Shafee's ailments are preventing them from attending hearings.
"Considering these developments, I have no choice but to adjourn today's proceedings. We will have a case management to see where we are," said Justice Sequerah.
The case management hearing is set for Dec 13, 2019 at 9:30am.
Today, defence lawyer Wan Aizuddin Wan Mohammed informed the court that Shafee is ill with severe throat infection, which was diagnosed yesterday, and is on medical leave until tomorrow.
Meanwhile, the prosecution also informed the court that Shahrol is ill as well.
Justice Sequerah has fixed the 1MDB-Tanore trial dates between January and April 2020.
For January 2020, Sequerah has set aside Jan 6 to 9, 13 to 16, and 20 to 23 as trial dates.
For February next year, Feb 3 to 6, 10 to 13, and 17 to 20 have been set aside as trial dates.
For March 2020, March 9 to 12, 16 to 19, 23 to 26, and 30 to 31 have been locked in for the trial.
Meanwhile, the first two days of April 2020 have been booked for the trial's hearing.
The 1MDB audit tampering trial involving Najib and former 1MDB group president and chief executive officer Arul Kanda Kandasamy will begin on Monday (Nov 18) at 10am.
Today, High Court Judge Mohamed Zaini Mazlan said he is disinclined to grant an adjournment for the trial.
"The prosecution can call other witnesses besides Datuk Shahrol Azral Ibrahim Halmi," said Justice Zaini.