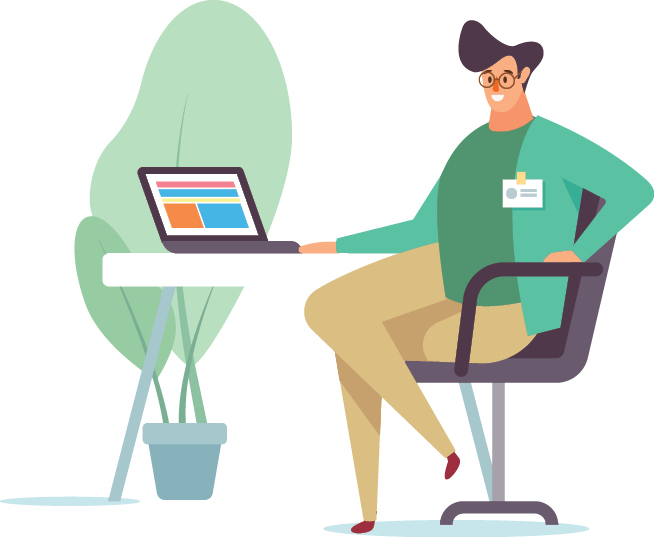 For many years, office landlords have charged rents for the provision of standard office space on fixed terms. However, with occupiers' corporate real estate strategy now seeking greater lease flexibility; companies looking to maintain a contented and productive workforce; and employees striving for an attractive and appealing workplace experience, CBRE believes a fundamentally different approach is required.
In its Asia Pacific Research report on "The hotelisation of office space: New approaches to future-proofing commercial portfolios", the real estate services and investment firm pointed out that office space is moving towards consumerisation and hotelisation.
This is mainly due to advances in technology, a more mobile workforce and uncertain economic growth, which are reshaping the business environment and transforming the occupier approach to real estate decision-making.
Moreover, unpredictable business cycles and irregular headcount growth have also led to the need for more short-term space that offers tenants the option to rapidly "flex up" or "flex down", it added.
"As occupiers' requirements, expectations and demands are raised, landlords cannot stand idly by. This new paradigm requires property owners to adopt a fundamentally different approach to leasing and asset management.
"Rather than simply filling up a building with tenants on conventional long-term leases, landlords striving to achieve a competitive advantage can offer a blend of traditional space, flexible space and turn-key solutions, supported by a comprehensive set of amenities, leading-edge technology and personalised human-delivered services," the CBRE report said (see Figure 1).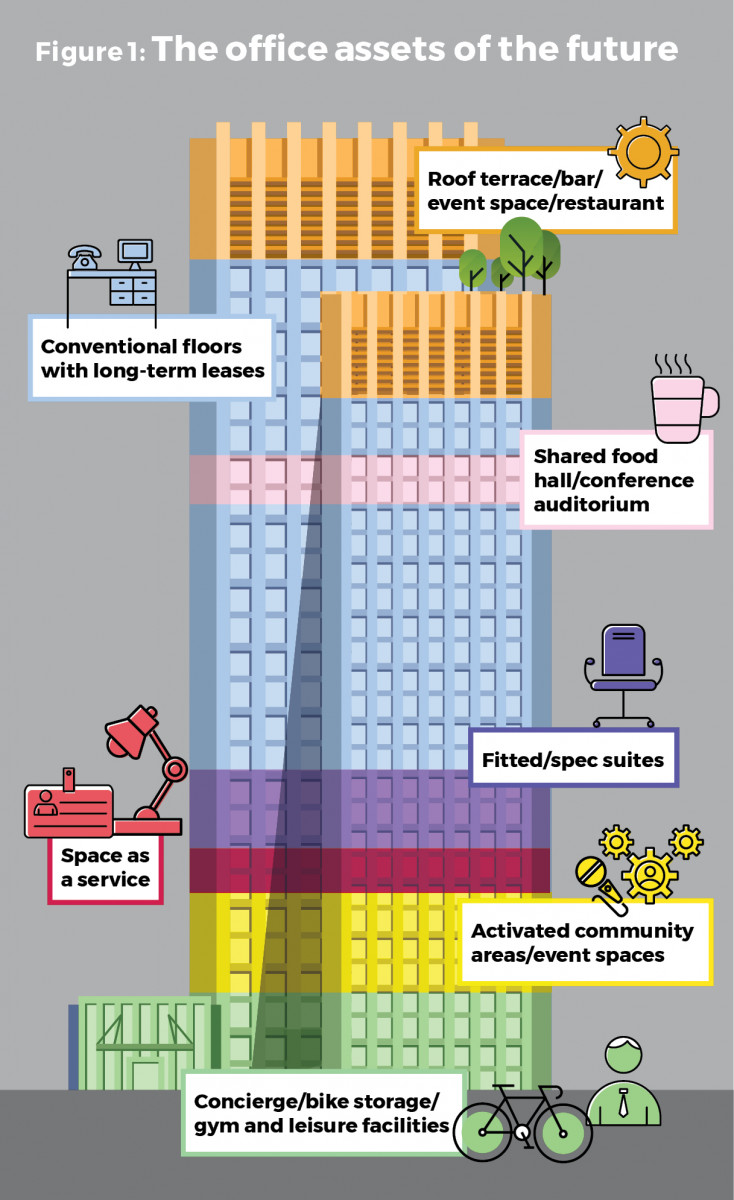 It noted that although some landlords are experimenting with a range of new strategies to differentiate their properties beyond the traditional selling points of specification, location and accessibility, many are still struggling to devise an effective response to the changing landscape in the office property sub-sector.
However, if the landlords can adopt a more proactive approach and take on a more service-oriented role to transit away from just being pure space providers, they could enjoy improved tenant retention, higher rents and create future-proof portfolios.
Here are a few tips for office building owners from CBRE.
1 Provide space as a service on demand
The obvious starting point is to capitalise on the flexible space trend. CBRE's 2018 Asia Pacific Investor Intentions Survey found that about half of landlords and investors believed that allocating no more than 20% of a building to flexible space could enhance its value.
Indeed, securing flexible space operators as tenants is the most direct approach while other options include "hotel-like" characteristics that provide fully-fitted "plug and play" offices that are leased to and managed on behalf of tenants.
However, landlords must closely evaluate the profitability of individual operators and obtain greater covenant protection such as higher rental deposits and corporate guarantees.
Regardless of the way in which landlords opt to respond to the agile revolution, the solutions listed above ultimately point to the need for assets that provide a blend of traditional and flexible options, enabling tenants to access a network of different spaces on demand.
That said, landlords must also be mindful of allocating the optimal proportion of a building to flexible spaces.
2 Offer curated experiences
Landlords seeking to create hospitality-infused buildings should also include a broad range of amenities and supporting services.
In addition to basics such as parking space and F&B, CBRE's 2018 Global Tenant Survey 2018 (Figure 2) found that office occupiers in Asia Pacific are increasingly demanding conference and meeting management
services, gym and fitness spaces, and other wellness facilities.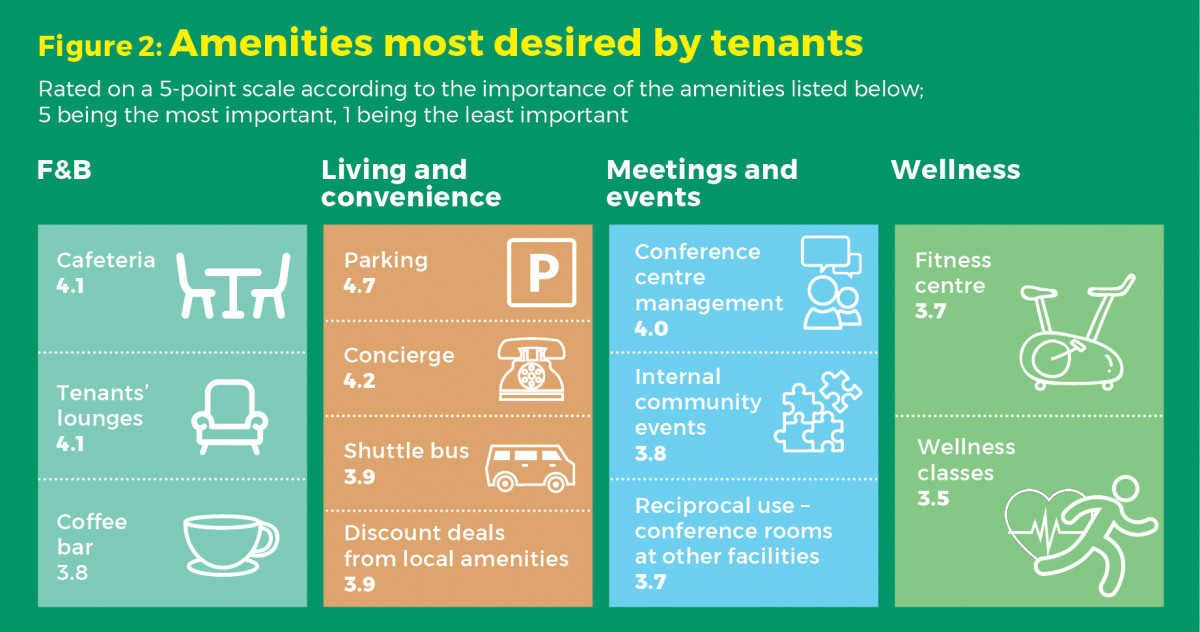 A few progressive landlords are now offering hotel-like services and amenities such as concierge service, dedicated tenant lounges, on-site F&B and wellness programmes This requires a balance between catering to tenants' expectations and the increased costs in designing, building and managing high-quality amenities.
By providing an environment in which going to work becomes a curated experience, landlords can begin to operate their offices as if it were a full-service hotel. In many respects, therefore, the landlord's primary customer is the employee, and no longer the tenant.
3 Integrate wellness into building design
Although wellness is not a new concept in the workplace and many companies already have office wellness programmes in place, it has only recently begun to be incorporated into building design.
Building design should consider ways in which to enhance the health and productivity of building occupants. While this can include the basics such as providing natural light and high-quality air, designs should ideally incorporate biophilic features to connect building occupants with the natural environment.
Although obtaining building certifications such as LEED (Leadership in Energy and Environmental Design) and WELL can burnish landlords' credentials as providers of space suited to occupants' wellness requirements, CBRE advises landlords to adopt a holistic approach towards creating spaces that align with tenants' wellness agenda.
4 Adopt intuitive technologies for tenant engagement
Technology is a key point of differentiation. However, while much of the conversation around tenant engagement platforms invariably focuses on their technological sophistication and efficiency, many platforms overlook the importance of genuine human interaction, particularly in service delivery.
For tenant engagement platforms to be truly effective, they must be integrated with people services. Well-trained, knowledgeable and experienced professionals stationed on-site must be responsible for creating a supportive and comfortable atmosphere; welcoming visitors; and act as air-traffic control for all employee-facing services.
Landlords can also utilise these platforms to gather and review anonymous data related to user activities and preferences while introducing refinements to their offerings to improve tenant satisfaction.
This story first appeared in the EdgeProp.my pullout on Nov 15, 2019. You can access back issues here.