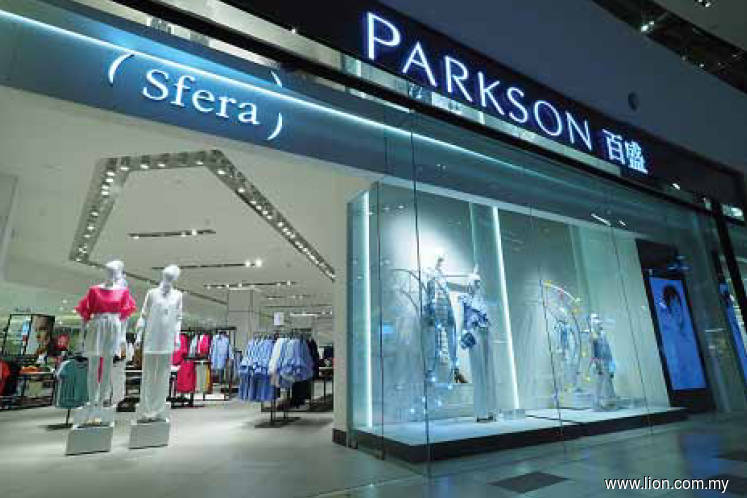 KUALA LUMPUR (Dec 4): Parkson Holdings Bhd's 67.96%-owned Singapore listed subsidiary Parkson Retail Asia Ltd (PRA) has been placed on the Singapore Exchange (SGX)'s watch list, after PRA issued a notice in October that it had been loss-making for three consecutive years.
The watchlist inclusion takes effect today (Dec 4), according to an announcement yesterday by PRA to the SGX on the watchlist inclusion, which Parkson filed with Bursa Malaysia.
"The board of directors of Parkson Retail Asia Ltd (the company) wishes to announce that following the Notice of 3 Consecutive Years' Losses released by the company on Oct 7, 2019, the Singapore Exchange Securities Trading Ltd (SGX-ST) has notified the company that it will be placed on the watch-list with effect from Dec 4, 2019.
"The company must take active steps to restore its financial health and meet the requirements of Listing Rule 1314 (1) within 36 months from 04 December 2019, failing which, the exchange would delist the company or suspend trading in the company's shares, with a view to delisting the Company," said PRA executive chairman Tan Sri William Cheng Heng Jem in the announcement.
Listing Rule 1314(1) states that an issuer may apply for its removal from the watchlist, if it records consolidated pre-tax profit for the most recently-completed financial year (based on the latest full year consolidated audited accounts) and has an average daily market capitalisation of S$40 million or more, over the last six months.
Parkson, in turn, said PRA's inclusion on the watchlist will not have any impact on the group's earnings for the financial year ending June 30, 2020 (FY20), or its net assets.
Parkson's shares slid half a sen lower or 2.17% to 22.5 sen yesterday, valuing it at RM246.12 million. PRA, meanwhile, fell 11.11% to S$0.008, valuing it at S$5.39 million.