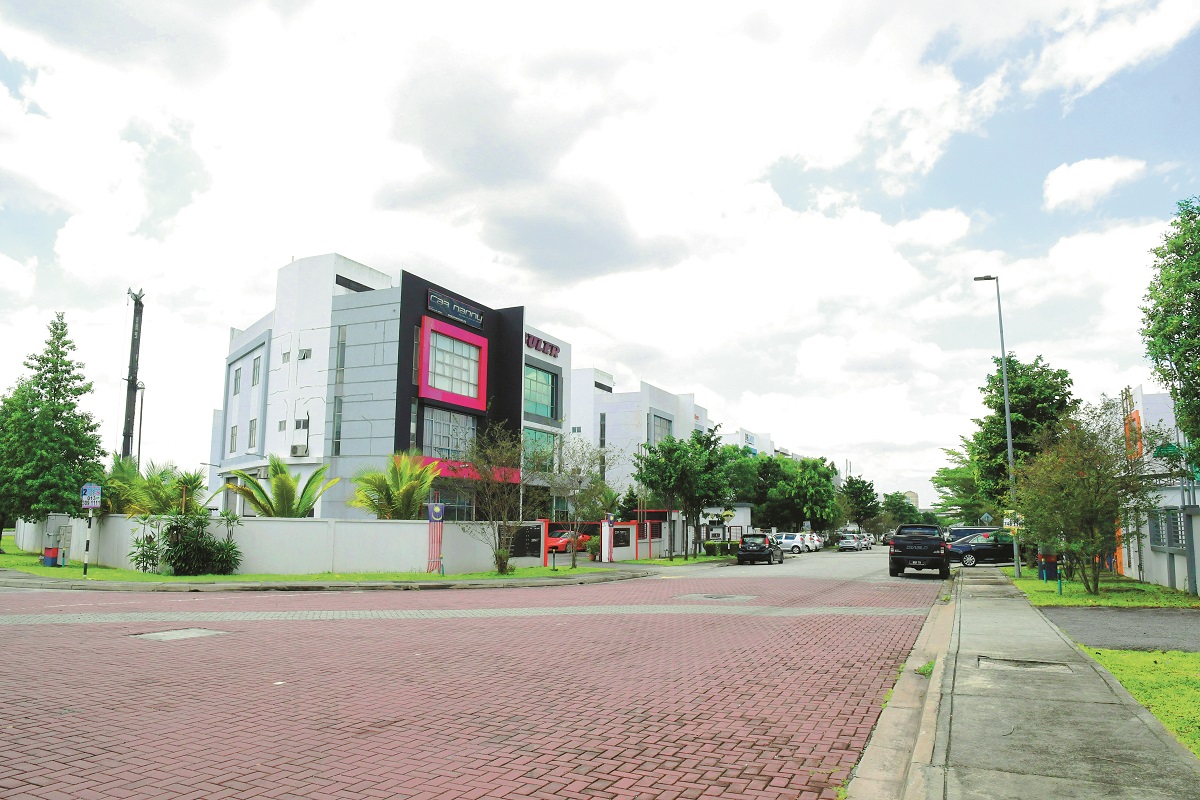 Vibrant industrial activities create jobs, and in turn, demand for accommodation near the workplace, which is why industrial activities can be a major catalyst for development and the growth of the local property market.
Knight Frank Malaysia executive director of capital markets Allan Sim says there is a correlation between booming industrial activities acting as the catalyst that drives property demand and price growth.
"Successful industrial activities are generally underpinned by factors such as proper infrastructure, accessibility and government incentives. Job creation and well-thought out master plan developments are key to an industrial town's success," he tells EdgeProp.my.
However, one has to remove the old image in our minds, of industrial areas filled with dirty factories and hordes of blue-collared workers. The fact is, the country is moving towards sophisticated mechanisation and high-tech manufacturing processes and industries. In line with this, the workforce has also evolved with more skilled workers and professionals. This has a multiplier effect on the local property market as there will be a demand for higher-end homes, for education and other services, thus creating more business opportunities that add vibrancy to the area.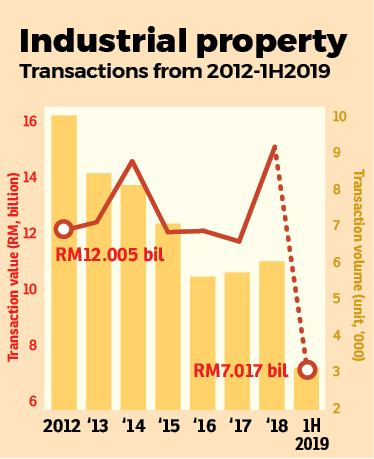 Nawawi Tie Leung Property Consultants Sdn Bhd executive director Brian Koh concurs that industrial activities could be a catalyst for growth but it takes around 10 to 20 years for an industrial town to boom such as Petaling Jaya, Bangi and Shah Alam. These industrial towns grew organically over the years.
It is imperative, he adds, for an industrial town to continue developing, upgrading and adding value to the town in order to attract more professionals and high-income groups.
Let's take a look at three areas that benefited from their concentrated industrial activities.
Shah Alam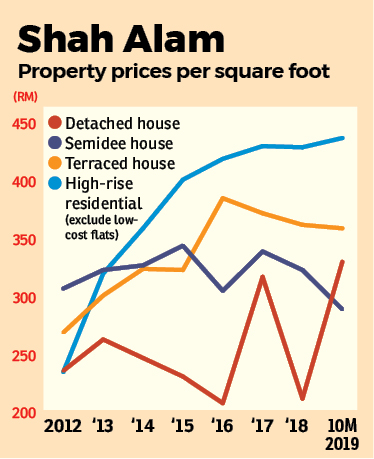 The capital city of Selangor has evolved from an industrial town to a modern business hub with various offerings such as education, commercial activities and as the state government administrative centre.
Since gaining city status in 2000, the population in Shah Alam has increased to over 650,000 people. Terraced houses and high-rise residences are the two most popular property types.
According to the Valuation and Property Services Department's National Property Information Centre (Napic) transaction reports, terraced houses and condominiums (including serviced apartments) recorded double-digit price growth between 2012 and 2018.
An average of 1,500 terraced houses were sold on the secondary market between 2012 and 2018 and their average selling price inched up 35% to RM361 psf (based on land area) in 2018, from RM268 psf in 2012. In 2019 up till October, Shah Alam recorded 448 terraced house transactions with their prices averaging RM358 psf.
The average transacted price for high-rise residential homes (excluding low cost flats) in the 56-year-old city had risen by 83% to RM428 psf in 2018 from RM234 psf in 2012. In the first 10 months of 2019, a total of 263 high-rise homes changed hands with the average selling price at RM436 psf.
As for semidee homes, the average transacted price has also risen above 5% to RM322 psf in 2018 compared with RM306 in 2012.
However, bungalow home prices have dipped about 10% to RM211 psf in 2018 from RM235 psf in 2012.
Koh from Nawawi Tie Leung says whilst industrial activities will continue to support the city's growth and housing demand, job creation from the government administration centre in Central Shah Alam from Section 1 to Section 24 and the popularity of education institutions in Shah Alam will also contribute to future growth.
Bangi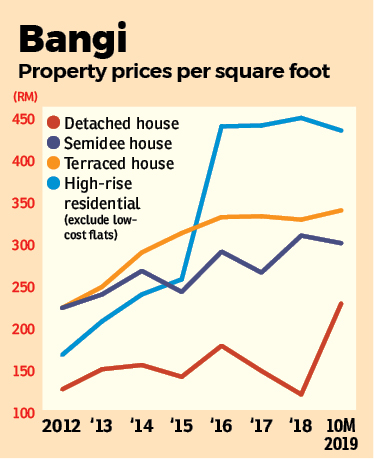 Reapfield Properties (KL) Sdn Bhd real estate negotiator Siti Nor Hani Mohd Noor Nordin says demand for housing in Bangi, Selangor in the KL South corridor has increased gradually over the years, especially over the last three years.
Besides industrial, education-related amenities have contributed to Bangi's development including University Kebangsaan Malaysia in Bandar Baru Bangi that has over 20,000 students, Greenview Islamic International School, Yoke Min primary school and Bangi primary and secondary schools.
"It's about increasing the population numbers – the industrial activities have created jobs that drew people to live in Bangi, thus opening up the need for education and other amenities as well as attracting businesses to set up here," Siti says.
Bangi is no longer a boring industrial town. There are lots of F&B choices here today as well as amenities such as clinics and hospitals, leisure and entertainment, shopping malls and night markets, adds Siti.
Bangi is also now easily linked to other business hubs in the Klang Valley as the distance from Bangi to Kuala Lumpur city centre is about 30km via the Maju Expressway or North-South Expressway.
In 2018, the average price of terraced houses here has climbed 47% to RM328 psf, from RM223 psf in 2012, while the average price of semidee homes has gone up by 38.6% to RM309 psf in 2018 (from RM223 psf in 2012).
In the first 10 months of 2019, the average selling price of 185 terraced houses in Bangi averaged RM339 psf, while transaction prices for 21 semidees averaged RM300 psf, according to EdgeProp.my data.
Siti has also observed a rising demand for high-rise residences in Bangi. The strong demand led to a spike in the average transacted price of high-rise homes in Bangi which surged by a whopping 169% to RM449 psf in 2018 from RM167 psf in 2012. As at October 2019, there were 56 concluded sales of high-rise homes in Bangi with the average transacted price at RM434 psf.
Pasir Gudang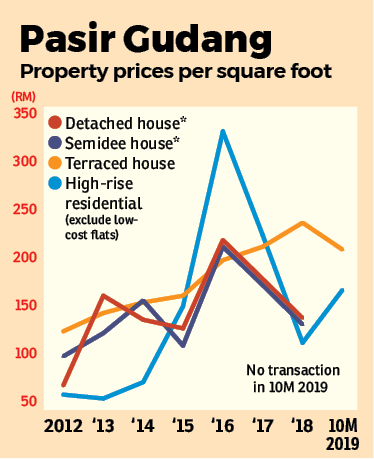 The industrial town in Johor, Pasir Gudang has seen housing prices jump significantly over the years as industrial activities heightened with a move towards logistics, petrochemical and other heavy industries, leveraging its proximity to Johor Port and Tanjung Langsat Port.
According to Knight Frank's Real Estate Highlights 2H2019 report, asking rentals for industrial space in Pasir Gudang, Johor Bahru and the localities of Senai-Kulai remained stable in 2019.
The strategic location of Pasir Gudang, Senai and Gelang Patah and the well-developed logistics and manufacturing hubs in these locations have benefitted from the robust growth of e-commerce activities.
In 2018, Malaysia recorded e-commerce sales of circa RM12.53 billion, translating to e-commerce sales per capita at circa RM384. The compound annual growth rate (CAGR) of e-commerce sales between 2018 and 2023 is projected to be 13.9%.
Underpinned by increasing global e-commerce trade and consumer spending, logistics services are poised for growth and this will translate to higher demand for logistics and warehousing space.
Bungalow houses in Pasir Gudang have seen their average price psf double to RM139 psf in 2018 from RM65 psf in 2012; semidee homes recorded an average transacted price of RM128 psf, enjoying a price appreciation of close to 35% in 2018 from 2012.
Terraced houses remained the most popular with over 1,000 transactions recorded annually from 2012 — 2018. Their average price surged over 93% to RM234 psf in 2018 from RM121 in 2012. As of 1H2019, a total of 27 terraced houses were sold at an average price of RM206 psf.
In the high-rise residential segment, the average price psf climbed to RM109 in 2018, a 98% hike from RM55 psf in 2012. In 1H2019, there was only one unit sold, recording a price of RM164 psf.
Looking to invest in industrial property?
Napic data showed that 6,032 industrial properties worth RM15 billion were sold in 2018 while in the first half of 2019, there were 3,137 industrial transactions valued at RM7.017 billion.
If you are thinking of investing in industrial property or in an industrial area, Allan Sim from Knight Frank Malaysia advises one to look at the overall master plan of the area before making a decision.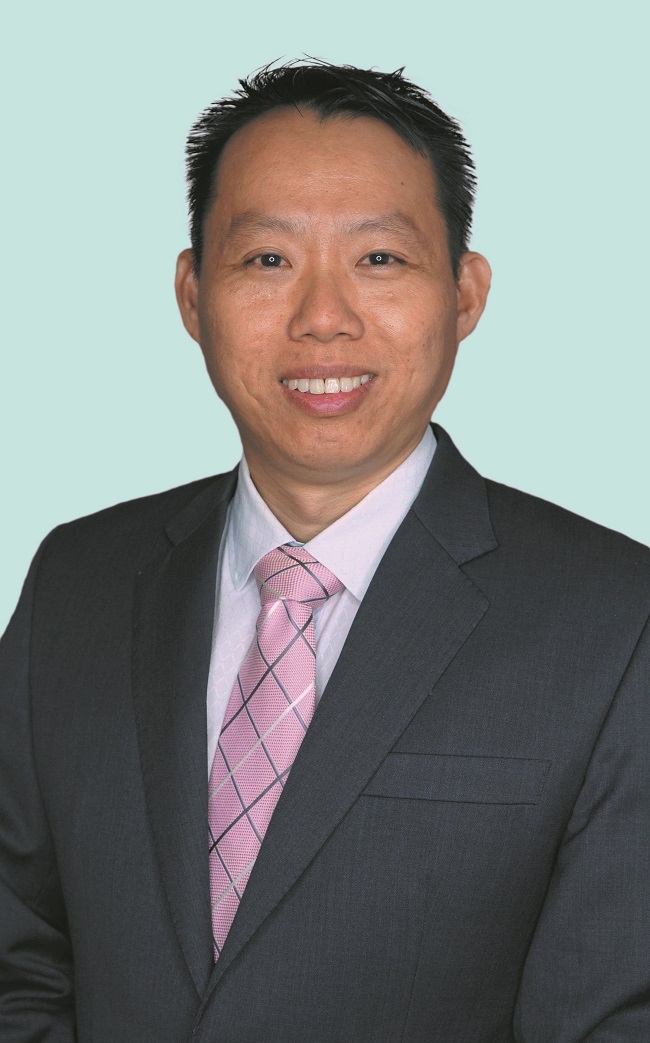 Industrial property within a well thought out master-planned township will be a catalyst for growth for other real estate components in the area, he says.
Proper planning from the start will ensure that factories housed within the township are congruent with the holistic image of the township and its surrounding environment. Proper segregation of workers' accommodation and industrial areas using green zones as buffers will enhance the overall livability of the area.
"Industrial towns that lack proper planning or segregation between different components will have a negative impact on the environment and the long-term value of its real estate.
"For instance, badly managed or uncontrolled workers' housing may lead to social or health problems which will eventually affect property demand and value," Sim adds.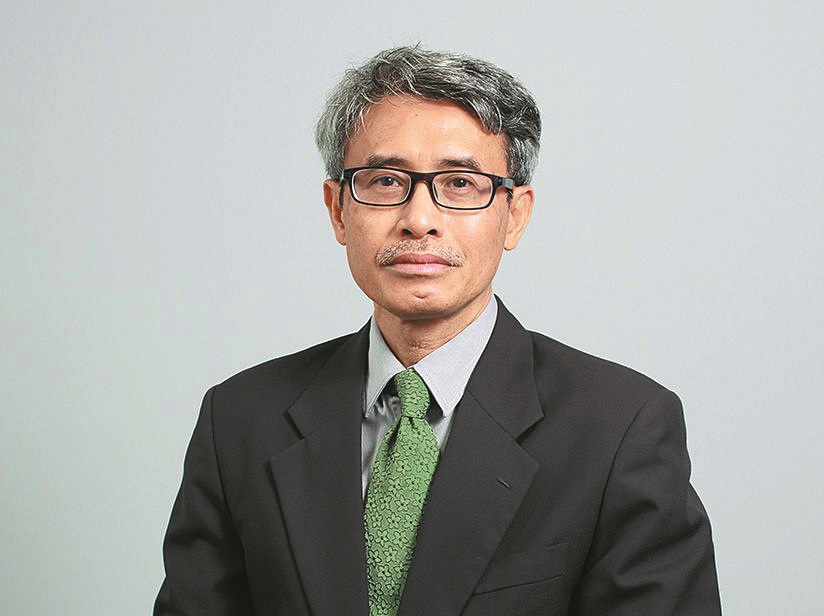 "Look for well-planned industrial towns with various components – commercial, education, leisure and healthcare, as well as proximity to major infrastructure such as expressways, seaports, airports and public transportation systems as these factors would ensure long-term growth and sustainability as well as support future catalysts," Sim offers.
Meanwhile, Reapfield Properties' Siti Nor Hani Mohd Noor Nordin stresses that safety and proximity to amenities are two key contributors to an industrial town's success.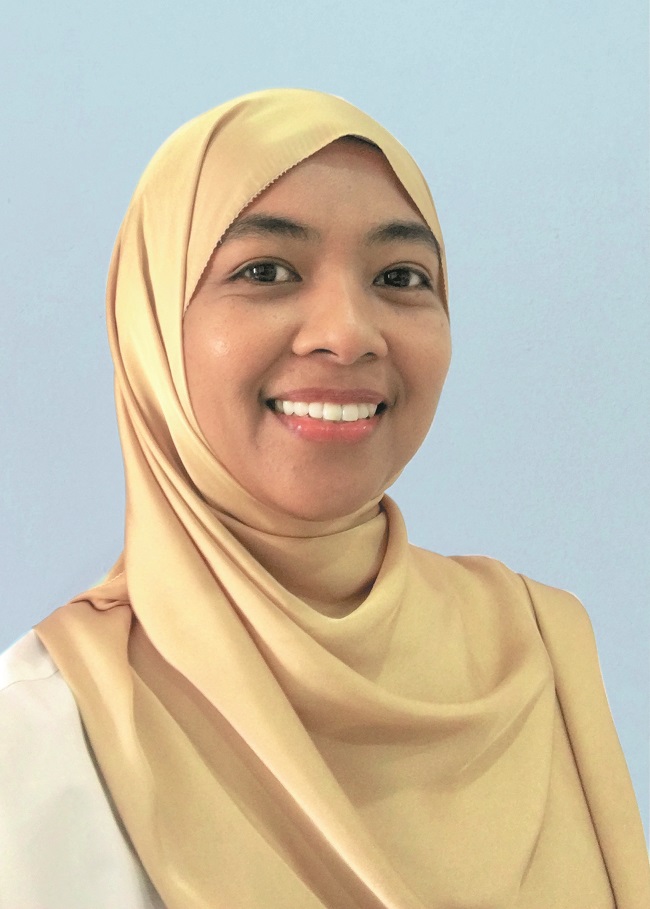 "It's easy to build industrial areas but difficult to create a nice community with a low crime rate and robust business activities. If these criteria are fulfilled, people who work there will also want to live there with their families," she says.
For investors looking for rental income, Brian Koh from Nawawi Tie Leung Property Consultants notes that industrial towns could offer good opportunities.
"Workers housing or hostels are now perceived as a form of niche market investment that real estate funds are considering as an asset class, resulting from developers who were keen to provide an all-round solution for workers' accommodation," he notes.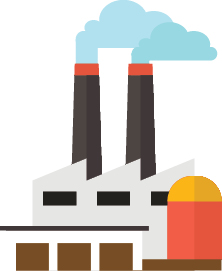 This story first appeared in the EdgeProp.my pullout on Jan 24, 2019. You can access back issues here.