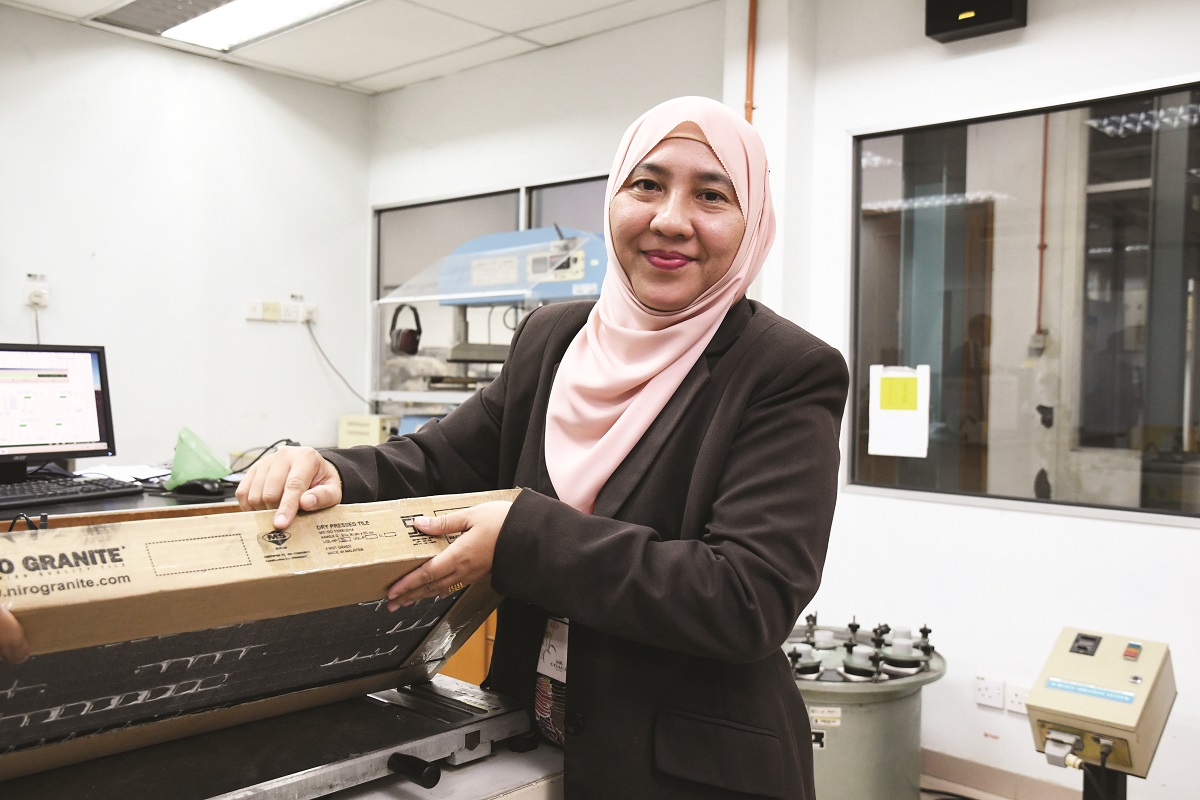 Did you know that it is mandatory for all floor tiles to undergo testing in accordance to their respective MS (Malaysian Standards) ISO standards?
Read also
A guide to the right tile style
For example, ceramic tiles must adhere to the MS ISO 13006:2014 standard. This standard is regulated by the Construction Industry Development Board (CIDB) Malaysia as stipulated under Schedule 4 of CIDB Act 520. However, the testing and certification of ceramic tiles are done by SIRIM Bhd's unit, SIRIM QAS International Sdn Bhd (Civil and Construction).
The tests are done as per the protocols stipulated in the standards. Meanwhile, SIRIM QAS also carries out a factory audit of where the particular tile is manufactured.
The purpose of the factory audit is to determine that the production and quality system practices employed by the factory would continuously comply with the requirements.
According to SIRIM QAS head of civil and construction sector Raja Nor Siha Raja Abdul Hanan (pictured), clients that usually seek the tests include local and overseas manufacturers, contractors and sometimes end-users.
"Test prices are reasonable. About RM3,000 to RM4,000 depending on the quantity and type of tiles. Meanwhile, the time required to complete the tests depends on the type of tiles due to different methods of testing. For example, unglazed tiles take about four weeks and glazed tiles take around two weeks," Raja Nor Siha tells EdgeProp.my during a site visit to SIRIM Complex in Shah Alam.
Among the many tests are water absorption, breaking strength, abrasion resistance and more. Take for example the abrasion test (which was demonstrated to EdgeProp.my), where the tiles are fitted onto a machine filled with metal bearings (the abrasive load) which are then rotated in increasing cycles. After that, a visual inspection is conducted to determine the degree of abrasion.
As explained by testing executive (civil and construction sector) Mohd Hafiz Mohd Nasir, the tiles will then be categorised into five classes — from 0 to 5, with 5 being the tile with the highest resistance to abrasion, making it suitable for places with high foot traffic.
Products that have undergone successful testing and certification would then be allowed to use the "MS" certification mark or logo. Therefore, SIRIM QAS advises consumers and businesses to look out for that mark before purchasing tiles from any dealer.
This story first appeared in the EdgeProp.my pullout on Feb 14, 2020. You can access back issues here.