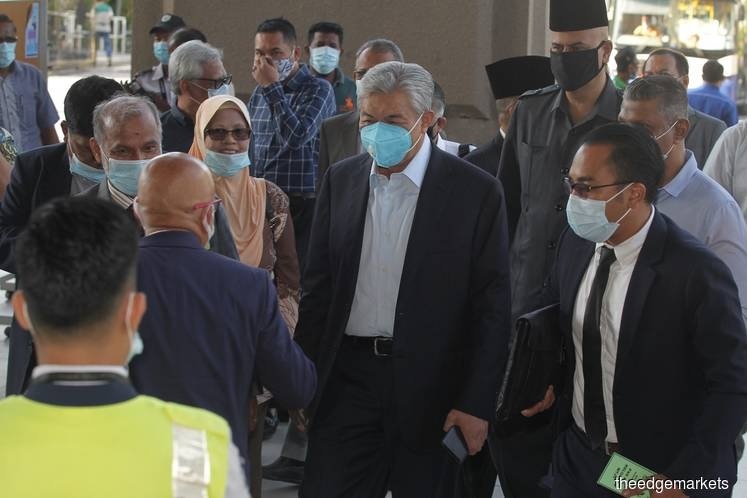 KUALA LUMPUR (June 15) : Ten bank officers from various commercial banks in the Klang Valley and Kedah told the High Court here today that over RM24 million had been deposited into the account of law firm Messrs Lewis & Co, which was said to be linked to former deputy prime minister Datuk Seri Ahmad Zahid Hamidi (pictured).
The transactions took place between March 2016 and March 2018. The deposits amounted to RM24,388,722.96.
It was not established today, however, as to how much of that sum went into the Bagan Datuk member of Parliament's accounts. Messrs Lewis & Co was cited in several of the charge sheets filed against Ahmad Zahid.
The bank officers who testified today were: Mar Sai Chin from Public Bank; Lina Zailan, Au Lai Bin, Mohd Zulkfarnain Ab Latiff, Suzaliza Kamari, Sharifah Shifah Syed Zainol and Yusri Md Kasri – all from Maybank; CIMB's Lau Ai Mai, RHB Bank's branch manager G Jayachantran and Hong Leong Bank's Wong Shiau Phing who were the 44th to 53rd prosecution witnesses in the trial.
The transactions went through individual and company accounts – including My EG Sdn Bhd's. The deposits were made in the form of cheques, bankers' cheques and demand drafts.
All the witnesses were quizzed by Deputy Public Prosecutor Mohd Harris Ong Mohd Jeffery Ong. The prosecution team was led by Datuk Raja Rozela Raja Toran.
The witnesses were then cross-examined by lawyer Mohd Haziq Dhiyauddin Razali; the defence team was led by Hisyam Teh Poh Teik.
The court was told that the largest amount deposited — a total of RM10 million — were by Chia Bee Enterprise Ltd. Besides Chia Bee Enterprise and My EG, the court heard that other companies involved in making the deposits included: Cergas Murni Sdn Bhd, HRA Teguh Sdn Bhd, Kiosk Solutions Sdn Bhd and MTM Networks Sdn Bhd.
All 10 witnesses said the deposits were for payments of legal fees. According to one witness, some were for accounting fees.
Hong Leong's Wong, when questioned during re-examination by Harris Ong, said she was not sure what led to those transactions.
It is understood that other prosecution witnesses to be called later will testify that the funds were subsequently deposited into the law-firm's fixed deposit accounts.
Ahmad Zahid, who is also Umno's president, is facing 47 charges — 12 for criminal breach of trust (CBT), eight for corruption and 27 for money laundering — involving tens of millions of ringgit of funds belonging to Yayasan Akalbudi, a charitable foundation he set-up.
On the CBT charges, the 67-year-old former home minister was alleged to have used the funds to, among others, make six payments to his personal credit cards, and to pay his insurance policy. The charges were made under Section 409 of the Penal Code, which provides a jail term of between two and 20 years, with whipping and fine, upon conviction.
Ahmad Zahid also claimed trial to eight counts of graft, whereby he was accused of accepting bribes from three companies, namely Mastoro Kenny IT Consultant & Services, Data Sonic Group Bhd and Profound Radiance Sdn Bhd, during his tenure as home minister, to help the companies obtain projects like the supply of passport chips, and to be appointed as operator of one-stop visa centres for migrant workers from Pakistan and Nepal. If convicted, he could face a maximum jail term of up to 20 years and a fine five times the bribe amount for each charge.
As for the money laundering charges, he could be jailed up to 15 years for each conviction — together with a fine of up to five times the amount involved or RM5 million, whichever is higher.
Stay safe. Keep updated on the latest news at www.EdgeProp.my