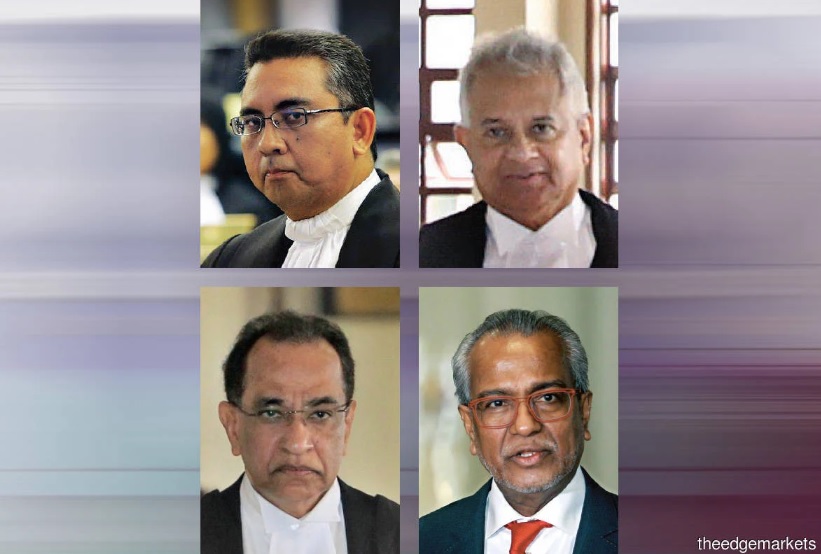 The case of SRC funds totalling RM42 million
Total number of charges: 7
3 counts of criminal breach of trust
Offence: Section 409 of the Penal Code
Penalty: Maximum 20 years' jail + whipping + a fine
1 count of abuse of power
Offence: Section 23(1) of MACC Act 2009 (punishable under Section 24 of the same act)
Penalty: Maximum 20 years' jail + a fine of not less than five times the amount of the bribe, or RM10,000, whichever is higher
3 counts of money laundering
Offence: Section 4(1)(b) of AMLATFPUAA 2001
Penalty: Maximum 15 years' jail + a fine of RM5 million, or five times the amount, whichever is higher, for each charge
ALL eyes will be on the Kuala Lumpur High Court (Criminal 3) on Tuesday, when former prime minister Datuk Seri Najib Razak learns whether he will be acquitted of all seven charges against him in relation to RM42 million belonging to SRC International Sdn Bhd or whether the court will find him guilty of several, if not all, of the charges.
The highest-ranked politician in the country to be charged in court, Najib turned 67 on July 23.
The SRC trial is one of five criminal trials that involve him.
In the SRC case, the former finance minister faces one count of abuse of power in relation to his role in approving RM4 billion worth of loans from the Retirement Fund Inc to SRC International. In addition, the Pekan Member of Parliament (MP) also faces three criminal breach of trust charges and three money-laundering charges in relation to RM42 million found in his bank accounts.
SRC was a company under 1Malaysia Development Bhd (1MDB), but has since been placed under the Finance Ministry.
A total of 57 prosecution witnesses and 19 defence witnesses, including Najib, took the witness stand before Judge Mohd Nazlan Mohd Ghazali in the trial, which spanned 100 days.
Trial began on April 3, 2019 with then attorney-general Tan Sri Tommy Thomas delivering his opening statement.
About seven months later, in November, Najib was ordered to enter his defence after the judge found a prima facie case had been made against him or that he had a case to answer on all seven charges.
Najib and other witnesses have testified over the period of December to June, when proceedings ended.
Judge Nazlan would have conducted a maximum evaluation of their testimonies and decided whether the former premier and his witnesses have managed to rebut the prosecution's case.
If Najib is acquitted of all seven charges, he would still have to face four other criminal proceedings.
In the 1MDB trial, he faces 25 charges, and in the 1MDB audit tampering case, he is accused of abusing his power and jointly charged with former 1MDB president Arul Kanda Kandasamy with tempering with an audit report.
The other two trials include six criminal breach of trust charges involving RM6.64 billion of government funds for payments made to International Petroleum Investment Corporation (IPIC), a case which he faces with former Treasury secretary-general Tan Sri Irwan Serigar, as well as another three counts of money laundering of RM27 million of SRC funds.
The 1MDB trial is ongoing before Judge Collin Lawrence Sequerah, whereas the 1MDB audit tampering trial is before Judge Mohamad Zaini Mazlan and scheduled to resume on July 27.
The other two trials have yet to commence.
What if a guilty verdict is entered?
If Najib is found guilty of some or all of the seven charges, his senior counsel Tan Sri Muhammad Shafee Abdullah is bound to ask for a lighter sentence to be meted out.
Appointed deputy public prosecutor Datuk V Sithambaram, who leads the prosecution team, will also have his say.
For abuse of power under Section 23 of the Malaysian Anti-Corruption Act 2009, a person convicted faces a maximum of 20 years' imprisonment and a minimum fine of RM10,000 or up to five times the sum or value of the bribe, whichever is higher.
Criminal breach of trust under Section 409 of the Penal Code carries a penalty of a minimum of two years' and a maximum 20 years' imprisonment, whipping and fine.
As for money laundering under Section 4 of the Anti-Money Laundering, Anti-Terrorism Financing and Proceeds of Unlawful Activities Act 2001, the punishment is a maximum 15 years' jail term and a fine of up to five times the amount of money laundered or RM5 million, whichever is higher.
Under Article 48 of the Federal Constitution, should an elected person be convicted and sentenced to a jail term of more than a year or a fine of more than RM2,000 and has not received a royal pardon, he would be disqualified from holding any legislative position in Parliament or the state assembly.
Najib could, however, apply for a stay of execution of the prison term until he has exhausted his appeal at the Court of Appeal and the Federal Court. But if a fine is imposed, he would have to pay the amount first at the High Court and his bail may be raised pending the hearing of his appeal.
What if a snap election is called?
One other problem that Najib could face is if a snap election or general election (GE) is called before he exhausts his appeal to the Federal Court.
Fellow federal lawmaker R Sivarasa — MP for Sungai Buloh and a lawyer — tells The Edge that Najib will keep his seat as long as he files an appeal to the Court of Appeal.
"It will be status quo until he finishes his final appeal in the Federal Court and the disposal of any pardon application. But if a snap election [or a GE] is called before he exhausts his appeal, he is disqualified from contesting," he explains.
This was the case with former PKR lawmaker and vice-president, Rafizi Ramli. The former Pandan MP could not contest the 2018 GE, after he was convicted and sentenced under the Official Secrets Act 1972 for revealing confidential 1MDB audit reports. Rafizi was sentenced to 18 months' jail by the Kuala Lumpur Sessions Court.
The lower court's decision was upheld by the High Court, but Rafizi managed to win his appeal to set aside the jail sentence and was placed on a bond of good behaviour by the Court of Appeal in June 2018, just after GE14 on May 9.
Under the Banking and Financial Institutions Act, he was also convicted and sentenced to 30 months' jail by the Shah Alam Sessions Court. His conviction and sentence were overturned, however, by the High Court in November 2019 and the Court of Appeal allowed the prosecution's withdrawal of its appeal over his acquittal in December.
Because of Rafizi's conviction, he was unable to defend his Pandan seat. His party colleague — former PKR president and former deputy prime minister Datin Seri Wan Azizah Wan Ismail — contested the seat instead and managed to retain it for PKR.
There will be a huge media presence on Tuesday, as more than 40 local and international media are expected to descend on the court ahead of the verdict. Najib's supporters and, possibly, some Cabinet ministers — a special room will be prepared for them — are also anticipated to attend.
This article first appeared in The Edge Malaysia Weekly, on July 27, 2020 - August 02, 2020.
Stay safe. Keep updated on the latest news at www.EdgeProp.my
Click here for more property stories