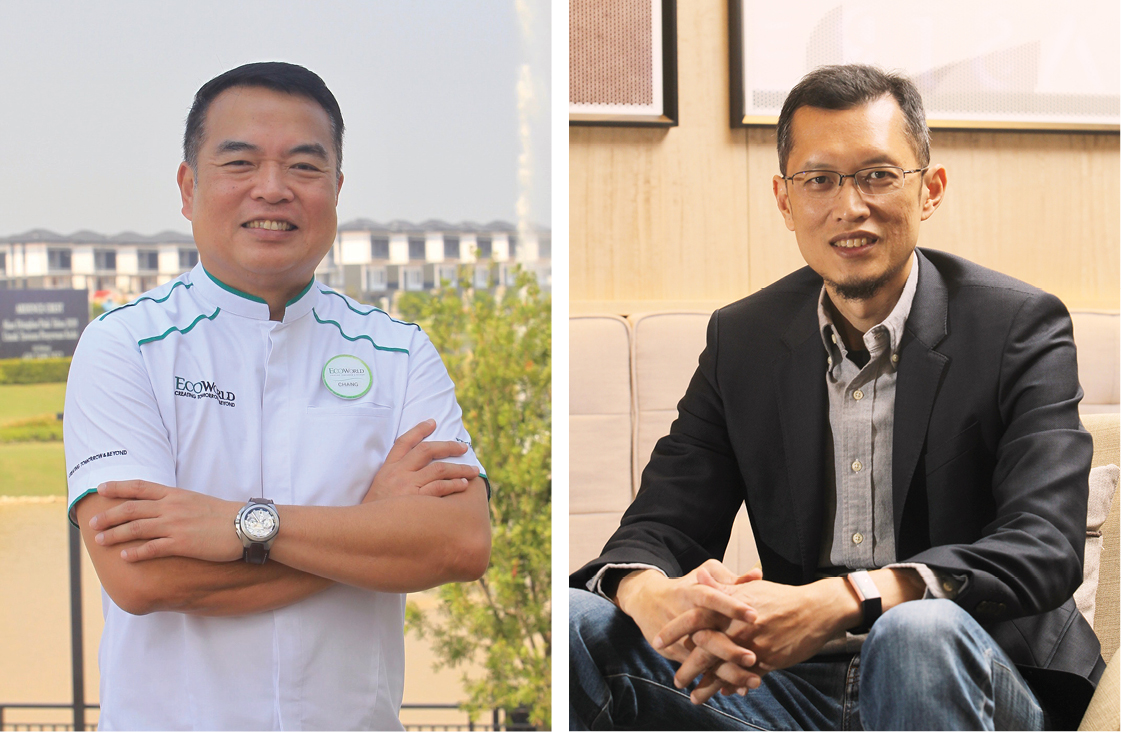 PETALING JAYA: The proposed merger between Eco World Development Group Bhd (EcoWorld) and UEM Sunrise Bhd is the focus of the market this week as many anticipate the emergence of another property giant.
Proponents and detractors of the proposed merger continue their debate over the reasons and merits or otherwise as they deem fit.
The bigger question that the market is wondering is if the deal goes through, who will lead the enlarged merged entity?
Although in an earlier media interview, Tengku Datuk Seri Azmil Zahruddin, chairman of UEM Sunrise's parent UEM Group Bhd, has stressed that the composition of the board and the management team will be decided by the Integration Committee, UEM Group is proposing for the chairman of the merged entity to come from UEM Sunrise.
However, the statement did not answer the question.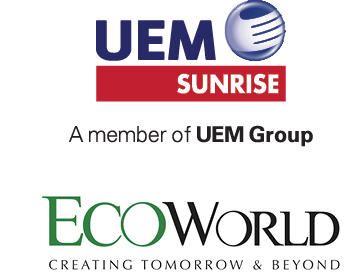 Currently, UEM Sunrise is led by Anwar Syahrin Abdul Ajib (managing director and chief executive officer of UEM Sunrise) while EcoWorld is helmed by Datuk Chang Khim Wah (president and CEO of EcoWorld). Both are seasoned leaders that have the capabilities to drive the merged entity.
Meanwhile, property sector analysts see the merger proposal could benefit both companies.
Alliance DBS Research senior analyst Quah He Wei was not surprised by the merger news as this was in the air since last September.
Although UEM Sunrise has denied such plans last year, industry observers anticipate the proposed merger could create greater synergies for both companies.
"To me, the deal is neutral to the equity market as both are well-established developers in Malaysia and the merger will not involve any monetary transactions, hence it will not have any significant impact," he told EdgeProp.my.
In a filing with Bursa Malaysia on Oct 5, 2020, UEM Group said the proposed merger will be carried out via an exchange of shares and warrants.
The holders of shares and warrants in EcoWorld will exchange their shares and warrants in Eco World respectively for new shares and warrants of UEM Sunrise, thereby becoming the holders of shares and warrants in the enlarged UEM Sunrise.
Upon completion of the proposed merger, EcoWorld will become a wholly-owned subsidiary of UEM Sunrise and subsequently delisted from Bursa Malaysia.
Why EcoWorld?
Established in 1966, UEM Sunrise is well-known for its master developer status in Mont'Kiara and Iskandar Puteri. Besides the central and southern regions, the company also has international presence in Durban, South Africa, and Melbourne in Australia.
Meanwhile, EcoWorld which was formed in 2014 and helmed by Tan Sri Liew Kee Sin, one of Malaysia's influential property chieftains, has 20 projects spread across northern, central and southern regions in Malaysia.
Both companies have strong brand names and their unique DNA in project planning, but why did UEM Sunrise choose EcoWorld?
Azmil of UEM Group said in an email reply to The Edge Malaysia that
EcoWorld has ticked the boxes for its forte in township and integrated project planning as well as a balanced exposure in all key economic regions.
"UEM Sunrise has a particular set of challenges — geographically, it is concentrated primarily in the southern region whereas in terms of skills and experience, it is relatively strong in high-rise and in the central region. We therefore wanted to look for a partner which could help address some of these challenges," he said.
According to him, UEM Sunrise has reviewed a number of potential merger opportunities but EcoWorld appeared to be the most suitable candidate, for its reputable brand and sizeable presence throughout Peninsula Malaysia.
Second largest landbank owner
Hong Leong Investment Bank, in its research report dated Oct 6, described the merger as the formation of a property giant as the proposed exercise will result in the two entities forming the second largest listed property landbank owner in Malaysia.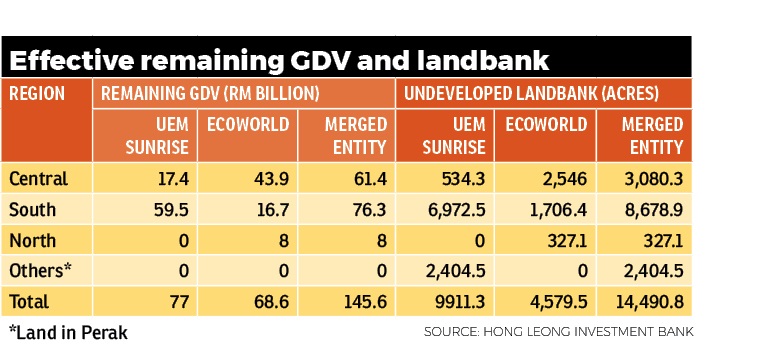 The merged entity will see an enlarged undeveloped landbank of close to 14,500 acres in Malaysia. According to Public Bank Investment Bank data, this will make the merged entity become the second largest landbank owner after Sime Darby Property (a total of 20,000 acres of landbank).
It will be the largest in terms of gross development value at RM145.6 billion, as compared to S P Setia Bhd's GDV of RM139 billion.
Quah from DBS noted that if the merger goes through, the combined landbank of both companies could last the merged entity 10 or 15 years.
Meanwhile, UOB Kay Hian Malaysia Research takes a positive stance on the merger proposal, as the merged entity's landbank will allow for more balance between central and southern region holdings.
"This will benefit UEM Sunrise's landbank portfolio which has a high concentration of southern region plots (75% of its landbank) vs Eco World's 64% landbank exposure to central Malaysia," said the report dated Oct 6.
The research firm also added that the merged entity will enjoy a better price mix, from mass market products to premium properties, compared to the current structure with Eco World being more focused on the premium segment.
A favourable deal for UEM Sunrise?
Some industry observers said the deal will be more favourable to UEM Sunrise as EcoWorld's key shareholders would lose their majority rights, listing status and potentially their brand (see Chart 1).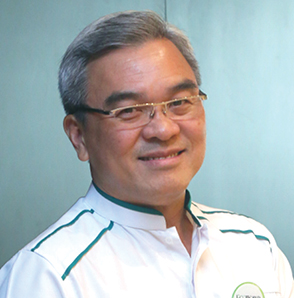 Kenanga Investment Bank in its research report (Oct 6) said the deal is slightly more of a positive for UEM Sunrise as it stands to gain from EcoWorld's strengths in marketing and township planning that could help boost sales, while also reducing earnings volatility from UEM Sunrise's lumpy overseas contributions.
Nevertheless, Hong Leong Investment Bank analyst Andrew Lim Ken-Wern takes a different view on the merger proposal.
"EcoWorld has higher net gearing, the merging exercises will see both companies complementing each other and EcoWorld could improve the company balance sheet while tapping the huge landbank of UEM Sunrise in the southern region," he told EdgeProp.my.
The net gearing of EcoWorld is higher at 0.64x compared to UEM Sunrise's 0.48x, hence Eco World could leverage UEM Sunrise's balance sheet for more financial resources.
The proposed merger would also allow EcoWorld to participate in the development of UEM Sunrise's huge landbank of 9,162 acres in Iskandar Malaysia as the latter has good expertise in marketing and branding.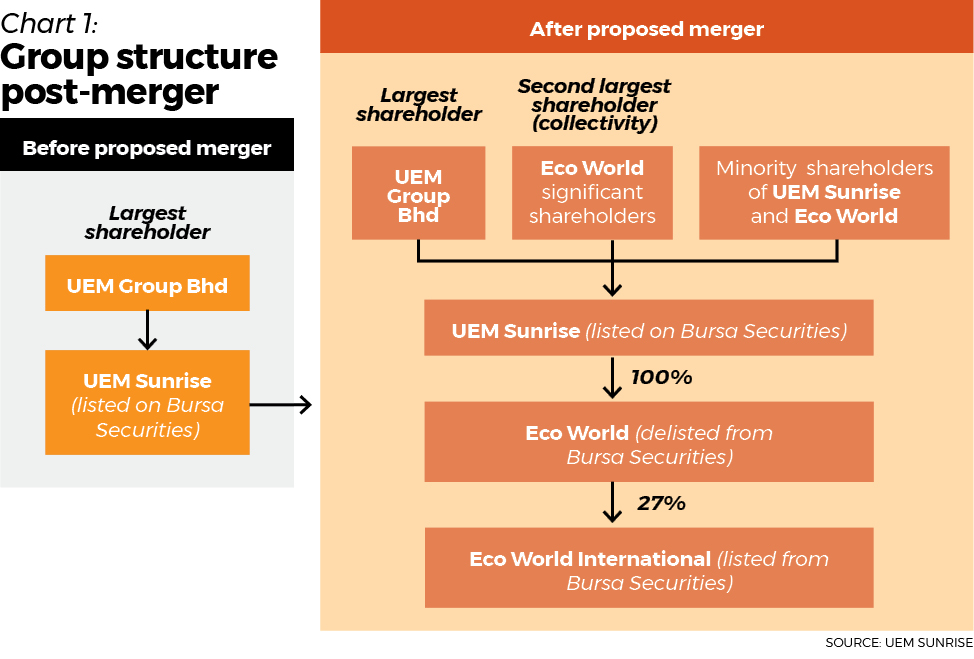 Kenanga Investment Bank also noted that the enlarged entity does provide Ecoworld a stronger financial partner — Khazanah (through UEM Group). This would be beneficial for Ecoworld should the weak economy persist for the foreseeable future and impede its ability to service existing debt loads worth RM3.4 billion.
Despite there still being uncertainties from now till end-October, as EcoWorld would have to make a decision whether to say "yes" to the proposal, Lim sees the deal as a go.
"I didn't see any deterrence as the deal is initiated by UEM Group, a wholly-owned subsidiary of Malaysia's sovereign wealth fund Khazanah Nasional, which owns 66% in UEM Sunrise," Lim added.
Risk and challenges
In fact, there will be a slight negative on the near-term implications as UEM Sunrise will be inheriting EcoWorld's balance sheet, according to Lim's earlier research report dated Oct 6.
He added that the merged entity will likely have to go through a gestation period before workforce culture and branding assimilation takes place over the longer term.
Furthermore, the company may require a longer time to monetise its overall landbank as it already has a large landbank pre-merger (landbank increases to 14,500 acres from 9,900 acres).
This story first appeared in the EdgeProp.my e-Pub on Oct 9, 2020. You can access back issues here.
Get the latest news @ www.EdgeProp.my