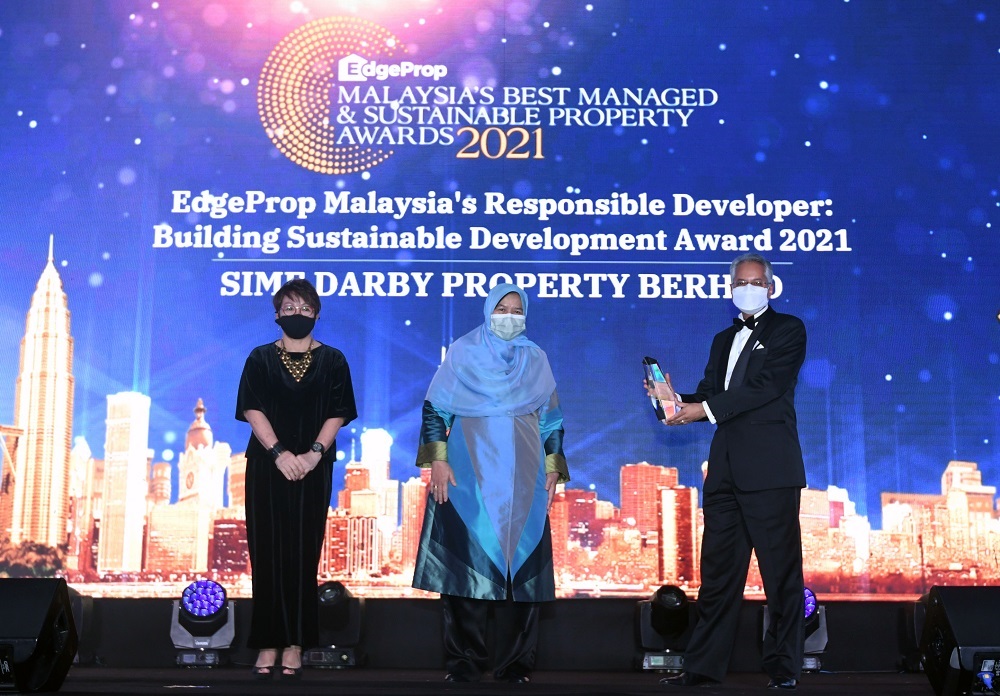 PETALING JAYA (April 4): Being one of the largest and oldest property developers in Malaysia, Sime Darby Property earned its name for relentlessly pursuing sustainable and growth, with the company even setting a target to become a carbon negative developer by 2030.
With such ambition and sterling past records in township planning and building, it comes as no surprise that Sime Darby Property received the EdgeProp Malaysia's Responsible Developer: Building Sustainable Development Award at Edgeprop Malaysia's Best Managed and Sustainable Property Awards 2021 (BMSPA 2021).
Read also
BMSPA 2021: Recognising the best in real estate
BMSPA 2021: Malaysia Developers' Hall of Fame
BMSPA 2021: Matrix Concepts joins Malaysia Developers' Hall of Fame
BMSPA 2021: Trifecta winnings for Gamuda Land
BMSPA 2021: EcoWorld Development Group recognised as Malaysia responsible developer
BMSPA 2021: S11 House is the first individual winner
Its Elmina Central Park in the 5,000-acre City of Elmina development also clinched Gold in EdgeProp-ILAM Malaysia's Sustainable Landscape Awards – Landscape Planning category. The 300-acre community park also won EdgeProp Malaysia's Best Managed and Sustainable Property Awards – Editor's Choice for Malaysia's Exemplary Community Park 2021.
In his acceptance speech at the BMSPA 2021 Gala Dinner tonight, Sime Darby Property group managing director Datuk Azmir Merican emphasised that the current property development model is not sustainable to the environment as the construction process creates large amount of carbon emissions.
"Under Sime Darby Property's Carbon Footprint Project, the company has brought down the overall carbon intensity by 42.5% in 2019, the overall carbon emissions of 35,000 Carbon Dioxide Equivalent also reduced 28% from the baseline year (2016)," he added.
The key contributor for carbon intensity reduction was from Transport, purchased electricity, stoves and other emissions.
"The truly luxury now is green spaces, unlike previously people wanted nice houses and big cars, people think differently now.
"We have choices and we want better for our future generations," he added.
The award-winning Central Park in the City of Elmina forms the heart and soul of what its developer envisions as a wellness and liveable city. With emphasis on nature conservation and sustainability, the developer has introduced numerous initiatives at the park, such as teaming up with NGOs to set up a centre to preserve rare and endangered tree species.
Notably, one will find Malaysia's first inclusive playground which offers equal play for all children. Indeed, this is a community park for everyone. It has been planned and designed as a community park that focuses on sustainability strategies that will have a positive impact on the environment.
Being in the industry for over 40 years, Sime Darby Property has elevated its efforts to develop sustainable communities to cover a wide range of elements, including addressing climate change issues and improving the community's overall quality of life.
As part of its efforts to tackle climate change, Sime Darby Property has embarked on a journey to achieve its ambition to become a carbon negative developer by 2030 -- which essentially means the carbon it produces will be completely offset by the carbon it removes.
While setting sustainability targets and implementing them across its developments may incur additional cost and take time, the developer believes this is vital if it wants to remain relevant.
"If you take from the planet and don't give back, you will be in trouble in the long-term," said Azmir.
EdgeProp Malaysia's Best Managed and Sustainable Property Awards recognises real estate that is managed with excellence and sustainability. Introduced in 2017, this annual Awards is the first of its kind in Malaysia and the region.
The Awards was organised by EdgeProp Malaysia with Nippon Paint Malaysia and Panasonic Malaysia as partner and supporting partner respectively. The results of the awards were audited by Deloitte Malaysia.
It is also endorsed by the Ministry of Housing and Local Government and supported by: Association of Property and Facility Managers Singapore, Architect Centre, Building Management Association of Malaysia, Institute of Landscape Architects Malaysia, Malaysian Institute of Property & Facility Managers, Malaysian REIT Managers Association and Real Estate & Housing Developers' Association.
Stay tuned for the full report of BMSPA 2021 in EdgeProp.my E-weekly April 9, 2021. Click here to view our previous E-weekly.
Check out the microsite for Edgeprop's Best Managed & Sustainable Property Awards 2021 here
Get the latest news @ www.EdgeProp.my
Subscribe to our Telegram channel for the latest stories and updates