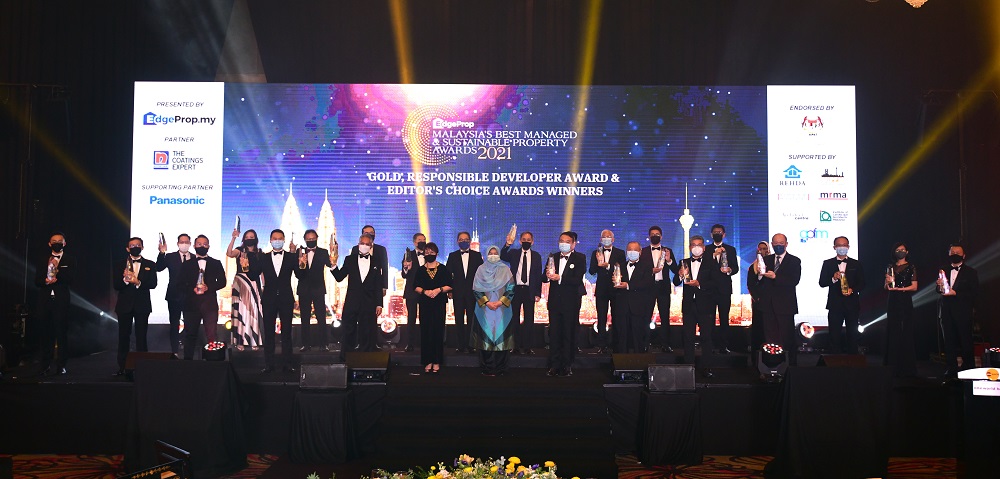 PETALING JAYA (April 4): Edgeprop's Best Managed & Sustainable Property Awards 2021 (BMSPA 2021) enters its fifth year in seeking to recognise real estate that is managed with excellence and sustainability.
Established in 2017, the Awards went into the virtual realm last year due to the Covid-19 pandemic. A full year of adjusting and accommodating this strange time of our life, the Awards this year has returned in physical form, which makes it even more meaningful for the industry.
Read also
BMSPA 2021: Malaysia Developers' Hall of Fame
BMSPA 2021: Matrix Concepts joins Malaysia Developers' Hall of Fame
BMSPA 2021: Sime Darby Property takes home three awards
BMSPA 2021: Trifecta winnings for Gamuda Land
BMSPA 2021: EcoWorld Development Group recognised as Malaysia responsible developer
BMSPA 2021: S11 House is the first individual winner
Held at One World Hotel, Petaling Jaya on the night of April 4, around 320 guests who are major players of the real estate industry attended the BMSPA 2021 gala dinner.
It's a heart-warming session for most of the people as they could finally meet up with each other again in a physical event after the movement control order (MCO) was implemented in March 2020 and no major events were allowed to be held in the past one year.
Nevertheless, strict standard operating procedures (SOPs) were adhered to throughout the event.
This year's Awards attracted more than 40 submissions. This is no mean feat given the challenges from the Covid-19 pandemic. Unlike previous years when judges could visit the sites physically, it was done virtually this year.
A total of 26 awards were given out during the night to 23 winning-projects which have demonstrated quality property management practise in the country.
Though the objective of the Awards remained the same from when it was conceptualised, the judging criteria have definitely put a spotlight on crisis preparedness with the advent of the Covid-19 pandemic.
With the viral outbreak, crisis preparedness becomes all the more imperative for property managers in their ability to handle such crises at their doorsteps.
EdgeProp Malaysia editor-in-chief and Managing Director Au Foong Yee said the Awards are dedicated to the benchmarking of Malaysia's Gold Standard of Property Management Practices and Sustainability.
"It is about recognising Malaysia's developments that are built and managed with excellence. It is about honouring Malaysia's responsible developers. Developers who build for sustainability. Developers who care for all their stakeholders, including the consumers," Au said in her speech.
She noted that Covid-19 continues to reshape and recalibrate how people live -- the first MCO which started on March 18, 2020 has brought on the start of a new normal that was once quite unimaginable.
"Medical personnel were immediately identified as the nation's frontliners. As the cold reality sank in, the important roles of unsung heroes, the likes of property managers, came into light. In recognising Malaysia's outstandingly-managed and sustainable real estate, we are also paying tribute to these unsung heroes behind the project scene," she says.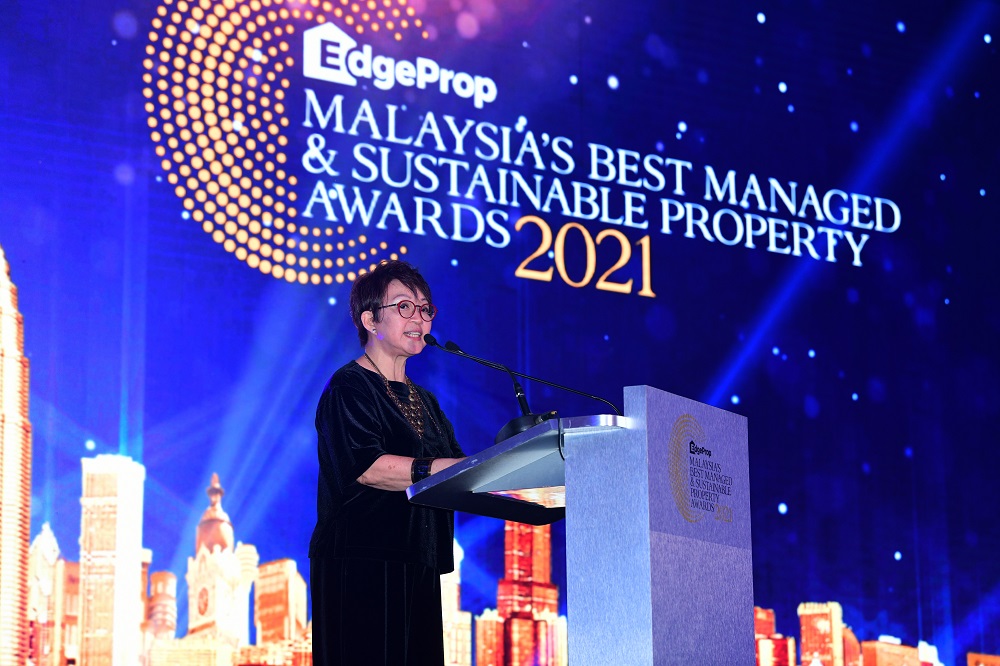 Housing and Local Government Minister Datuk Zuraida Kamaruddin was the guest of honor of BMSPA 2021.
Zuraida noted during her speech that development is not just for the sake of building houses for people to live but to build a home that can last for generations.
"It's not just about construction and development, But it's about sustainability and keeping the environment green," she added.
In heading to this direction, Zuraida urged industry players to embrace green technology.
"We have to practise green technology together with the housing or property industry to make sure that our development is sustainable for a long time. No point having fanciful building but we cannot sustain them" she added.
The Awards were presented by EdgeProp Malaysia with Nippon Paint Malaysia and Panasonic Malaysia as partner and supporting partner respectively. The results of the Awards were audited by Deloitte Malaysia.
It is also endorsed by the Ministry of Housing and Local Government and supported by: Association of Property and Facility Managers Singapore, Architect Centre, Building Management Association of Malaysia (BMAM), Institute of Landscape Architects Malaysia (ILAM), Malaysian Institute of Property & Facility Managers (MIPFM), Malaysian REIT Managers Association (MRMA) and Real Estate & Housing Developers' Association (REHDA).
For the Edgeprop-ILAM Malaysia's Sustainable Awards this year, the judges have decided to divide the entries into two sub-categories namely the Landscape Design category and the Landscape Planning category, based on their size and function, among other considerations.
More delightful than ever, the submissions received for this year have been quite interesting as there were entries from educational institutions such as The International School @ ParkCity and Sri KDU Schools.
This has proven that this Award is not only limited to strata and non-strata living, commercials and townships, but an ever increasing attention that learning institutions too need proper maintenance by the right property manager as their role is to ensure that a conducive environment is ever ready for the students.
One submission that has definitely caught the eyes of the judges is the submission by Dr Tan Loke Mun of S11 House, which is his own abode. For its sterling example of a home built with holistic sustainability living, S11 House took the Editor's Choice Award for Malaysia's Exemplary Sustainable Home 2021. The individual submission by Tan signified opportunities for future Award to welcome more individual submissions as it is viewed as an encouragement to see more green homes in Malaysia.
Malaysia Developers' Hall of Fame
The highlight of the Award night is EdgeProp Malaysia's Responsible Developer: Building Sustainable Development Award 2021 where the winners of this award will automatically be inducted into the Malaysia Developers' Hall of Fame for their tireless commitment and passion to develop, design and build homes that are environmental, community-centric and sustainable in maintenance. Three developers declared as winners were Sime Darby Property, Matrix Concepts Development Bhd and Eco World Development Group Bhd.
Some key winners for the night are Gamuda Land, Henry Butcher Malaysia (Mont Kiara) Sdn Bhd (HBMK), SDP and Sunway Property as they managed to bag several awards in one night.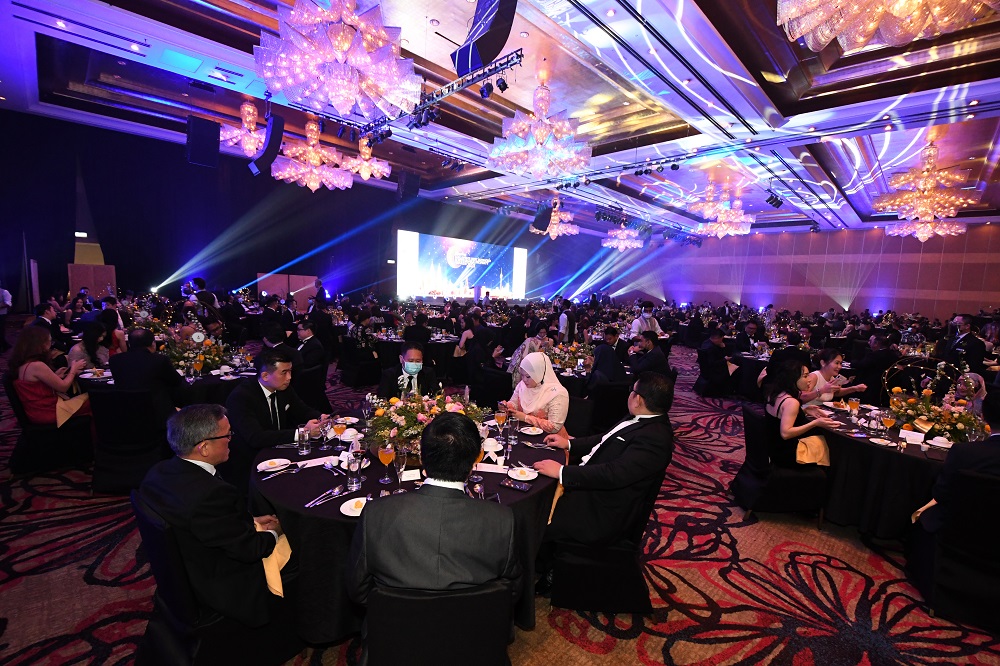 Gamuda Land's Valencia continues to impress judges year after year with the project able to win the Editor's Choice Award for being Malaysia's Exemplary Sustainable Township 2021 and 10 years & above Non-strata Residential Category, while its 50-acre Central Park (Phase 1, 2, 3) located within Gamuda Gardens is a gold recipient for Edgeprop-ILAM Malaysia's Sustainable Landscape Awards in the Landscape Design category.
The night is a celebratory one for HBMK as the property management expert walked away with seven wins for its project. The seven wins range from Below 10 years Multiple-owned Strata Residential Category for Serai Bukit Bandaraya, Westside III Desa ParkCity and The Greens TTDI, to 10 years and above Multiple-owned Strata Residential Category for Kiara Park, Seni Mont'Kiara and Hampshire Residences. They also managed to snag an award for Irama Wangsa in the Edgeprop-ILAM Malaysia's Sustainable Award for the landscape design category.
Sime Darby Property, receiving the EdgeProp Malaysia's Responsible Developer: Building Sustainable Development Award 2021, dazzled the judges with its holistic and sustainable approach in planning and integrating the 300-acre Elmina Central Park into the City Of Elmina. Elmina Central Park is a Gold winner for the Edgeprop-ILAM Malaysia's Sustainable Award for the landscape planning category as well as receiving the Editor's Choice Award for Malaysia's Exemplary Community Park 2021.
Sunway Property also enjoyed the night after being a three-time award recipient as Sunway Velocity Mall, Sunway Geo Tower and the well-beloved Sunway Pyramid were all crowned as Gold winners in their respective categories.
The judges for this year's Awards were Au, deputy president of REHDA, Datuk Tong Nguen Khoong; president of Malaysian REIT Managers Association, Dato' Jeffrey Ng; accredited architect and trainer of Architect Centre, Anthony Lee Tee; president of Malaysian Institute of Property & Facility Managers, Adzman Shah Mohd Ariffin; Building Management Association of Malaysia (BMAM) committee member Richard Chan; founder and managing partner of Chur Associates, Chris Tan; and president of Association of Property & Facility Managers Singapore, Professor Dr Lim Lan Yuan,
The judges for Edgeprop-ILAM Malaysia's Sustainable Award 2021 were Au and vice-president of ILAM, Assoc Prof LAr Dr Nor Atiah Ismail.
Stay tuned for the full report of BMSPA 2021 in EdgeProp.my E-weekly April 9, 2021. Click here to view our previous E-weekly.
Check out the microsite for Edgeprop's Best Managed & Sustainable Property Awards 2021 here
Get the latest news @ www.EdgeProp.my
Subscribe to our Telegram channel for the latest stories and updates