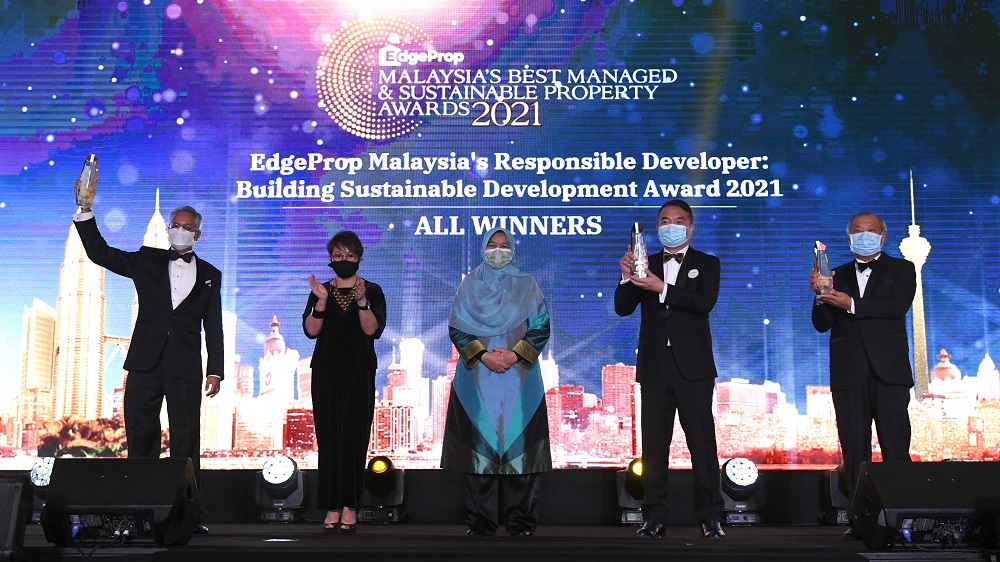 PETALING JAYA (April 2): It is known that a well-managed property translates into capital preservation and good governance in which, ultimately increases its value as well as that of the surrounding area.
Although a big chunk of that responsibility lies on the property management company and Joint Management Body/Management Corporation, it is with no doubt, that a well-designed development will ultimately lead to a more efficient and effective transition during the property management stage.
Read also
BMSPA 2021: Recognising the best in real estate
BMSPA 2021: Matrix Concepts joins Malaysia Developers' Hall of Fame
BMSPA 2021: Sime Darby Property takes home three awards
BMSPA 2021: Trifecta winnings for Gamuda Land
BMSPA 2021: EcoWorld Development Group recognised as Malaysia responsible developer
BMSPA 2021: S11 House is the first individual winner
Understanding the crucial role of a developer and how sustainable property management starts from the design stage, EdgeProp Malaysia's Responsible Developer: Building Sustainable Development Award was introduced in 2018 to recognise property developers who are committed to building developments that are designed and built for best-in-class property management.
The developers have to fulfil these key attributes: vision, commitment and significant efforts towards the building of sustainable development/s in Malaysia. When the developers take their responsibility seriously, the developments built and being build will stand the test of time, and ultimately allowing the communities in those developments to thrive.
The highlight of EdgeProp Malaysia's Best Managed and Sustainable Property Awards 2021 was the unveiling of Malaysia Developers' Hall of Fame. Its exclusive membership is accorded solely to winners of the EdgeProp Malaysia's Responsible Developer: Building Sustainable Development Award.
Three leading developers were inducted into the Hall of Fame tonight. They are: Eco World Development Group Bhd, represented by its president and CEO Datuk Chang Khim Wah; Matrix Concepts Holdings Bhd represented by founder and group executive deputy chairman Datuk Lee Tian Hock and Sime Darby Property, represented by group managing director Datuk Azmir Merican.
The inaugural recipients in 2018 were S P Setia Bhd Group, Paramount Property Development Sdn Bhd and AME Development Sdn Bhd. Sunway Property and ParkCity Group joined the band in 2019, followed by Gamuda Land and Tanah Sutera Development Sdn Bhd in 2020.
Responsible developers continue to uphold their commitments
One aspect that binds all these developers together is the weight they put into developing sustainable developments, and is continuously striving to uphold to the commitments they have made.
For instance, S P Setia Bhd Group senior executive vice-president Datuk Koe Peng Kang believes that a sustainability agenda is a journey, not a destination.
"A sustainable development is one that creates or has a positive impact on its surrounding environment and community. We pride ourselves in not just building homes but sustainable communities for all," says Koe.
AME Development group managing director Kelvin Lee Chai concurs with Koe, adding that the emphasis on sustainability actually brings out the role of a developer better.
"We passionately believe that sustainability should be at the core of all businesses, where profits are not the sole determinant at the expense of social and environmental welfare. The award motivates us to pursue greater achievements and make our brand synonymous with pro-environment actions," says Lee.
For Paramount Property's executive director Benjamin Teo, long before sustainability became a buzzword, it had already been embedded in their thoughts and actions even as far back as in the 1990s.
"During that time, Paramount was preparing to develop Bandar Laguna Merbok in Sungai Petani, Kedah. My father Datuk Teo Chiang Quan travelled all the way to Queensland, Australia to understand how to conserve the ecology along swampy riverbanks and apply it to our development," Teo offers.
Meanwhile, 2019 recipient ParkCity Group CEO Datuk Joseph Lau emphasises that what matters for them now is to continue the good work of serving the community and delivering quality projects that they are renowned for.
"With rising awareness of the importance of conserving nature's resources, sustainable housing is becoming more popular and this award has helped us promote the consciousness in the real estate industry to incorporate sustainability in all aspects of their developments, which will benefit the society at large," Lau highlights.
Sunway Bhd property division managing director Sarena Cheah stresses that embracing sustainability is no longer a choice, but an obvious necessity as we bear witness to the challenges faced by the environment and our people.
"The Responsible Developer Award brings to fore the best practices in the real estate industry, and gives every one of us an avenue to learn from each other. More importantly, it showcases the practices that equate sustainability with profitability, and how sustainability is not a drain on finances but truly, a wellspring for innovation," says Cheah.
Giving a real-time example, last year's recipient Gamuda Land chief operating officer Aw Sei Cheh highlights that it is no secret that Covid-19 has impacted not just property, but economies across the board.
"In these challenging times, consumers reassess their basic needs and desires, with housing and shelter as a priority. Now more than ever, home seekers are scrutinising the places they stay in and properties on the market for quality, value and alignment with their needs and values. This applies to developers as well," adds Aw.
As for Tanah Sutera Development general manager Wee Boon Leong, he pledges to remain committed to this journey that they have ventured on, although it may be arduous at times.
"What keeps us going and growing is the unity of our community towards sustainability. As developers, in one way or another, we shape the way people work, play, interact and live, and hence we have an important role to play as well as a responsibility to carry," says Wee.
Stay tuned for the full report of BMSPA 2021 in EdgeProp.my E-weekly April 9, 2021. Click here to view our previous E-weekly.
Check out the microsite for Edgeprop's Best Managed & Sustainable Property Awards 2021 here
Get the latest news @ www.EdgeProp.my
Subscribe to our Telegram channel for the latest stories and updates