EdgeProp-ILAM Malaysia's Sustainable Landscape Awards 2021—Landscape Design (Special Mention)
The Rainz @ Bukit Jalil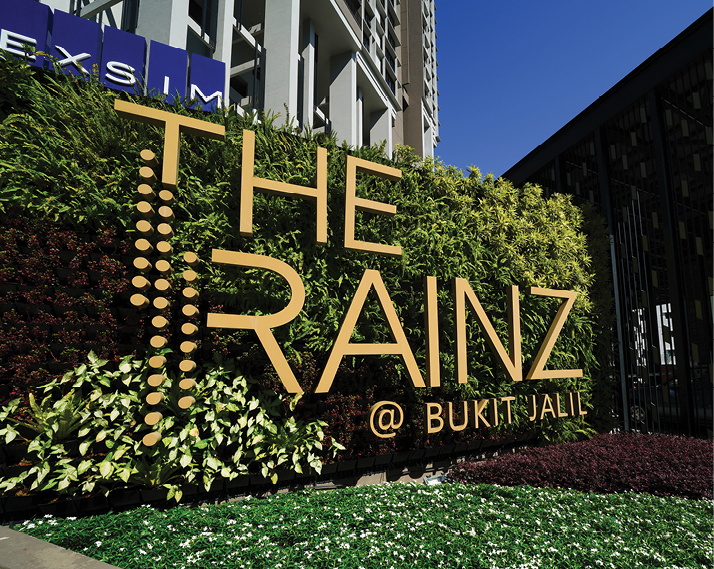 Located in Bukit Jalil, Kuala Lumpur and standing next to the Shah Alam Expressway (KESAS), The Rainz condominium is a dwelling where its residents can relax and unwind amidst verdant greens.
Indeed, its developer, the Exsim Group, strives to create developments that showcase the wonders of nature along with modern architecture.
Based on that principle, The Rainz's landscape designer went to work and the result is an urban rainforest concept that has earned The Rainz a Special Mention under the Landscape Design category of EdgeProp-ILAM Malaysia's Sustainable Landscape Awards 2021 at EdgeProp Malaysia's Best Managed & Sustainable Property Awards 2021.
Completed on May 14, 2018, the five-acre development comprises three towers of 35 levels each (including seven parking levels) housing a total of 624 units with sizes ranging from 1,513 sq ft to 1,930 sq ft.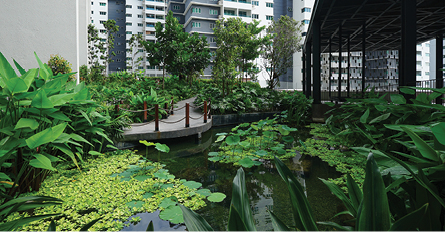 Already impressive with its myriad facilities, what brings it a notch higher is how these have been integrated with the rainforest-themed landscape to provide residents with a warm resort-like environment.
Its facilities include a multi-purpose plaza, trampoline park, herb garden, forest trail, bicycle/jogging track, forest terrace, pool lounge, water playground, scented garden, sprint track, reflexology path, maze garden and eco-ponds. One of the highlights is a hanging bridge, where residents can take the opportunity to challenge their met-tle and face their acrophobia head-on.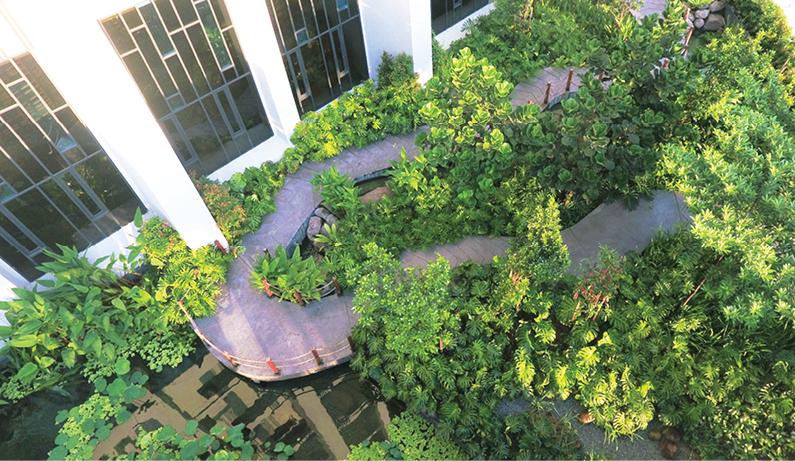 At the very top, aptly bearing the "Sky" moniker, are several facilities such as a dining area, lounge, floating lounge, garden, BBQ terrace, viewing deck and pavilion. Here, residents can enjoy breathtaking views of the city skyline, graced by the Petronas Twin Towers.
Moving closer to the ground, the development's landscape has been conceptualised to bring its residents closer to nature through the creation of "a rich and sustainable urban rainforest home".
"One of my favourite activities is to wander through the beautiful scented garden located on the podium facility floor (Level 8)," says The Rainz Joint Management Body (JMB) chairman Kenny Lau.
"I would take a moment to simply bask in its calming atmosphere and if time permits, I would head over to the eco-pond for a short stint of relaxation – looking at the fishes and gazing at the lotus flowers," he enthuses.
Lau shares that because his wife enjoys cooking, her favourite spot is the herb garden where lemongrass, pandan leaves and chillies, among others, have been planted and residents are allowed to harvest them.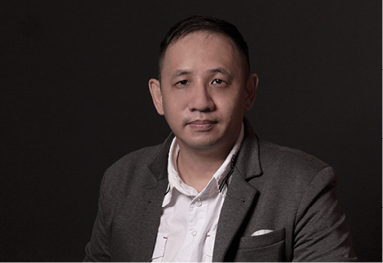 Many native rainforest trees have been planted, including species such as Kempas, Kayu Arang, Meranti Tembaga, Bunga Tanjung, Tembusu, Alstonia scholaris and Pulai, to name a few. In terms of diversity, The Rainz is actually home to some 250 trees and 1,600 shrubs.
For a bigger dose of oxygen, take a stroll through the forest trail and three experiential pathways – Fernium Walk, Calathium Path or Heliconia Garden – and allow Mother Nature to ignite your senses to new appreciations.
The overall planting works have cost Exsim roughly RM2.5 million.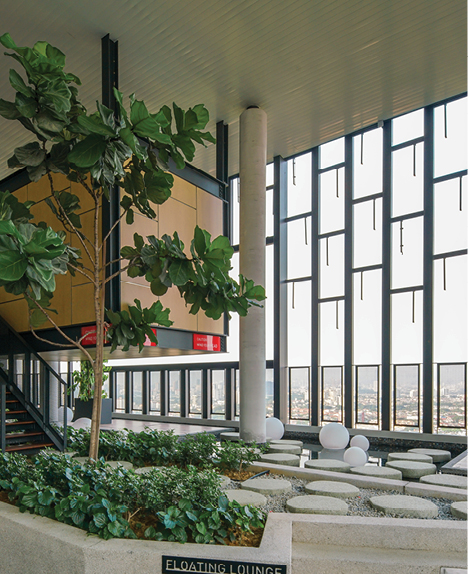 "The plants took about a year to mature and when it was time for residents to take vacant possession in 2018, they were about 75% in bloom for them to enjoy," says Hoda Design landscape architect Ho Peng Ming.
"In terms of maintenance, it isn't as high as you might think. At just RM8,000 per month, it is a small fraction of our current monthly service charge collection," reveals
Exsim Group corporate communications head Michelle Siew, adding that the collection rate is almost 80%.
Not just beautiful, but functional
"The abundance of trees and shrubs acts as a natural filter against noise and dust while helping to cool the devel-opment's surroundings and provide greater oxygen levels," explains Ho.
To reduce water usage and wastage, the development recoups used water during fire drills and tests. The use of a rainwater harvesting system has also helped to reduce water consumption for the landscape's irrigation.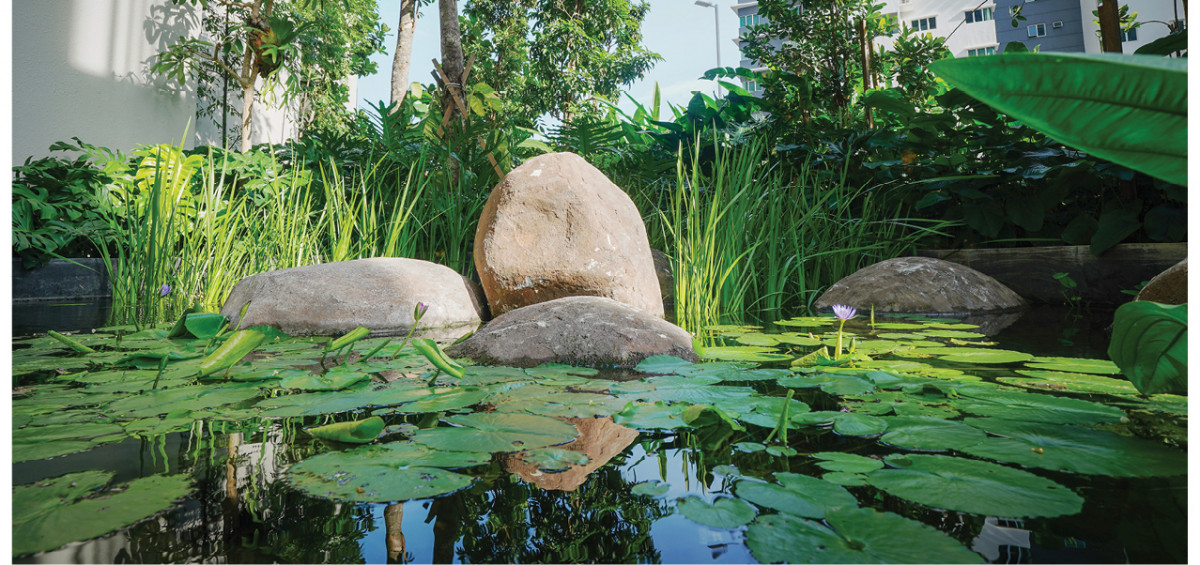 "The eco-pond located on the facilities floor which has been endowed with a walkway, water plants, rocks, gravel and fish helps to reduce flooding and stormwater runoff," adds Ho.
The pond is a low-maintenance facility that has a natural filtration system utilising eco-sand with microbes and a layered combination of stone, gravel and rocks on top as well as water plants to help maintain water pH-levels and provide a form of bio-filtration.
Going forward, Exsim intends to delve a little deeper into further improving the maintenance programme of its "urban forest" and contribute further to its sustainability levels.
Check out the microsite for Edgeprop's Best Managed & Sustainable Property Awards 2021 here
This story first appeared in the EdgeProp.my E-weekly on April 9, 2021. You can access back issues here.
Get the latest news @ www.EdgeProp.my
Subscribe to our Telegram channel for the latest stories and updates