Below 10 Years Multiple-owned Strata Residential (Silver)

The Greens TTDI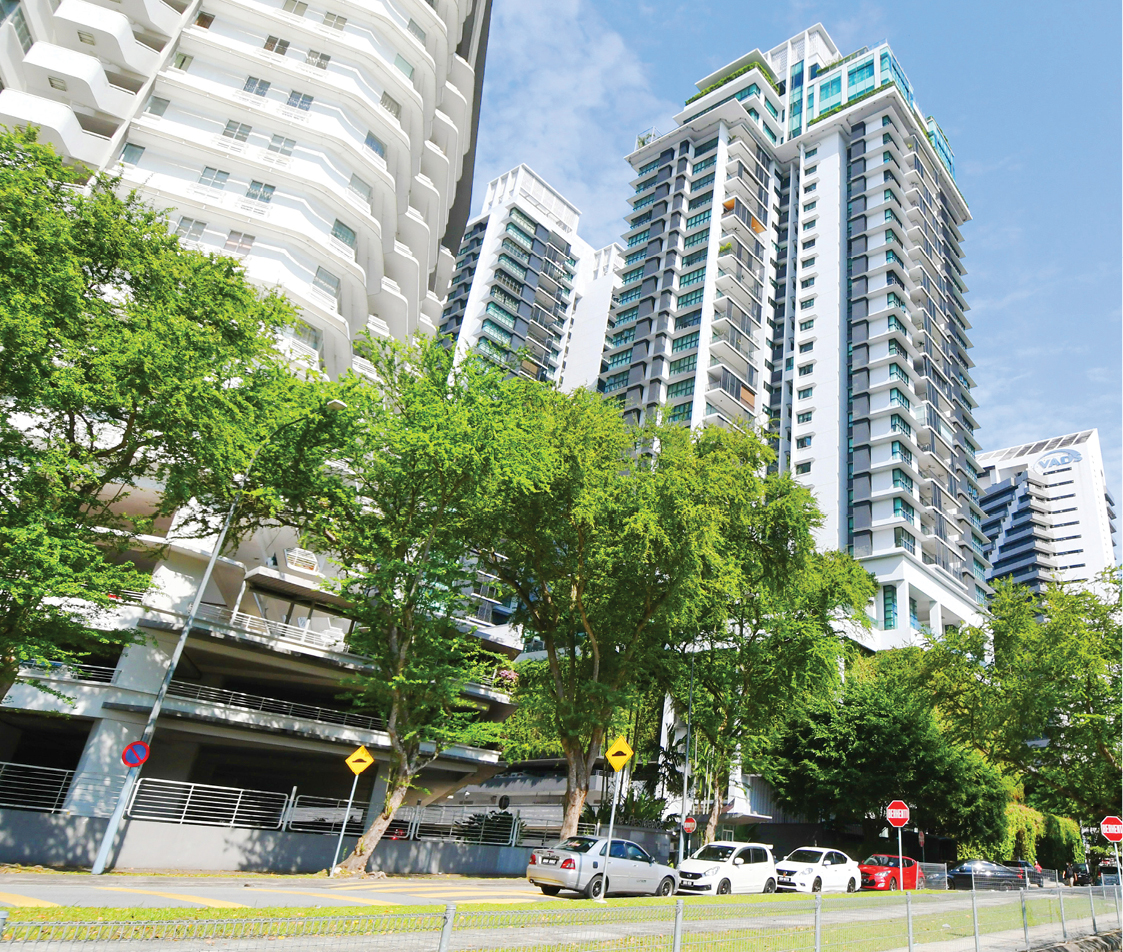 Located in one of the most sought-after addresses in the Klang Valley, The Greens TTDI at Taman Tun Dr Ismail (TTDI), Kuala Lumpur is a modern high-end serviced apartment situated along Jalan Wan Kadir. It features two towers housing 163 units, six retail units and various lifestyle facilities. It is home to both expatriates and Malaysians including the who's who in the Klang Valley.
"We make every effort in building and maintaining strong ties with our residents and retail owners through frequent communication: emails, surveys and one-on-one. We want to know what they think, and how we can enhance and improve our service offerings. Through this, the building management has been able to resolve many issues in a timely and efficient manner," The Greens Joint Management Body (JMB) committee member Kevin Kuok tells EdgeProp.my.
Kuok is also the managing director of Bellworth Developments Sdn Bhd, the property arm of LGB Group, the developer of The Greens.
Having been managed by Henry Butcher Malaysia (Mont Kiara) (HBMK) since Dec 2019, the development won Silver in the Below 10 Years Multiple-owned Strata Residential category of EdgeProp Malaysia's Best Managed & Sustainable Property Awards 2021.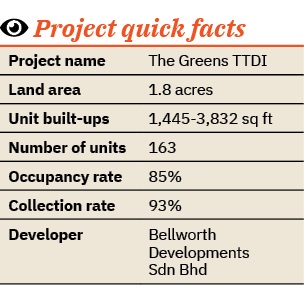 This is its first win although it participated in the Awards in 2019 under a different property management company.
"Since we have taken over the management of The Greens, we have engaged with the residents, so that they understand what and how we are improving the building management," says HBMK managing director Low Hon Keong.
"We've also worked hard to bridge the communication gap with the residents so that we know what their needs and expectations are," he adds.
Increased collections and property value
Completed in Jan 2016 and currently 85% occupied, The Greens has seen a steady improvement in its service fee collection rate rising from 30% in 2016, to 50% in 2017, to 70% in 2019, and by 2021 it is now about 90%. Kuok says that the credit must go to the dedicated ground crew and building manager, HBMK.
"Together with the building's JMB, they have fostered a strong camaraderie with the residents and retail owners. End of the day, everything comes down to strong relationships, and mutual trust and respect for each other," adds Kuok.
According to the developer, the current market price for Tower A units is about RM1,100psf compared with RM1,000 psf in 2018, a 9% rise over three years. Meanwhile, Tower B units currently command about RM1,250 psf, which is a rise of 12% from RM1,100 psf in 2018.
"Values have risen because of the strategic location, superb architecture and great facilities," Kuok states, while Low believes that efficient property management will help sustain the property's values.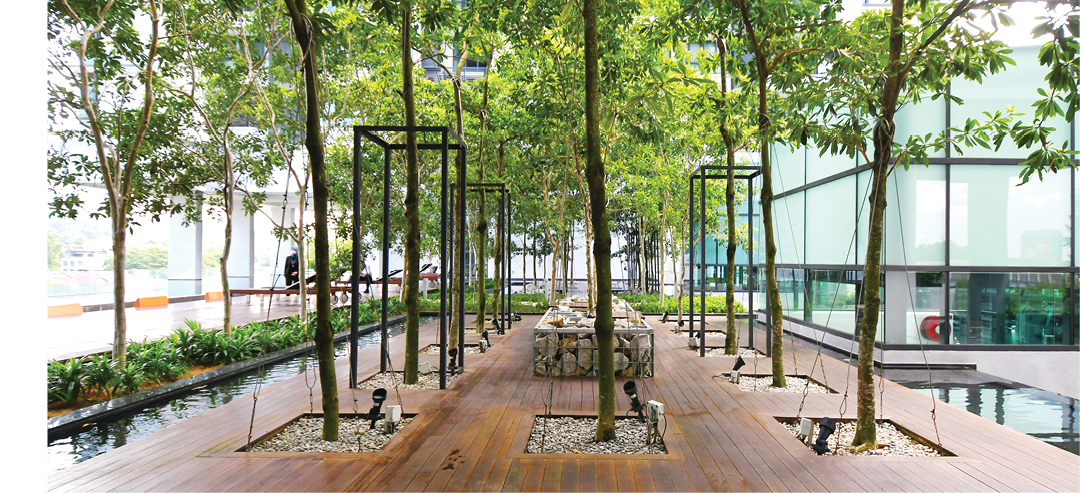 Linked to Menara LGB office tower, The Greens has a retail podium called Greens Terrace with six retail units all owned and managed by Bellworth. Here, one will find restaurants such as Kenny Hill Bakers, La Moon Thai Restaurant and The Other Half cafe, just to name a few.
Kuok emphasises that its residents demand very high standards of safety and security. At Greens Terrace for example, there is one access for residents and another for visitors and tenants. Resident access (to the retail outlet) is through the glass entrance on the ground floor. They can only enter with a special access card. Meanwhile, CCTV cameras are strategically and discreetly placed around the building. Not only that, the building is designed in such a way so as to minimise the likelihood of trespassing and "wrong turns".
Preventive maintenance
Kuok highlights that The Greens has reached the end of its first life cycle, which means the building's mechanical and electrical assets are also nearing the end of their lifespans.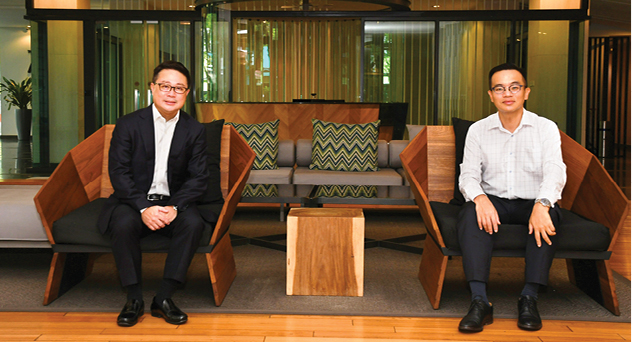 "Hence, we have appointed a service manager to look into this, where we monitor all essential assets to minimise the likelihood of breakdown. Our forecast budget should be sufficient to ensure all assets are in top condition," says Kuok.
"Moving forward, we have also implemented an annual planned preventive maintenance audit because asset deterioration is a fact of life for every development," Kuok says.
Kuok is an avid believer that sustainable property management requires a holistic approach that maximises cost savings, and reduces energy consumption and environmental impact.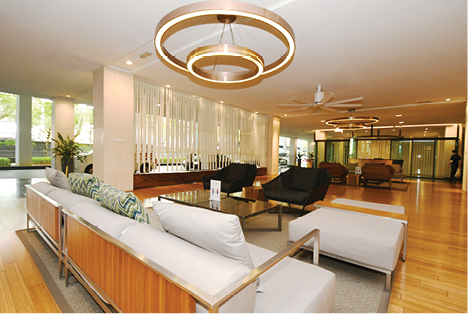 "It's more than just the infrastructure of a building, such as the insulation, lighting and air conditioning. At The Greens, we also use LED lights, harvest rainwater and encourage recycling.
"Beyond that, in our developments in Taman Tun Dr Ismai, we were careful to preserve the natural and built environment. We didn't remove the trees, and in fact preserved the surrounding greenery. We did not impose on our surrounding environment. The bustling wet market, kopitiams, children playing in the park … this is where the old embraces the new.
"This legacy of sustainability now rests on the management committee, and we intend to continue for generations to come. It requires financial resources, and long-term planning. But it starts with truly caring for the needs of the community and the environment," Kuok concludes.
Check out the microsite for Edgeprop's Best Managed & Sustainable Property Awards 2021 here
This story first appeared in the EdgeProp.my E-weekly on April 9, 2021. You can access back issues here.
Get the latest news @ www.EdgeProp.my
Subscribe to our Telegram channel for the latest stories and updates