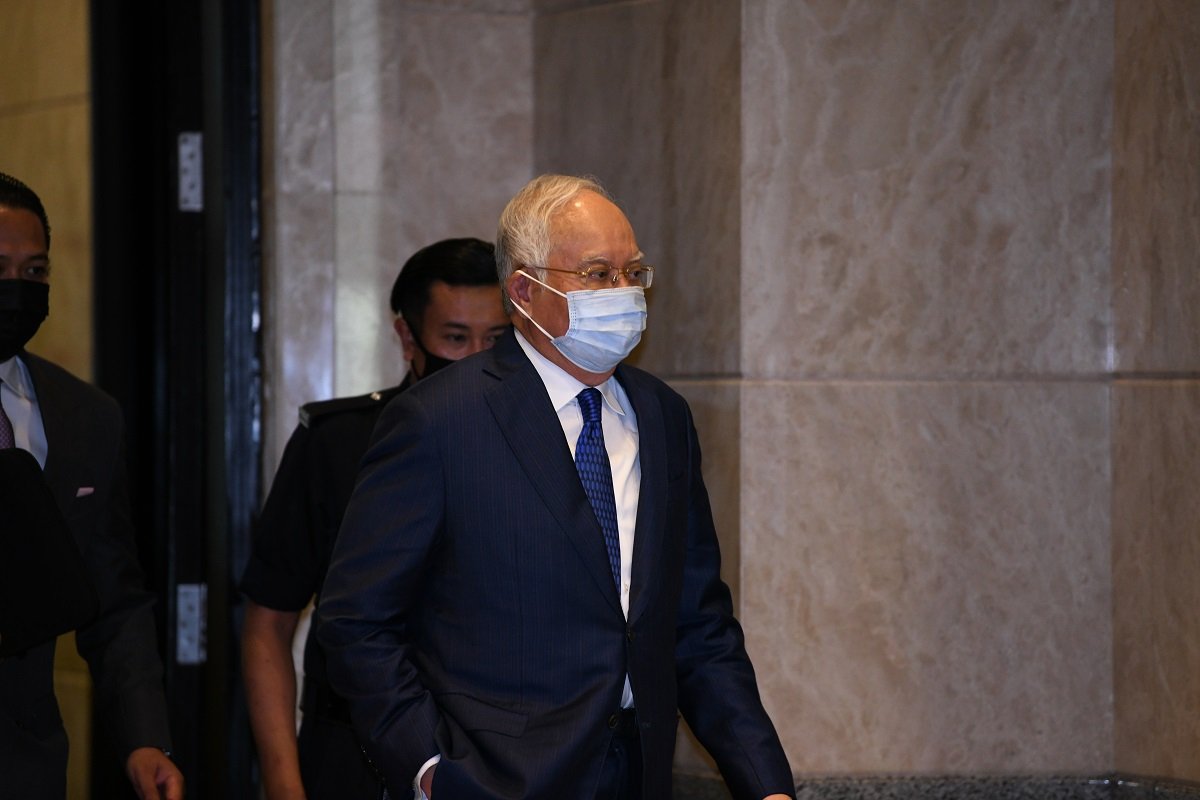 PUTRAJAYA (APRIL 15): The prosecution of Datuk Seri Najib Razak's SRC International Sdn Bhd appeal hearing at the Court of Appeal today asserted that the company's chief executive officer (CEO) Nik Faisal Ariff Kamil was the former prime minister's "messenger", showcasing that Najib had direct control over the board of directors.
Ad hoc prosecutor Datuk V Sithambaram declared in the appeal hearing today that Najib had failed to rebut that Nik Faisal was his messenger for matters relating to SRC and therefore had clear control over SRC.
Sithambaram today read the court transcript of the cross-examination between himself and Najib during the trial at the High Court.
Sithambaram: It was not your practice to talk to the chairman of the board (Tan Sri Ismee Ismail) to brief you?
Najib: We did meet occasionally as well, Ismee, but for the detailed briefing (it was) normally with the CEO of the company as it (was) with Khazanah and all the other companies.
Sithambaram: I have no problem, sir. I'm just asking whether you met... I'm not in any way casting anything. But when you said you met Ismee it wasn't formal, it was just at occasions when you met... at other functions you met, not specifically on SRC?
Najib: Not specifically on SRC.
Sithambaram: You (ran) into each other? Let's put it this way.
Najib: Yes, but sometimes we (would) talk about other things as well as SRC.
Sithambaram: Sure... sure... alright. It would appear, sir, looking at (the evidence) that it (was) at these private meetings or this particular private meeting, that you (gave) your decision to be conveyed to the board?
Najib: Which specific?
Sithambaram: No... if you look at the... I am not going at that thing. You discussed many things. What you discussed he (conveyed) it to the board, sir?
Najib: Yes, but the board still (had) discretion.
Despite Najib's claim that the board still had discretion in whether to follow his instructions, Sithambaram inferred that the former prime minister still had direct control over the board of directors of SRC.
Previously in the appeal hearing, Najib's lead defence counsel Tan Sri Muhammad Shafee Abdullah argued that his client did not have overarching control over the SRC board of directors and did not utilise his "hire and fire" powers.
Sithambaram continued to rip the argument of the defence by citing a particular instance where Najib had acted according to personal interest while also exercising his abuse of power.
He pointed to when Nik Faisal was removed from his CEO position after demonstrating questionable financial integrity in the management of SRC, Najib purposely chose to retain him as both a signatory and director of SRC.
The prosecutor claimed that this move was to keep Nik Faisal in a pivotal financial position to aid Najib in siphoning off funds from SRC into his own personal bank accounts.
He added that if Nik Faisal was removed in August 2014 as CEO and signatory of SRC, the offences for which Najib was charged could not have been committed in December 2014 and February 2015.
Sithambaram stated this to showcase the integral role Nik Faisal played, of which Najib had control of, and the premeditated steps Najib took in order to facilitate the laundering.
Following his conviction at the High Court last year, Najib is currently appealing at the Court of Appeal against his guilty sentence for seven charges of power abuse, criminal breach of trust and money laundering involving RM42 million of SRC funds.
The appeal hearing continues on April 19. It is also worth noting that his SRC "messenger" Nik Faisal is currently still at large, and is being pursued by Malaysian authorities as well as the Interpol.
Get the latest news @ www.EdgeProp.my
Subscribe to our Telegram channel for the latest stories and updates