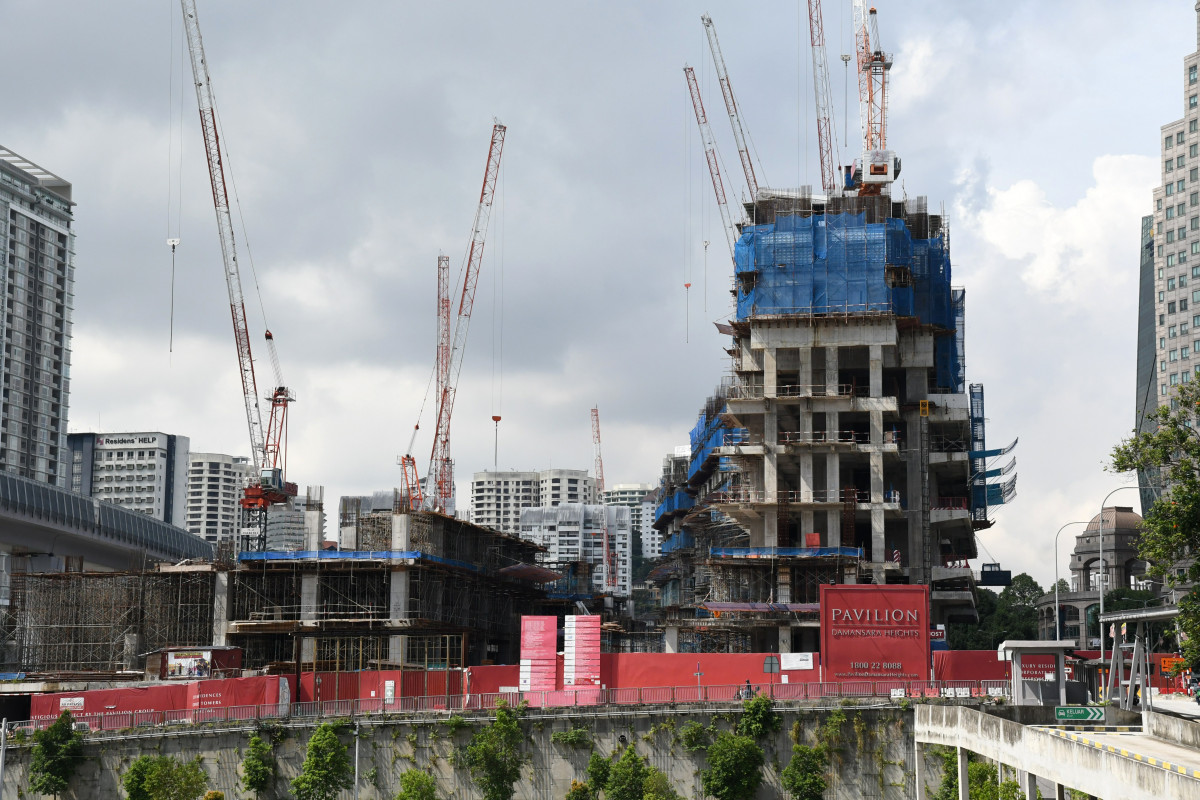 The cost of construction has been creeping up. Prices of at least 15 essential steel products have surged 18% to 21% in January this year, from a year ago.
The upward climb started in the final quarter last year with resumption of global business activities, which were hit by the Covid-19 pandemic in the first nine months of 2020.
For instance, the price of T10mm steel bars, which are used in beams, columns or slabs, has shot up by as much as 21% to RM2,900 per tonne in Jan 2021 from RM2,400 per tonne in the fourth quarter of 2020.
Contractors see prices climbing further in the coming months in response to higher demand expected.
Meanwhile, for the 10mm steel reinforcement bar (R10mm) used in slabs and foundations, the price has risen 12% from RM2,280 per tonne in 1Q2020 to RM2,550 in 4Q2020 before hitting RM3,000 per tonne in January this year – an increase close to 18% from a year ago.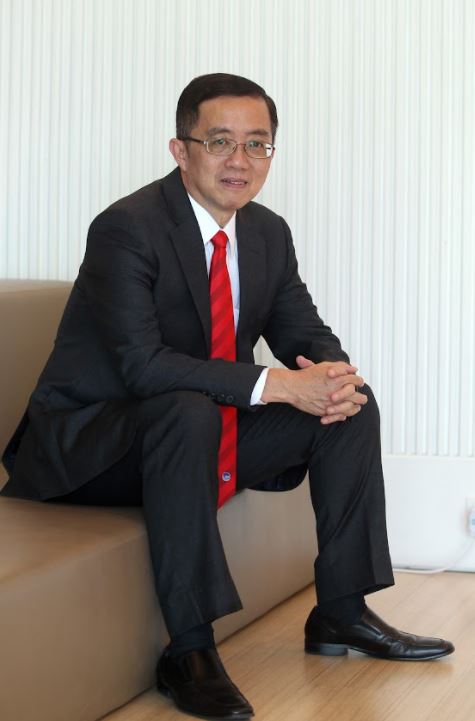 The price surge is adding pressure on an industry already burdened by unexpected costs brought on by the pandemic.
Real Estate and Housing Developers' Association Malaysia (Rehda) president Datuk Soam Heng Choon says: "Unlike the aviation industry where airline companies could have hedging strategies (through buying or selling future prices of oil-related derivatives) to protect themselves from rising cost prices, contractors or developers do not have such a strategy to reduce their exposure to volatile material cost".
In the construction sector, building material prices fluctuate based on market supply and demand. As construction activities resume, increased demand for steel products will push up the prices, Soam tells EdgeProp.my.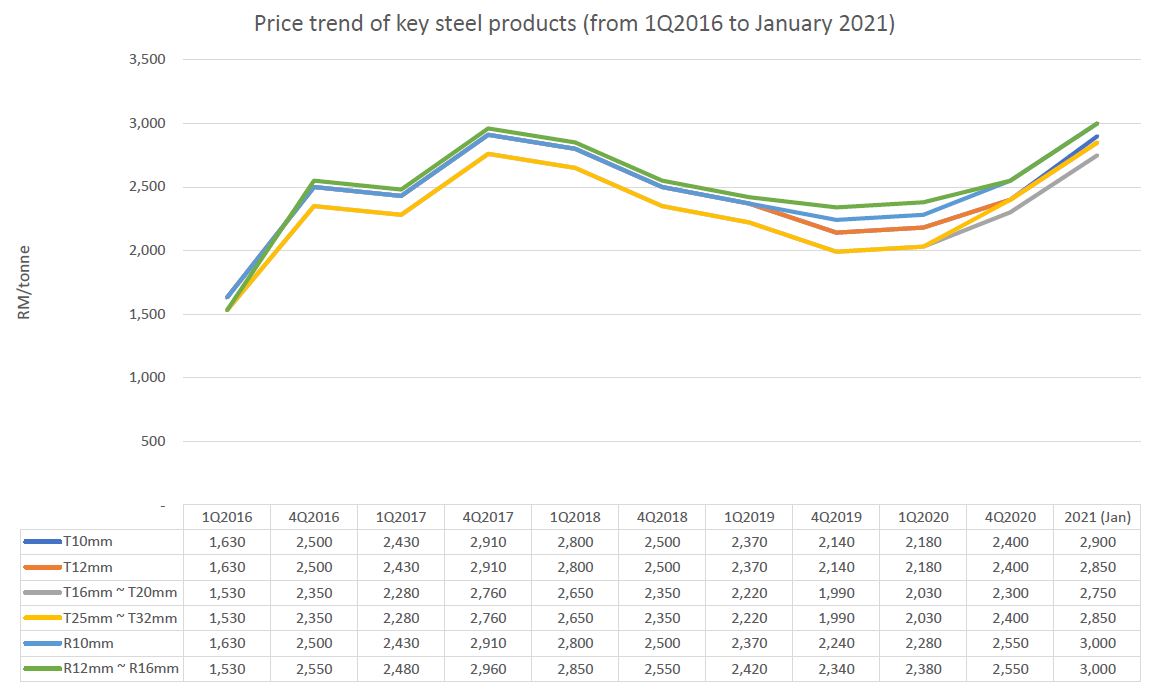 Will prices continue to climb?
Soam says the commodity price movement is cyclical and subject to raw iron ore prices.
"Hopefully when supply and demand level off, steel prices will moderate and stabilise.
"Until then, developers and contractors will have no choice but to absorb the increased cost [on projects under construction]," he says.
For future project tenders, despite a competitive market, Soam does not discount some contractors would raise prices to counter the expected material cost rise.
Impact on industry
What does the rising steel prices mean?
Bina Puri Holdings Bhd chief operating and transformation officer Anthony Lee Tee says steel products constitute a significant portion of overall construction cost, so the higher cost will eat into the margin of contractors and subcontractors.
Steel products account for some 35% and 25% respectively in the overall development cost of office and high-rise homes. For landed homes, less steel is required with its cost making up about 6% of the overall building cost.
"Higher steel prices will have a snowball effect on the overall construction cost. Contractors and NSC (nominated subcontractors) are the ones hit as they have to absorb the additional cost," Lee adds.
Lee worries that in managing this, contractors or NSC might resort to cutting the fees of professional service consultants and this could result in compromised quality due to lack of supervision.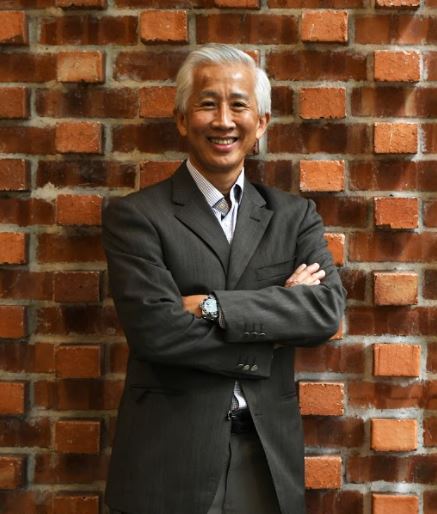 Adding to the higher steel cost was the abrupt on-site MCO (Movement Control Order) stop-work in March 2020, followed by the cost of adherence to SOPs (standard operating procedures) upon work resumption.
"At the same time, contractors are also under pressure as they are still required to deliver the projects on time. The Covid-19 Act (Temporary Measures for Reducing the Impact of Coronavirus Disease 2019 (COVID-19) Bill 2020) which came into force in end-October is insufficient to protect the contractors, sub-contractors and suppliers.
"The whole value chain is affected – from contractors and NSC to suppliers and service providers. Even if developers were able to obtain Extension of Time (EOT) for construction works, contractors [and subcontractors, as well as suppliers] will not benefit from EOT," adds Lee.
Contractors suffering
Master Builders Association Malaysia (MBAM) president Tan Sri Sufri Hj Mhd Zin says rising steel bar prices will definitely be an additional cost for contractors, especially small-time contractors.
According to him, there could be a possibility of construction projects being abandoned, but at this point in time, MBAM does not have any information regarding this matter.
"At the moment, contractors are the one having to absorb the cost when it comes to material price increase," he says, adding that the additional SOP compliance costs have also burdened the contractors.
These expenses include medical and quarantine costs for staff and employees, more conducive employee accommodation with the necessary facilities, routine cleaning and disinfection work, as well as high transportation costs due to physical distancing.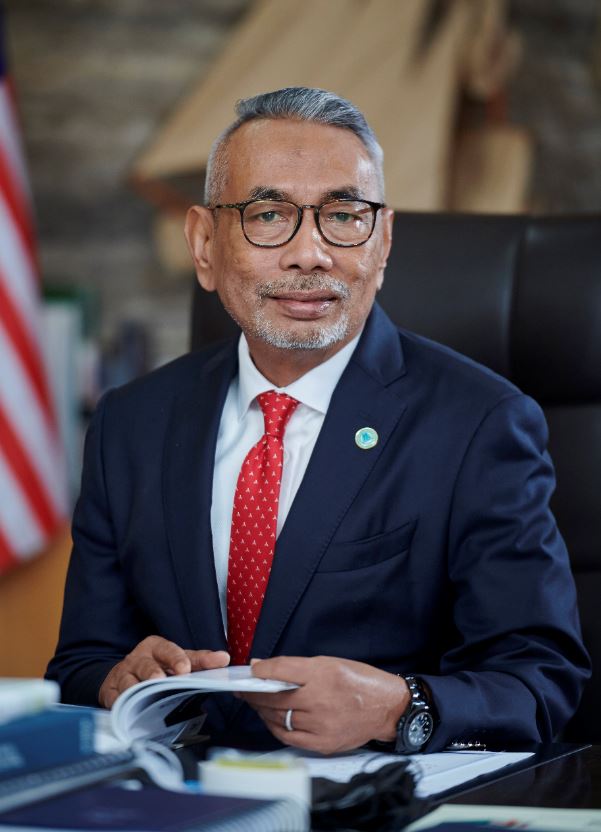 The additional costs for SOP compliance due to the pandemic are estimated to be around 1% to 2% for a standard housing development project. In fact, the biggest losses for contractors are mostly in the form of time loss. When a project is stopped or postponed in order to comply with the SOPs, time cost also has an impact.
However, MBAM is unable to provide information on the number of employees who have lost their jobs or small contractors who have gone bust.
"The rising price of steel bars is not good for the industry, be it manufacturers, suppliers, contractors, developers and the people. We propose for the Government to reintroduce the Variation of Price (VOP) Clause for essential building materials to cover the risk of inflation changes," he says.
Get the latest news @ www.EdgeProp.my
Subscribe to our Telegram channel for the latest stories and updates