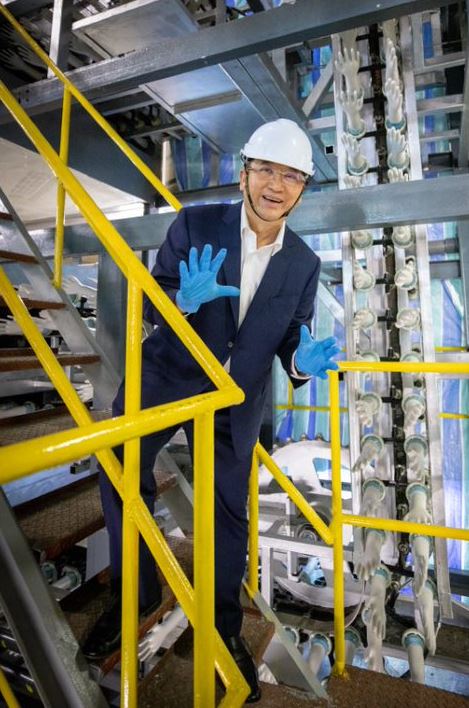 It all started during a casual dinner with close friends, where everyone shared how their lives were in dealing with the pandemic times. One of the friends suggested to Tan Sri Leong Hoy Kum, the founder, managing director and group chief executive of Mah Sing Group Bhd, to leverage his expertise in plastic manufacturing to start a glove-making business.
In fact, the idea of diversifying the business into the healthcare industry has always been in Leong's mind. Hence, when the subject was raised, it immediately clicked!
The 64-year old chieftain believes that change is constant and one should never stay complacent.
The spirit has led Mah Sing to evolve from a plastic manufacturing company into a property development firm, and now it has diversified into the glove-making business.
"I always ask myself,'how many ten years do I have?' I asked this question when I was in my early thirties and it brought me into the property development industry, and now in my early sixties, I am in a new venture again," Leong tells EdgeProp.my at the Mah Sing Healthcare glove manufacturing plant, which will start operation next month.
Read: The invincible leader
Read: Q&A with Tan Sri Leong Hoy Kum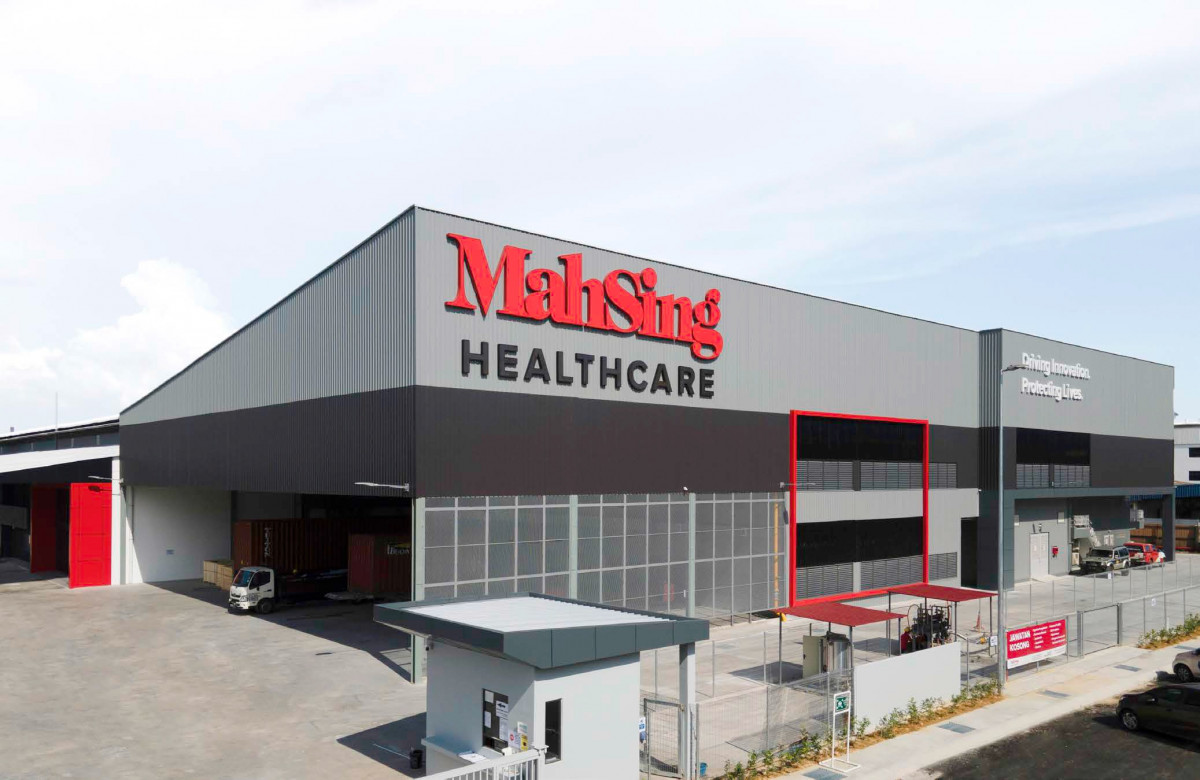 Mah Sing's phase one facility is located in Kapar, Klang – a glove industrial hub that is equipped with the right eco-system for glove manufacturing, and it is around 20 minutes' drive from Mah Sing Group's plastic manufacturing plant near Port Klang.
The close to 7.2-acre land was previously a warehouse for a timber company and within just six months, it has transformed into a glove manufacturing plant with a built-up of approximately 228,800 sq ft housing 12 automated production lines that has the ability to produce 3.68 billion pieces of gloves a year.
While diversifying into the glove manufacturing industry, Leong says he will not give up his property development business as it still serves as the Group's core business, contributing 89% to the group's profit before tax in 2020. The remaining 11% came from plastic manufacturing (10%) and investment holdings and other businesses (1%).
"We will continue to concentrate on our existing core business – property development – as it remains a key focus of the Group moving forward," he stresses.
According to him, the property market demand has seen a recovery since early this year, as the Group has secured a sale of approximately RM250 million in January and February. The booking momentum since March 2021 has also picked up substantially.
"We are confident of meeting our property sales target and are committed to continue delivering commendable results via our property, plastics and healthcare divisions. As the market gradually returns to its growth momentum, I expect next year we will be seeing a strong rebound for the property market," adds Leong.
Read: The invincible leader
The entrepreneurial spirit
It didn't catch Lionel Leong by much surprise when his father, Leong, told him the idea of venturing into the healthcare business.
The 31-year old, who is also Mah Sing Group's strategies and operations director, is actively involved in the process of setting up the manufacturing plant.
"I always know that he has an entrepreneurial spirit that keeps him active and continually leading the company to move forward," he tells EdgeProp.my after a tour to the manufacturing plant.
Even during the meeting with shareholders, there was not much resistance or doubts from them as most of the shareholders trusted Leong's foresight and decision as well as his determination in driving the company to greater heights, he adds.
Despite a bit of hesitance initially, Lionel says the group managed to pool its existing resources and recruited the right talents to realise the plan.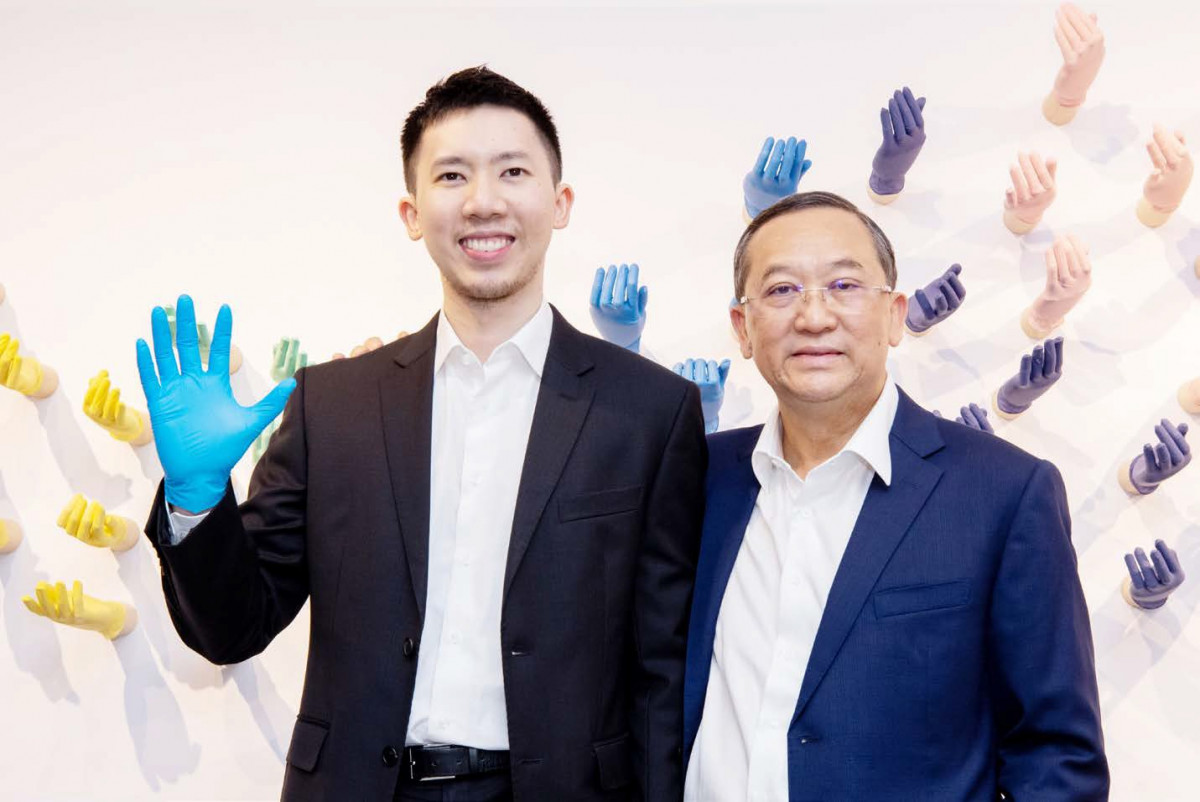 Making it right from day one
Making it right from the start is something repeatedly emphasised by Leong in his business ventures, and there's no exception to the glove-making business as well.
Being a new player in the industry, Mah Sing focused on automation to reduce reliance on foreign labour. An Enterprise Resource Planning (ERP) system and advanced Supervisory Control and Data Acquisition (SCADA) system are in place to support operations.
Notably, the high-speed production lines are also equipped with auto-strip, auto- stack and auto-count features as well as auto-dosing of solutions for higher efficiency.
Mah Sing's first glove manufacturing factory successfully completed the testing and commissioning of its first two glove production lines, and is expected to start operation in May 2021. The first shipment of gloves is also expected to be delivered in May and June 2021.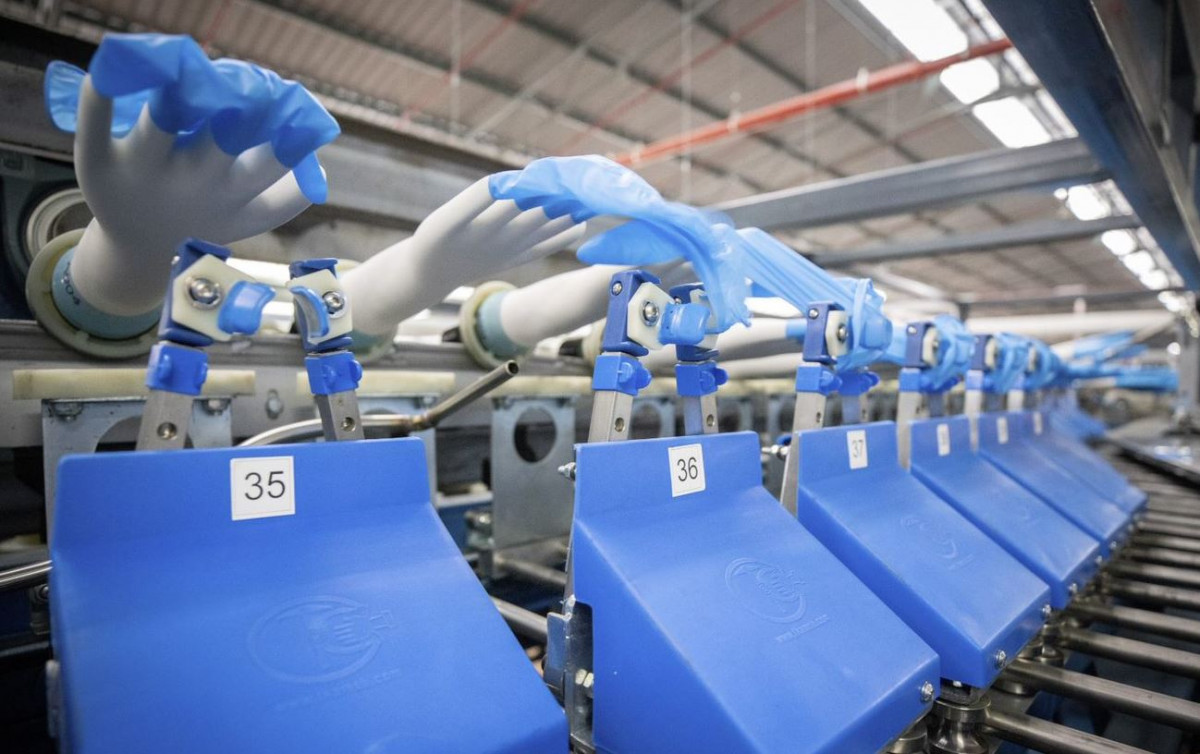 Four more production lines are on track to be operational in 2Q2021, followed by another six production lines in 3Q2021.
Under its phase one glove manufacturing business, 12 units of new, high-speed glove dipping machines – producing at a speed of 38,000 pieces of gloves per production line per hour – will have a maximum production capacity of up to 3.68 billion pieces per annum.
According to Leong, the company has invested RM160 million in setting up the operation facility and is expected to achieve the return on investment within one to one and a half years' time.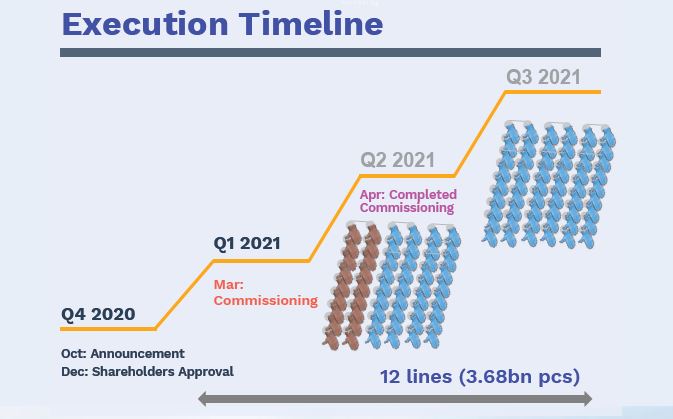 Read: The invincible leader
Moving forward, he is also looking at expanding the production capacity to 100 lines, if the company could secure tier one customers, namely global healthcare distributors.
Unlike the veteran glove-makers in the industry which have secured long-term supply contracts, being the new kid on the block, Mah Sing's strategy is to stay agile and target spot price products that cater to the surging market needs which are not well-served by long-time players.
Global demand for medical and examination gloves is still on the rise and Malaysian Rubber Glove Manufacturers Association (MARGMA) forecast there will be some 80 billion pieces short of the projected demandof 500 billion pieces, he explains.
Get the latest news @ www.EdgeProp.my
Subscribe to our Telegram channel for the latest stories and updates