KUALA LUMPUR (Oct 31): Time is on Sunway Real Estate Investment Trust's (Sunway REIT) side. The retail-focused trust, controlled by property tycoon Tan Sri Dr Jeffrey Cheah, believes the soft property market makes now a good time to invest in retail assets at bargain prices.
According to Datuk Jeffrey Ng Tiong Lip, the chief executive officer of Sunway REIT Management Sdn Bhd — manager of Sunway REIT — the acquisition market has changed to become a buyer's market over the past eight to nine months.
He is of the view that more mall owners are looking to dispose of their assets under prevailing market conditions. And the oversupply of shopping centres is not helping matters.
"We are in talks with some potential targets and so far the outcome has been positive. We hope to conclude [at least] a deal this year," he told The Edge Financial Daily in a recent interview.
Still, Ng said Sunway REIT won't be pressured into a deal before it is ready. Rather, the trust will be prudent and selective in evaluating any deals that are presented to it.
"We want to find assets that fit into our REIT profile. We have set a clear vision to focus on growth via acquisitions and asset enhancement initiatives (AEIs) to strive towards our goal of achieving property value of above RM10 billion by the financial year ending June 30, 2020 (FY20)," he said.
As at June 30, 2016, Sunway REIT's total property value stood at RM6.43 billion, comprising four retail assets, five hotels, three offices and a medical centre.

"Key emphasis [will be] on value creation and growth potential of the acquisitions over a long-term horizon. Third-party acquisitions aside, Sunway REIT's future acquisition growth will be supported by leveraging the sponsor's (Sunway Bhd) completed investment properties and ongoing developments," Ng added.
The performance of Sunway REIT, whose existing assets include Sunway Pyramid Shopping Mall in Subang Jaya and Sunway Carnival Mall in Seberang Perai, has remained resilient despite the challenging operating environment, achieving a 9.7% increase in net property income to RM373.85 million in FY16 from RM340.83 million in FY15.
It declared a distribution per unit (DPU) of 9.18 sen in FY16, compared with 8.73 sen in FY15.
In a filing with Bursa Malaysia on Aug 11, 2016, Sunway REIT Management, however, warned that it expects a dip in DPU in FY17, compared with FY16, on the back of lower contributions from the hotel segment due to the closure of Sunway Pyramid Hotel East, which is undertaking a refurbishment exercise, and the absence of an extraordinary item in FY17. In FY16, there was a one-off court award from Sunway Putra amounting to RM6.19 million.
Ng said Sunway REIT Management is actively looking to expand the trust's portfolio of retail and hospitality assets to include "other assets", especially those that fall under the triple net lease category in a bid to enhance its earnings and DPU in the long term.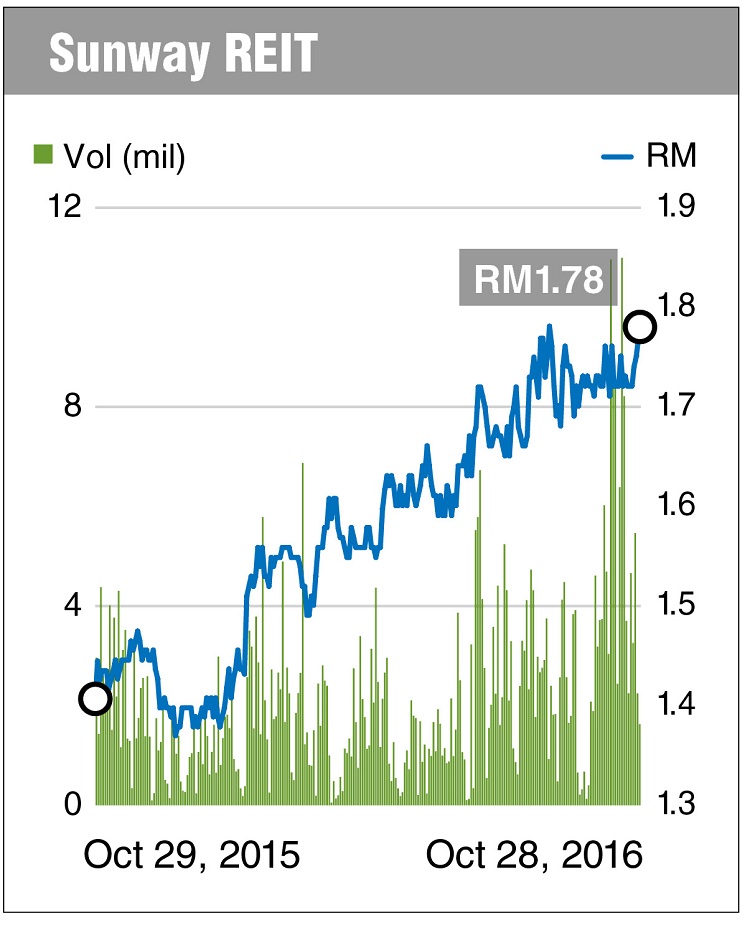 He stressed the importance for Sunway REIT to have a properly diversified portfolio in order to achieve a better balance of risk-taking. In FY16, Sunway REIT derived 72% of its net property income from its retail segment, while office and hotels and others made up the remaining 28%.
"We adopted a new strategy, back in 2014, which opened up new opportunities for the REIT to look at other assets for possible acquisitions," said Ng.
Triple net lease refers to a lease agreement on a property where the tenant agrees to pay all real estate taxes, building insurance and maintenance on the property, in addition to any normal fees that are expected under the deal. In such a lease, the tenant or lessee is responsible for all costs associated with the repair and maintenance of any common area.
Ng pointed out that Sunway REIT is looking to acquire properties like medical centres, education institutions, and industrial and logistics warehouses, which can provide a steady income stream over the medium to long term.
However, he was quick to add that Sunway REIT's parent and sponsor Sunway Bhd had no plans to inject Sunway University into the trust.
"There is nothing firm yet. We still prefer triple net lease assets as they provide steady cash contributions," he said.
"Many may think we have an upper hand when acquiring a property from our sponsor and parent. In fact, it is more difficult compared with third-party transactions.
"[That's because] when it comes to a related party transaction, there are many obligations that we have to fulfil. We have to justify each of the segments and pricing to our shareholders; the same rules also apply to our sponsor," he explained.
It was reported that Sunway REIT was targeting for "other assets" to make up to 15% of the trust's total portfolio value. It deemed the rental yield of this asset class to be up to 8%, compared with the retail segment's yield of 5% to 6%, although rental growth may be flat.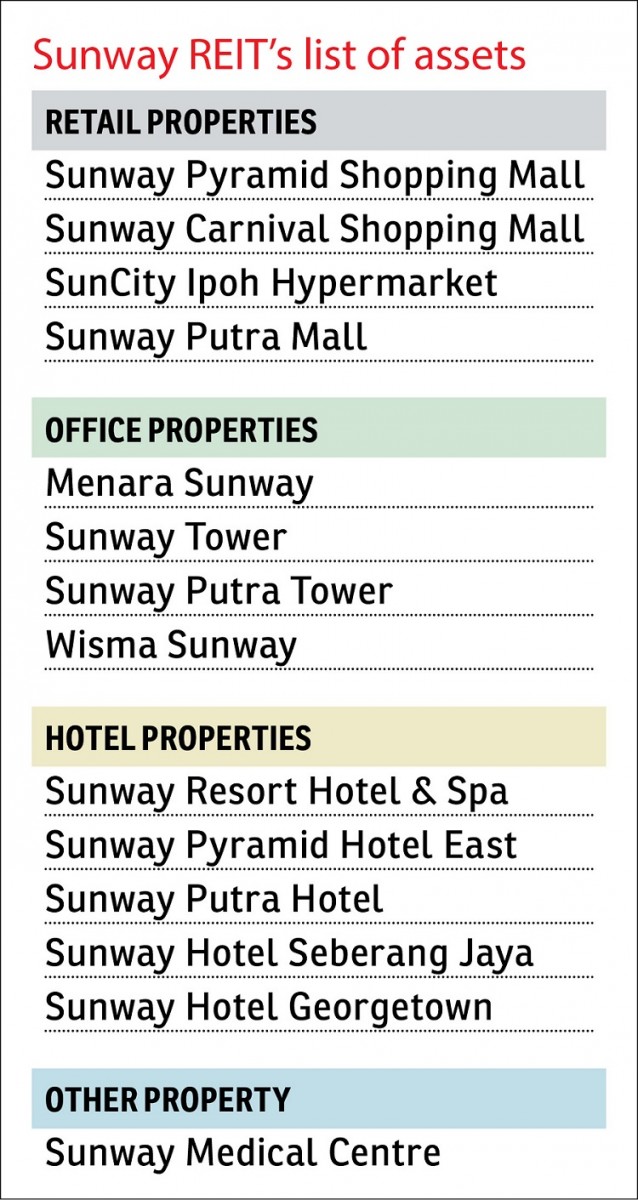 The Securities Commission Malaysia on July 14, 2016 launched a public consultancy paper on a proposed amendment to the REIT Guidelines, paving the way for REITs to engage in property development.
To this, Ng said the proposed revision is a reflection of the maturity of the Malaysian REIT (M-REIT) market and places M-REITs competitively by narrowing the regulatory gaps between M-REITs and other established REIT markets abroad.
"The proposed liberalisation allowing M-REITs to undertake property development may potentially lead to higher return on investment on assets in the absence of development profits to be paid to vendors," he added.
On whether Sunway REIT intends to employ the proposed amendment in its investment strategy, Ng said the REIT's relatively low gearing of 33.3% as at June 30, 2016 put it in a good position to embark on the new proposal.
According to him, based on the current gearing level, the debt headroom is approximately RM700 million to RM900 million before it reaches the optimum level of low 40%.
"At low 40%, the gearing is below the statutory limit of 50% and below the allowed gearing level under the debt covenant of 45%.
"The debt headroom will be utilised for the trust's ongoing and future AEIs, as well as acquisitions, which may include land acquisition and development activities [if any]," he added.
On the declining occupancy rate of its office assets, particularly Sunway Putra Tower and Sunway Tower in Kuala Lumpur, Ng said the asset manager is actively sourcing for replacement tenants for the properties and had managed to secure several replacement tenants, albeit at a gradual pace.
According to him, the average occupancy rate of Sunway Putra Tower and Sunway Tower stood at 25.7% and 21.2% respectively as at June 30, 2016.
Ng said Sunway REIT had also embarked on a series of initiatives to improve the performance of these office buildings, including providing higher incentives to tenants, such as lower rentals, a rent-free period, fit-outs and others.
"We also plan to upgrade the office buildings to multi super corridor status if required by tenants, and manage our operating costs," he added.
Having said that, Ng expects prospects for the office segment to remain bleak this year and beyond.
"Office supply in the Klang Valley has substantially increased over the years. The office stock stood at 111 million sq ft in the second quarter [of] 2016," Ng said, adding that another 14.13 million sq ft of office space is forecast to enter the Klang Valley market by 2018.
"[The] majority of the new completions are located on the fringes of Kuala Lumpur. This would further add pressure on occupancy and rental rates in a highly challenging market landscape," said Ng.
"For our office assets, we expect their performance to gradually stabilise in FY17," he noted.
Meanwhile, Ng said the year ahead is likely to be an extension of the prevailing challenging landscape.
"In such challenging times, we will continue to reassess and realign our strategies with increased agility to combat the headwinds. We have to exercise strong prudence, vigilance and ensure that all planned strategies are well executed," he added.
Sunway REIT shares closed up one sen or 0.56% at RM1.78 last Friday, giving it a market capitalisation of RM5.21 billion.
This article first appeared in The Edge Financial Daily, on Oct 31, 2016. Subscribe to The Edge Financial Daily here.
Like our content? Check out
Narratives
– where we curate stories based on topics to keep you well and broadly informed about Malaysian real estate.
Looking for property? Check out
Location Scan
, where we summarize all available options and facts you need in a few clicks. We have updated the tool to include MRT3 stations too.
Curious how much you can borrow? Use
LoanCheck
to get your maximum loan eligibility from various banks, or
LoanReport
to get a FREE CTOS/CCRIS credit report.