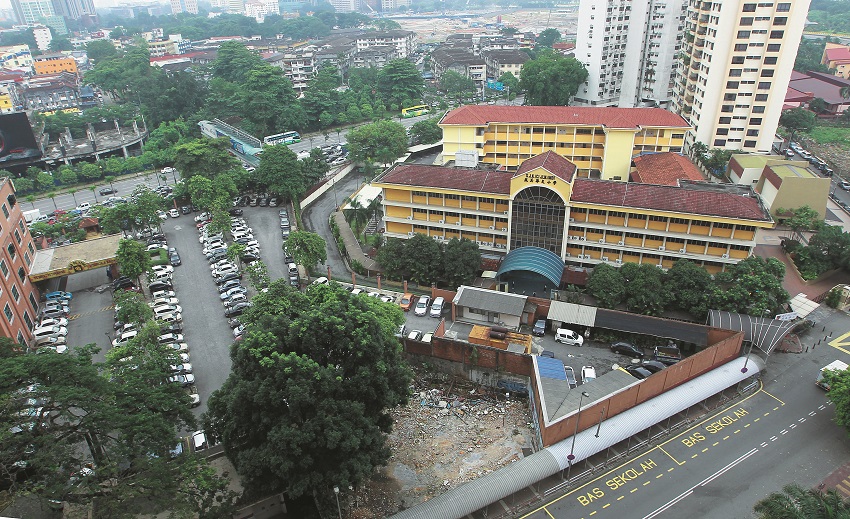 A local company that was recently acquired by a Singapore-listed loss-making red chip is in the midst of concluding a land purchase in Imbi, Kuala Lumpur, for a whopping RM4,310 psf — potentially setting a new record for land deals in the country.
Last week, Debao Property Development Ltd told the Singapore Exchange that its subsidiary Debao Property Development (HK) Ltd had bought Elite Starhill Sdn Bhd, which is in the process of buying a 8,362 sq m (90,008 sq ft) parcel in Jalan 1/77B, near Berjaya Times Square, for RM388 million. The subsidiary had purchased Elite Starhill from Wong Siaw Puie and Koo Soon Khang for RM10 million as part of the group's strategy to move into the overseas property market and expand its revenue stream. At the time of writing, there were no updates on the status of the land deal.
Nonetheless, industry players, who were surprised at the RM4,310 psf price, say the deal may emerge as the most expensive in Imbi and appears to be significantly higher than recent transactions in the Bukit Bintang and KLCC areas. Typically, land prices in Imbi are between RM2,400 and RM2,500 psf, says a valuer.
Over the last couple of years, land transactions in the Bukit Bintang and KLCC areas have been concluded at between RM3,100 and RM3,600 psf. For instance, the German Embassy parcel in Kia Peng was sold for RM3,188 psf (RM259.15 million for 7,552 sq m) to Malaysian Resources Corp Bhd; Tropicana Corp Bhd disposed of eight contiguous parcels in Jalan Bukit Bintang for RM3,280 psf (RM448.44 million for 12,701.7 sq m); Oxley Holdings Ltd bought a parcel in Jalan Ampang for RM3,300 psf (RM446.7 million for 12,575 sq m); and KSK Group paid RM3,573 psf for a plot in Jalan Conlay (RM568 million for 3.65 acres).
The country's land transaction record continues to be held by Tan Sri Desmond Lim Siew Choon, who paid RM7,209 psf for a parcel in Jalan Bukit Bintang, next to Pavilion Kuala Lumpur.
It is noteworthy that the parcel that Debao is eyeing is just 1km from the Tun Razak Exchange — the upcoming RM26 billion international financial and economic hub. In August, Affin Bank Bhd announced that it was buying 1.25 acres in TRX from 1Malaysia Development Bhd for RM255 million or RM4,699 psf to build its new headquarters. It plans a 35-storey building with a gross floor area of 823,439 sq ft and 830 parking bays.
While Affin's purchase is higher on a psf basis, TRX offers its partners and investors various incentives, including 70% income tax exemption for five years for building development, while tenants get a 10-year tax deduction against rental cost of building purchase, exemption from stamp duty for initial leasing or purchase of a building and tax deduction for relocation cost.
It is understood that Elite Starhill has already secured a development order for the land. In June last year, The Edge reported that Elite Starhill had put in an application to Dewan Bandaraya Kuala Lumpur to demolish SRJK (C) Jalan Imbi and convert the land use from institutional to commercial.
The primary school, next to Club de Vegas along the SMART Tunnel entrance, is expected to make way for a 69-storey commercial building with 956 serviced apartments atop five retail floors. The proposal also includes four floors of basement parking and four floors of parking above ground.
A Chinese daily had reported earlier that the school had decided to relocate due to a gradual decline in enrolment. Its board has identified Taman Tayton in Cheras, where there is a shortage of primary schools, as its new premises. It said then that it had been approached by four property developers that were keen to develop the school's site and that it had selected one of them. The two parties then reached an agreement on the relocation.
Documents sighted by The Edge indicate the school's plan to convert the land in Taman Tayton, which is currently designated for residential development. The new school will comprise a four-storey block for academic and administrative purposes and there are plans for a single-storey, multi-purpose hall as well.
Debao, which is involved in property development, construction and property management, registered a revenue of RMB39.46 million and a net loss of RMB63.74 million in the first half ended June 30, 2015. The group's jobs are predominantly in China.
Its 2014 annual report says the group set up shop in Malaysia in 2012 as part of its strategy to go global and build an international brand name in property development. It adds that in 2013, it recognised RM20 million in profit from its investment in Green Beverly Hills (Phase 1) in Bandar Nilai Utama, Seremban, which was developed by GD Development Sdn Bhd.
In August last year, GD Development signed a joint-venture deal with three Chinese developers, including Debao Group. The other two parties are Fugland Group and Suzhuo Zhengyuan Landscape Group. The trio will be the primary contractors for the 20-acre Green Beverly Hills II development, which is due for completion in 2018.
Investing in properties in Bukit Bintang?
This article first appeared in The Edge Malaysia on Oct 5, 2015. Subscribe here for your personal copy.