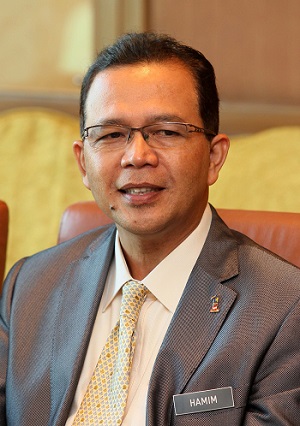 KUALA LUMPUR (May 20): Subdivided buildings and underground land will be included in the Land Acquisition Act under amendments tabled in Parliament yesterday.
The Land Acquisition (Amendment) Bill seeks to expand the existing definition of a subdivided building for the purposes of acquisition.
The bill will provide for a land administrator to take necessary action in accordance with the Strata Titles Act 1985, where it involves acquisition of part of the land of a subdivided building or land.
The bill includes a new subsection to provide for the acquisition of underground land. It also stipulates that a plan that describes the extent and depth of the area of the underground land to be acquired must be prepared by the land administrator.
The bill was tabled by Deputy Natural Resources and Environment Minister Datuk Hamim Samuri (pictured) in the Dewan Rakyat yesterday.
"The second reading for the bill is in this sitting," said Hamim.
The amendment bill also enables affected people to make an objection in relation to the compensation made in accordance with the procedures provided under the act.
Another amendment increases the limit of compensation when appealing to the court.
Also, the amendments allow objections by interested parties who are aggrieved with the compensation offered by the land administrator.
Issues of underground land acquisition and compensation were widely discussed when building owners in Jalan Sultan in the city centre protested against the construction of the Mass Rapid Transit (MRT) underground line in their area.
The Land Acquisition Act currently does not have specific provisions on subdivided buildings and underground land, which pose difficulties for MRT Corp to acquire the underground land.
The National Land Code will also be amended to facilitate the provisions concerning subdivided buildings and underground land.
Under the amendments, the definition of a subdivided building includes subdivisions of any building and land.
Another amendment introduces a new section for the imposition of rents in respect of titles in a subdivided building and the revision of rents for such buildings.
There will also be a new provision that allows the state authority to take over a subdivided building if the proprietor dies without a heir.
With regard to underground land, an amendment to the Land Code provides for the land registrar to issue a qualified title upon alienation of underground state land before issuing a final title.
Also, the depth of the surface land of the proprietor as approved by the state authority is to be endorsed as an express condition of that title.
There will also be a new subsection enabling the state authority to approve re-alienation for an increased number of years for a lease, although the original title will be held in perpetuity on the application of the proprietor.
Do not ask the fortune teller about the value of your home. Go to The Edge Reference Price to find out.
This article first appeared in The Edge Financial Daily, on May 20, 2016. Subscribe to The Edge Financial Daily here.